Best Retro Cameras in 2023
Merriam-Webster defines "retro" as "fashionably nostalgic or old-fashioned." With the rise in popularity of shooting on film over the past few years and the extraordinary success of instant cameras among the general populace, I think it is fair to say that retro cameras are likewise lusted after by many.

Due to viral TikTok videos,
Fujifilm had to pause orders
for the X100V because they couldn't handle any more — that camera has been out of stock at most retailers for a long time. And I believe a fair part of the online hype around the X100 series is due to its retro appeal.
With that said, we present you with the best retro cameras you can buy in 2023, broken down into several categories, primarily by sensor size.
At a Glance
Best Medium Format Retro Camera: Hasselblad 907X 50C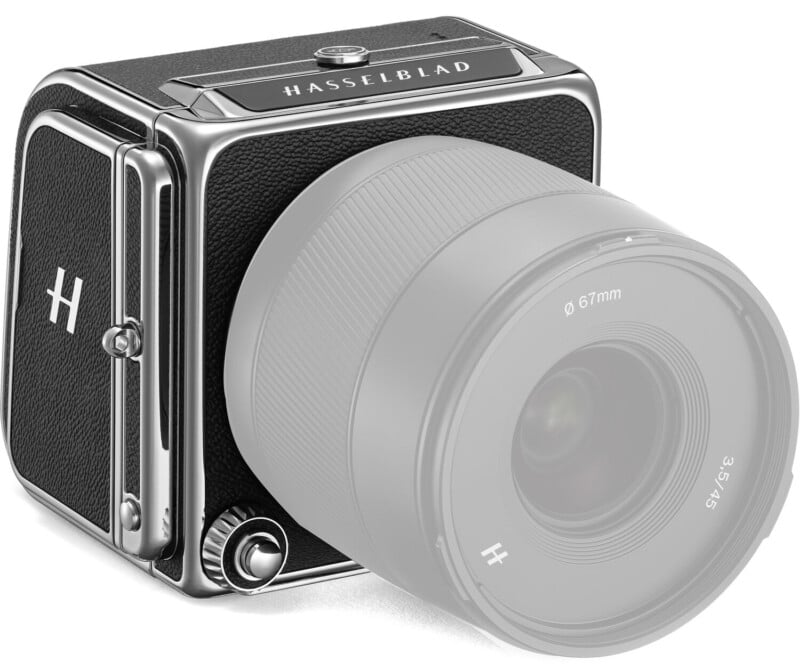 As it's one of my favorite camera releases in recent years, I'm pretty excited to be able to justifiably put this camera on a "best" list. One of the most beautiful digital cameras ever made, the Hasselblad 907X 50C is a direct homage to the cameras that made the Swedish company legendary. Hasselblad considers the camera a throwback to its 500-series V-system cameras — and it is in many ways — but it strikes me as more of a fusion of the 500-series and the SW (Super Wide) models, specifically the 903 and 905 SWC, especially when fitted with the optical viewfinder.
The Hasselblad 907x 50C is actually composed of two components. The first is the 907X camera body itself, which Hasselblad touts as the "smallest medium format camera ever made." In reality, the 907X is nothing more than a mount — there is no sensor or really anything else other than the XCD mount and a shutter release button mounted on the camera's front side.
The second component is the CFV II 50C digital back that, like previous CFV backs, uses the V-system interface. This means the CFV II 50C can be attached to virtually any film Hasselblad made after 1957, including popular models like the 500C and 500C/M.
The back contains the same 44x33mm 50-megapixel CMOS sensor found in the Hasselblad X1D / X1D II, Fujifilm GFX 50S II, and many other models. It's an old sensor that debuted in April of 2014 in the Pentax 645Z, but it is still a phenomenal performer. With 16-bit color, an ISO sensitivity range from 100 to 25,600, and Hasselblad's Natural Color Solution, it produces images with some of the best dynamic range, color, and tonality this side of the larger 54x40mm sensors. HNCS results in what I consider the best color in the industry — smooth tonal transitions with extremely natural color. Each back is individually calibrated by Hasselblad.
The CFV 50C II does contain one significant change over the CFV 50C — the rear screen is now a tilting 3.2" 2.4m-dot touchscreen. This goes a long way toward enhancing the "retro" appeal, as the LCD screen can now be used like a waist-level finder.
When combined with the 907X, the total package is capable of using Hasselblad's newest (and impressive) mirrorless XCD lenses. The Hasselblad 907X Optical Viewfinder — a nice throwback to the Hasselblad SWC finder — gives you framelines for the XCD 21mm, 35mm, and 45mm lenses, as well as a center cross point for alignment. Furthermore, the Hasselblad 907X Control Grip is an excellent accessory for a more ergonomic experience — it features a shutter release button, a control dial for aperture or shutter speed, a joystick for AF point selection, and four buttons to access the menu (which can be navigated with the joystick), image playback, AF/MF, and AF-D. All four buttons are entirely customizable.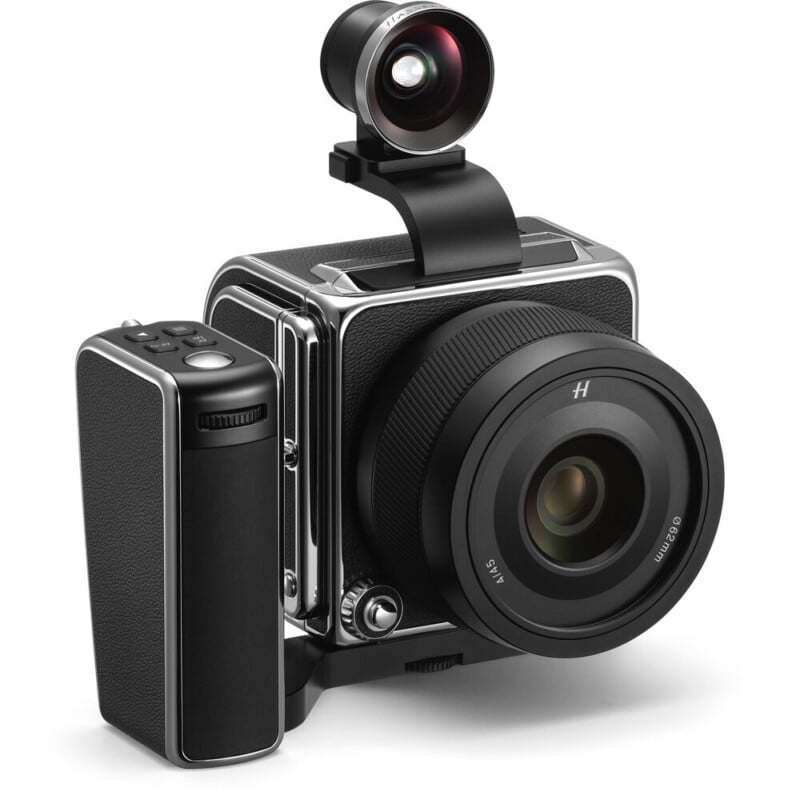 Considering the price for a used CFV 50C is around $5,000, to be able to purchase the improved CFV 50C II, along with the 907X, for "only" $6,399 is actually a hell of a deal. Plus, it's simply a gorgeous camera.
Best Full-Frame Retro Camera: Nikon Zf
Released just last month, the Nikon Zf is the company's full-frame follow-up to its highly popular Nikon Z fc released over two years ago. While many have likened its appearance to the fantastic Nikon FM2 35mm SLR, I think it bears more in common with the Nikon FA, right down to the subtle grip on the front and the PASM switch on the top.
The Nikon Zf is an important step in the Nikon Z line not only because of its stylish appearance but also because it's the first lower-end full-frame Nikon to inherit features from the Z9 and Z8. This includes the same EXPEED 7 processor found in those cameras, as well as subject recognition and Nikon's famous 3D Tracking. Features like eye AF tracking are several steps up from the Z6/Z7 II models, and the Zf is the first Nikon to feature a high-resolution pixel-shift mode, which utilizes the camera's in-body image stabilization (IBIS) to create either a full-color 24MP file (four shots), a 96MP sixteen shot file, or a thirty-two shot full-color 96MP file. The IBIS itself has also been updated to compensate for up to 8 stops of camera shake, and (as a very nice touch) the IBIS is now linked to the autofocus point rather than the center of the image.
It uses the same 3.69m-dot EVF found in the Z6/Z7, which is fine to me — it's a beautiful EVF with a lovely 0.8x magnification. The rear LCD screen is a 2.1m-dot fully articulating touchscreen, which means you can fold it inward if you desire a more "filmic" shooting experience. There's one UHS-II SD card slot and a second micro-SD card slot, though, unfortunately, it is only UHS-I.
Built out of magnesium alloy (except a few plastic pieces for the Wi-Fi) and dust- and drip-resistant sealing, the camera is impressively well-built with a significant amount of heft for its size. It's just an all-around solid-feeling camera, precisely the impression you want to exude if you're mimicking a vintage Nikon SLR.
Its $2,000 price tag makes the Nikon Zf an incredibly appealing camera for many users, particularly given the lovely new tech that has trickled down from the higher-end models. PetaPixel's more thorough review of the Nikon Zf can be found here.
Best APS-C Retro Camera: Fujifilm X-T5
Released late last year, the Fujifilm X-T5 maintains the same general gestalt that began with 2014's Fujifilm X-T1. A shutter speed dial and ISO dial adorn the camera's top, while most Fujinon lenses are fitted with an aperture ring. This makes it about as classic as it can get — all basic settings are available to the user as physical controls, making for a highly tactile experience and allowing exposure parameters to be set without even turning the camera on.
The X-T5's 40MP X-Trans 5 BSI sensor makes it the highest-resolution APS-C camera on the market and pushes it into high-end full-frame territory. Of course, a sensor with such an immense pixel density will demand the most of your lenses. As such, Fujifilm issued a list of lenses it suggests most suitable for the Fujifilm X-H2, which shares the same sensor.
Paired with the new X-Processor 5, which Fujifilm claims possesses twice the processing power of the X-Processor 4, the X-T5 has some pretty serious photo and video chops. A 425-point hybrid autofocus system combined with an AI adaptive algorithm yields the best autofocus performance in a Fuji camera this side of the stacked-sensor X-H2s. Subject recognition and tracking, in particular, have been dramatically improved. An impressive 15 frames per second is possible with the mechanical shutter and swapping to the silent electronic shutter bumps that to 20 frames per second. The latter also boasts an incredible maximum speed of 1/180,000th sec, though you'll still be somewhat limited by the sensor's readout time for quickly moving subjects.
Significantly upgraded in-body image stabilization (IBIS) allows the 5-axis sensor-shift system to compensate for up to 7 stops of camera shake. The IBIS system can now create an exceptionally high-resolution 160MP file using the Pixel Shift Multishot mode.
On the video side, the X-T5 can internally record up to 6.2K in 10-bit 4:2:2 H.265 up to 30fps and oversampled 4K. External 12-bit ProRes RAW or Blackmagic RAW is also available with the appropriate recorder, while F-Log and F-Log2 can be applied both internally and externally.
Rounding out the new features are a 1.84m-dot 3-way tilting touchscreen LCD and a 3.69m-dot OLED electronic viewfinder with 0.8x magnification and 100 fps refresh rate. The NP-W235 battery is CIPA-rated for up to 680 shots, and the mechanical shutter promises a 500,000 actuation lifespan.
It is worth noting that the X-T5 has improved on prior iterations of the X-T line in just about every way, but (for whatever reason) it no longer supports a vertical battery grip. Should that be a critical part of your shooting, you might want to look elsewhere.
Best Micro Four Thirds Retro Camera: OM System OM-5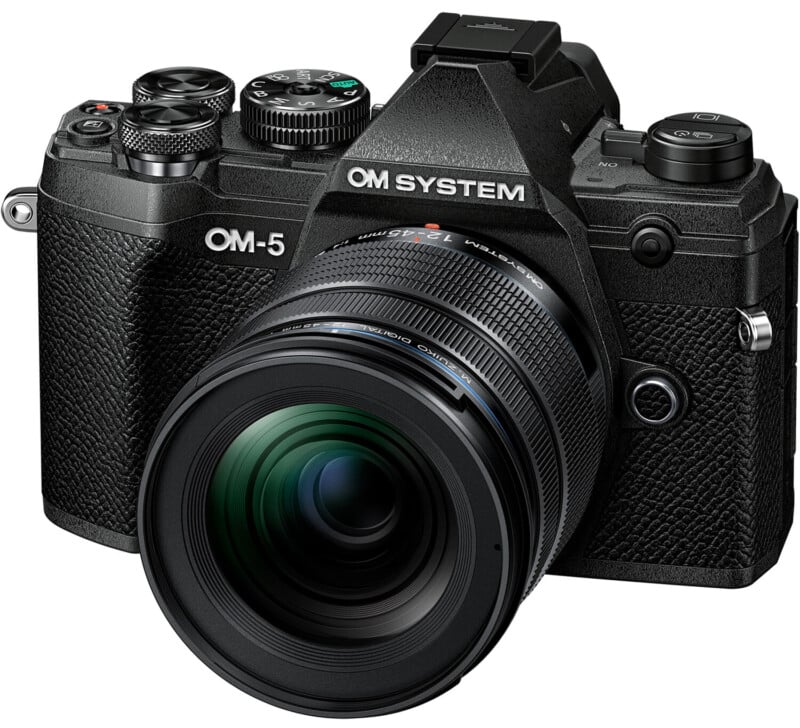 The OM System OM-5 is almost definitely the least "retro" camera on this list, but my love for Micro Four Thirds would not allow me to omit it as a category. I can only hope OM Digital updates the discontinued Olympus PEN-F because that camera was — and still is, in many ways — truly phenomenal (albeit overpriced at the time).
Despite the OM System OM-5's more modern features, the body design is still extremely similar to the original Olympus E-M5, which itself was modeled after the hugely successful Olympus OM-1/OM-2 35mm cameras.
The OM-5 is not much more than an OM rebrand of the Olympus E-M5 Mark III, with a few welcome new computational features. This isn't a bad thing — I own and love the E-M5 Mark III. It is a compact little beast of a camera, full of nifty features, fast to focus, rugged, and features incredible in-body sensor stabilization.
Built around the same 20.4-megapixel Four Thirds sensor in the E-M5 Mark III (and many other Olympus cameras), the OM-5 is dustproof and splashproof with an IP53 rating. Its 5-axis IBIS can compensate for up to 7.5 stops when combined with optical image stabilization. A 121-point cross-type phase-detection AF system allows quick and speedy autofocus in almost any situation. The OM-5 gains the same 50-megapixel handheld high-resolution shot mode as its larger brother, the OM-1, and also features Live ND (Neutral Density), Pro Capture, internal focus stacking, Starry Sky autofocus, Live Bulb, and Live Composite. These computational features are what make OM System stand out above the pack — you simply don't get anything like them from other companies. Live ND is something I find particularly useful for grabbing the occasional long-exposure shot but without the worry or hassle of carrying an ND filter.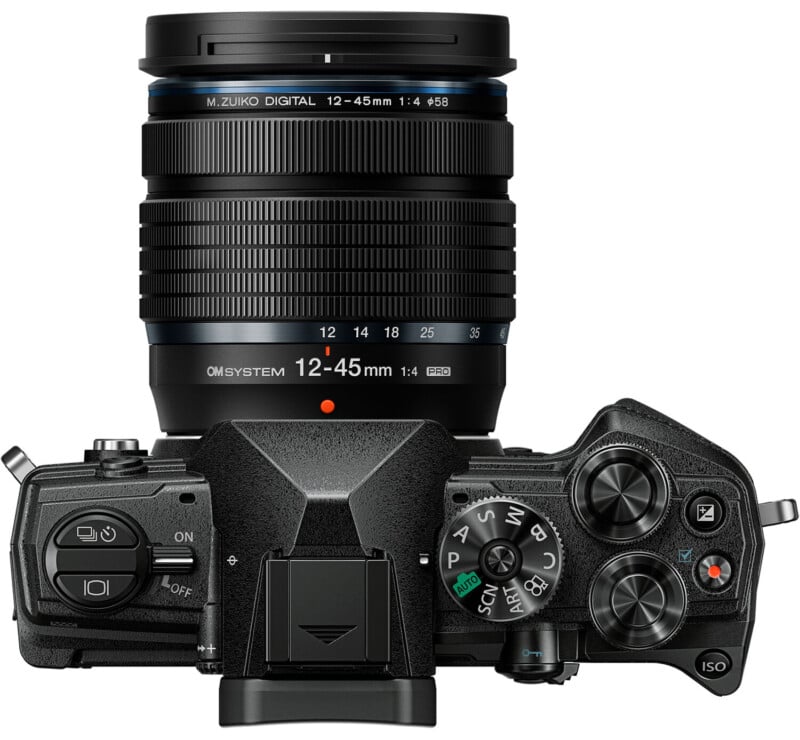 The only area where the OM-5 falls short is that it retains the micro-USB port of the E-M5 Mark III, instead of moving to USB-C, and it does not have the newer (and much nicer) menu system that debuted in the OM System OM-1. I have no idea why OM Digital didn't update either of these — micro-USB is particularly annoying in the year 2023 — but nonetheless, it is still a fantastic camera packed full of features and image potential.
Pair this camera with the Panasonic Leica 15/1.7 DG Summilux, Olympus 25/1.8, and Olympus 45/1.8, and you have yourself a lovely, compact kit of 30, 50, and 90mm equivalents. It's also a perfect companion for the petite and optically phenomenal Olympus 12-45/4.0 Pro. If you need a more substantial grip for larger lenses, the Olympus ECG-5 is there.
Best Compact Retro Camera: Leica Q3
The Leica Q series, which debuted in 2015, is one of the German company's best line of products. Like the company's legendary M bodies, the Leica Q3 offers direct, physical access to controls — a shutter speed dial on the camera's top plate and an aperture ring at the front of the lens. The focus ring is one of the best I have ever used on a mirrorless camera; it may be focus-by-wire, but that isn't immediately obvious. Focus is nicely damped with linear travel and hard stops at each end. Past the infinity mark is a detent for autofocus, making it very easy to switch back and forth, even with the camera turned off. There's also a toggle at the base of the lens that shifts the lens into a macro mode.
The 60.3MP BSI full-frame sensor is the best Leica has ever put into a camera. It no doubt shares technological underpinnings with the Sony a7R IV/a7R V, so it's probably no surprise that the Q3 matches the dynamic range of those cameras. However, in my tests, the Leica implementation of the sensor holds the edge above ISO 6400 or so due to reduced chroma noise. It also features a base ISO of 50 — one stop less than Sony's ISO 100 — allowing for superior color, tonality, and noise.
The Leica Q3 features Leica's "Triple Resolution Technology," allowing users to choose pixel-binned 36MP and 18MP in addition to the full 60MP resolution. Though Leica claims enhanced dynamic range in these modes, my tests found no advantage to the in-camera binned photos versus downsampling in post. But it's an excellent option, especially if you want to save some storage space.
Because the Q3 headlines a fixed focal length 28mm lens, the 60MP sensor offers the very useful benefit of a variety of crop modes: 1.25x (simulating 35mm), 1.8x (simulating 50mm), 2.7x (simulating 75mm), and 3.2x (simulating 90mm). These would result in images with 38.6, 18.5, 8.3, and 5.9 megapixels, respectively.
New to the Q3 is a beautiful 5.76m-dot OLED EVF with a respectable 0.79x magnification, a very-welcome tilting rear touchscreen, phase detection autofocus (as well as CDAF and DFD), DCI 8K up to 30p with 10-bit 4:2:0 internally, ProRes 422 HQ internally, and a new Maestro IV processor. The body is IP52-rated against dust and moisture, and improved wireless connectivity — including both Wi-Fi 2.4 GHz and 5 GHz, as well as Bluetooth 5.0 LE — along with a USB-C Gen 2 port allows for either wireless or wired tethering using Leica's excellent FOTOS App.
One thing that hasn't changed from the original Q and the Q2 is the lens. And that's perfectly understandable because it's a great optic. While the camera itself features no in-body sensor stabilization, optical image stabilization in the lens is good for several stops of compensation. With an f/1.7 aperture, the Q3's Summilux lens is one of the fastest ever in a fixed-lens camera. Combined with the best-in-class full-frame sensor and OIS, the total package makes for a phenomenal camera, even in very low light.
Sure, the Q3 is expensive. What Leica isn't? But it probably offers the best value proposition of any of the company's offerings, given that you get both an excellent body and a high-quality Summilux lens. With the addition of a tilt-screen, gorgeous EVF, and a fantastic 60MP sensor, there really isn't anything I feel like the Q3 is missing at this point — other than perhaps IBIS.
Best Premium Retro Camera: Leica M11 / M11 Monochrom
I was fortunate enough to review Leica's newest M-series camera when it was released in January 2022. Since then, I've spent quite a bit of time with it on three more occasions. So, I feel comfortable saying that the Leica M11 is the best digital camera the company has ever made and one of my favorite cameras to use.
The M11 features virtually the same body as the M10 line, but the antiquated removable bottom plate is now gone; the battery uses the same design found in the Q, SL, and S series cameras, which is easily my favorite implementation on any camera. The larger capacity battery, along with the camera's Maestro III processor, gives the M11 some truly incredible battery life, which is all the more impressive considering the sensor is now always active for metering. The menu is typically minimalist-Leica in design, and the camera contains 64GB of internal SSD memory. An easily accessible USB-C port simplifies tethering, charging, and data transfer.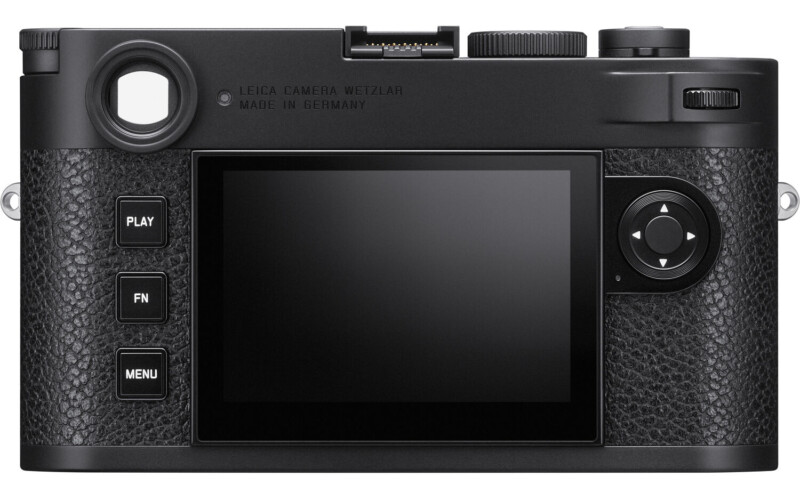 The sensor is the same as found in the Leica Q3, with newly designed cover glass and microlens array to improve edge acuity and reduce color shift with wide-angle lenses. Like the Q3, the M11 features the in-camera pixel-binned options of 36 and 18 megapixels. It also now includes an electronic shutter option up to 1/16,000 sec, which is handy if you exceed the mechanical shutter's 1/4000th maximum. However, bear in mind the sensor readout is somewhere between 1/10th and 1/15th sec, so the e-shutter is only suitable for relatively static subjects.
Released with the M11 was a new Leica Visoflex 2 EVF, with 3.69 million dots and both high magnification and high eyepoint, that can tilt 90 degrees upward, with several stops in between. It's an outstanding EVF and a pleasure to use even with glasses, though the refresh rate seems to be a little on the low side — that hardly bothers me with a camera like this, though.
The Leica M11 Monochrom is identical to the M11 with two exceptions: the internal memory has been bumped to 256GB, and more crucially, it eschews the RGGB color filter array over the sensor. This allows the sensor to collect true luminance data and roughly twice as much light (which bumps the base ISO from 64 to 125). Images will also display higher pixel acuity and greater perceptual resolution as there is no filtration or demosaicing. Of course, you lose the ability to manipulate the luminance values of specific color channels in post. And, unlike Bayer array sensors, where you can recover highlight data from reconstructed channels if you only blow one channel (e.g., red), once data is clipped here, that's it. Despite those disadvantages, there is still something incredibly appealing about monochrome (technically achromatic) cameras, and the files are gorgeous once edited.
No, the M11 and M11 Monochrom don't have the flexibility of other cameras on this list. There's no autofocus, telephoto primes are challenging to use with the rangefinder, and lenses below 28mm require either live-view on the LCD, the EVF, or an accessory optical finder. Rangefinder-coupled zooms don't exist unless you consider the Tri-Elmars zoom lenses; even if you do, they can't function as a typical zoom with the framelines. Close-up and macro photography likewise require live view or a bulky Visoflex bellows. Yet, at the same time, there's nothing else quite like using a rangefinder camera. The Leica M11, with its genuinely phenomenal battery life, best-in-class sensor, and the new EVF, makes for the most mature M-series camera to date.