Canon is Considering Making a Retro-Inspired Digital Camera: Report
Rumors suggest that Canon has recently asked customers in China about their potential interest in a retro-inspired or retro-styled digital camera.
As Photo Rumors and Canon Watch report, it appears that Canon solicited feedback prospective customers about their interest in a Canon digital camera modeled a vintage analog camera.
Per a post on the Chinese social media platform Weibo, which has been machine translated below, Canon has asked customers about their interest in a retro camera.
The user then created a poll asking their followers which retro Canon camera they would like to see serve as the basis for a future digital camera. To be clear, these cameras are ones that the Weibo user selected for a poll, and not ones that Canon asked customers about in its market research. That said, the voting choices are some of Canon's most iconic and popular analog cameras.
According to the votes, the Canon QL17 was leading the polls at the time of writing, followed by the Canon P, Canon AE-1, and Canon F-1. There was also an option for "other Canon camera."
The Canon QL17 is a rangefinder camera that has achieved something of a cult following due to its durable, stylish design and sharp built-in lens. The "QL" stands for "Quick Loading," a feature that Canon introduced to simplify loading film into the camera.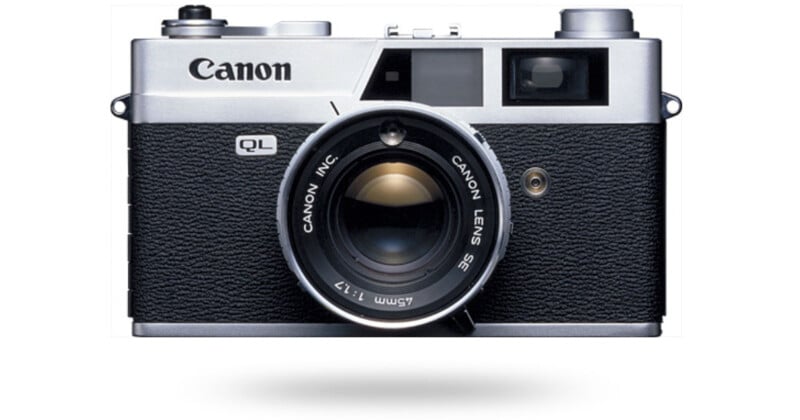 The Canon P is also a rangefinder camera, although having launched in 1958, it is nearly a decade older than the original QL17. Both the Canon QL17 and P models are beautiful cameras that would excite modern photographers.
They are all good options that sort of fit the mold of other retro-inspired digital cameras. However, the exact contents of Canon's market research in China are not known.
Digital cameras modeled after retro camera models are not new. It is perhaps a bit surprising that Canon hasn't already done something like this before.
The Nikon Zfc and the new Nikon Zf are based on a famous Nikon film camera, the FM2. Meanwhile, Fujifilm has released many mirrorless X Series cameras based on old-school camera designs to significant acclaim.
There is something about combining modern features and performance with vintage sensibilities that has proven to be inherently attractive to photographers.
Although Canon is reportedly testing the waters for a retro-inspired camera, there is no guarantee that such a product will ever enter the market and give the EOS R series of mirrorless cameras a stylish vintage twist.
For now, the idea of a retro-styled Canon mirrorless camera is just fun to speculate about, although there is at least a little smoke to give photographers hope. Digital Camera World reports that a Canon executive didn't completely dismiss the idea of a retro-styled Canon camera. "
There are many fantastic, beautiful film cameras in Canon's storied history. The company has an excellent and detailed digital museum, the Canon Camera Museum, where users can browse the company's massive catalog of cameras.
---
Update: An earlier version of this article did not make it clear that the precise nature of Canon's reported market research in China are unclear. It is unknown if Canon asked customers about any specific vintage Canon camera models.