The Best Free Online Tools to Manage Your Photography Business
It is all too easy to fall into a trap of signing up for an ever-increasing number of photography and business tools that entice you with the promise of better organization and communication but lay on costly monthly subscriptions. Shed that overhead and consider these free alternatives instead.
It seems as though every week a new product is released and marketed to business owners — from a new customer relations management (CRM) software that promises something new to marketing and social media tools, and anything else photography-related — which can quickly rack up the business expenses bill.
The subscription model is particularly hard to avoid as many companies favor that over one-time purchases, which helps them attract new customers because small monthly payments are easier to stomach than large single investments, and companies can continue to quietly withdraw money monthly even if the software isn't being used. Not every photographer is business savvy, which is why it can be easy to subscribe or purchase more tools than is necessary, especially if they have fallen victim to an attractive sales campaign.
Regularly checking monthly income and expenses report — or at least creating a spreadsheet with all subscriptions — can help monitor what is actually essential to the photographer's business and what can be canceled, while being open to free alternatives can help avoid future money being wasted. Sometimes, paid tools can make the process more complex than it needs to be — especially for small business owners who don't need necessarily need all that these tools offer — because they can be sold as a must-have for those who want to be successful.
To help photographers cut down on costs, especially to recoup and reset after any pandemic incurred losses, below are a few free alternatives to help run a business. There are other free alternative business tools out there, however, this brief list can give a headstart for those who want to cut down on expenses and are looking for suitable free platforms to help with the day-to-day business tasks.
At a Glance
Just Use Common Spreadsheets for Accounting
It might seem like a step backward to use spreadsheets after accounting apps such as QuickBooks and Xero, have made their way into the everyday lives of business owners with their marketing promises that say they'll help simplify and digitize accounting records. However, even small business owners will still be required to regularly log into their software to reconcile transactions and compare them to actual bank records, because errors may still occur along the way. Submitting financial records with incorrect entries can cause more than just a headache for business owners.
As someone who has used several apps like these, I still dread the weekly or monthly accounting I had scheduled myself to do. Although on the surface it seemed to promise a seamless workflow and saved time, I found myself dealing with incorrectly imported transactions, lost connection to my bank account, and more. It was only when I changed my accounting firm and they advised me to return to using simple spreadsheets, I realized I had forgotten just how simple and painless this process can be. The accounting firm also advised that not all apps provide the required format as accepted by the government financial institutions, too.
Using Microsoft Excel if you have Windows or Google Sheets can be a cost-effective way to manage finances, especially because users can download a variety of templates to get started with or create their own from scratch only using the parameters that they need.
This can be combined with storing digital invoices and receipts either on the user's device, on the external storage, or on the cloud. Many cloud companies offer free storage up to a certain size limit, and with PDFs and JPGs of paperwork taking up a small fraction of storage, users can pick out a free cloud service to store their financial records. This makes it easy to share them with an accountant or financial advisor, too.
Manage Paperwork and Marketing with Canva

Canva is a free tool that is best known for creating social media graphics such as posts, infographics, sales visuals, and more. However, Canva — which has both free access and a paid tier — can also be used for creating paperwork and documentation such as contracts, letters, invoices, proposals, and more.

Canva provides an endless stream of ways to create and modify different types of templates that you can use across every stage of your business. The final document can then be downloaded in a variety of formats, such as JPG, PNG, PDF, and others.
The free account on Canva doesn't permit creating a library of saved templates that you have used nor does it give access to all stock photos or saved brand colors, but you can still create a free account that will be very useful for most business applications. Whenever you log in, the website will show you the last used templates, which is helpful if you keep re-using the same template for invoicing, for example.
Another feature that Canva might not be as widely known for is its ability to let you create educational, inspirational, or instructional presentations, PDFs, or digital e-books. If you want to create a guide for clients about your business, a digital magazine that features your photography work and writing, or a newsletter for your audience, you can choose a variety of templates that will have their own unique font and color styling.
The free account doesn't permit altering the size of the chosen template, however, if you want to use a straight-forward A4, for example, Canva offers a large variety of documents that fit standard sizes and still have plenty of options to choose from.
Personally, I have used Canva for "thank you" letters, invoices, illustrative proposals, photography education presentations, client guides, creative magazines and e-books, social media advertisements, and a lot more. Another popular alternative is Piktochart, if you don't like Canva for any reason.
Use Notion for Business Management and Tracking
Notion is an incredibly useful free tool that allows you to create lists and organize everything from quick ideas to a more complex client and project management. Notion can be used as a mobile app and on desktop, and you can create numerous sections that can be customized to suit different parts of the business.
For example, I use Notion to keep track of photo shoots by creating an entry for every booking. This entry contains information such as a client's details, shoot date and location, notes that I may have added throughout communication, links to their invoices, and more. Then, each shoot can be moved across the board to be placed under categories that I've created, such as "In progress," "Need attention," "Finished," and so forth.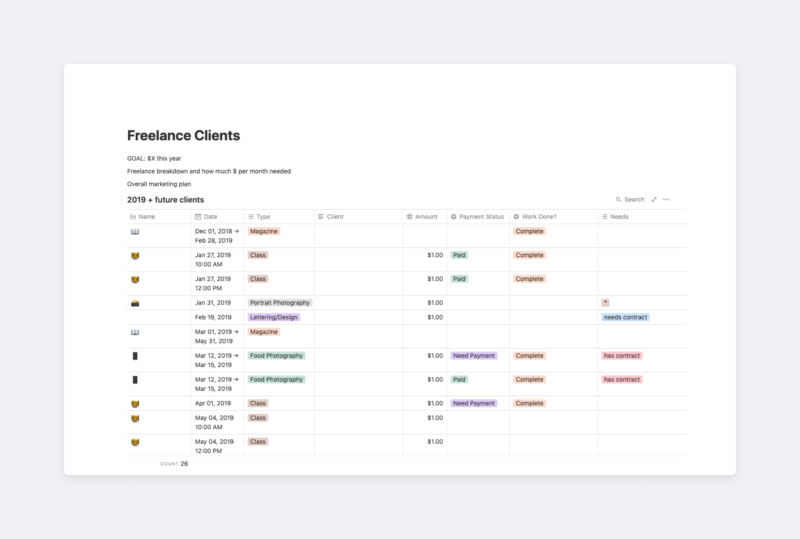 Notion can also be used to dive deep into each individual project. For example, I use it for an online course I am creating and set it up so that each entry is responsible for a single lesson, which then contains information about the progress, where my presentation slides are uploaded, and any additional notes or documents that are attached.
This platform can also be used to gather your ideas, wish lists, reading lists, monthly, yearly and lifelong plans and goals, and much more. The opportunities for this platform are endless and once my current CRM subscription runs out, I will be solely using Notion for managing any client work and keeping track of it all. If you need a good start, Notion also has a large list of free templates that can give you a solid base to start building and organizing your business and personal life notes, lists, and more.
Use Pinterest for Moodboards and Advertising
Pinterest is likely to have an association with "pinning" weddings inspiration by couples, DIY decorating ideas, or meal recipes. However, Pinterest can provide a free tool for those who would benefit from a visuals-based digital scrapbook.
For those who regularly plan shoots that require collaboration and sharing of ideas and concepts, they can create hidden or public boards and use Pinterest as a repository to collect ideas, colors, moods, and themes to share with the rest of the team or client. Equally, if photographers need to provide clients with suitable outfit ideas, Pinterest boards can be helpful especially because they can be updated in real-time and don't require anything to be downloaded.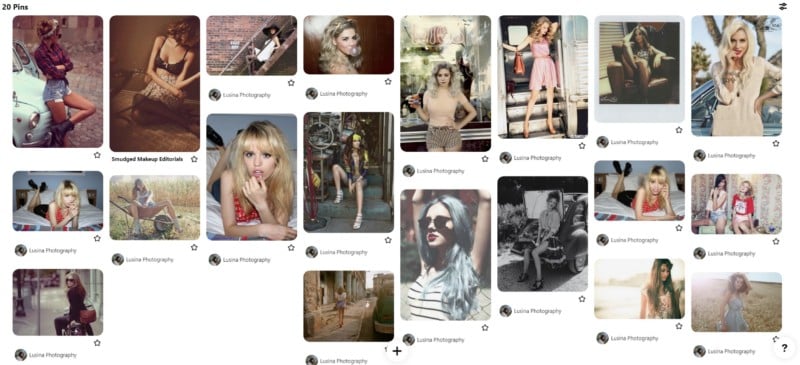 Besides its clear usefulness as a mood board, you can also use Pinterest as an additional marketing stream. Photographers can do this by making helpful boards that clients are likely to come across such as, "Best wedding venues for elopements in London" instead of "My favorite wedding venues I've shot at," for example. Photographers can direct additional traffic to the original source, such as their website or blog. Pinterest also provides traffic insights which can be helpful to determine whether the user is reaching the right kind of audience or if they need to slightly alter their boards.
Understanding and leveraging Pinterest as a free marketing tool does have a bit of a learning curve, however. That said, there are plenty of free tutorials available on YouTube.
Sign Up for 'Google My Business'
Advertising on a small budget, or in fact no budget, can seem like an impossible task. However, business owners can create a free Google My Business profile for their business which gives an additional presence on Google Search and Maps. It also gives owners the opportunity to respond to reviews, especially if used in conjunction with a Facebook page, post photos, special offers, and add and edit business information.
Although this may seem more relevant for those with a fixed location, such as photographers with a studio, it can still work just as well for those working from home, too. This free tool also shows key audience insights and if subscribed to, sends regular e-mail updates on the data collected on how many impressions your business received, how many people clicked on your website link, and so forth.
For those who don't have a website yet, Google My Business allows creating a basic site under a domain that reads "name-business.site,"  using the information from your listing. Users can also modify the appearance of the site with a few template choices.
Try 'Buy Me a Coffee'
While most have surely heard of more popular fan funding services like Patreon, Ko-fi, Podia, and others that allow users to share public and members-only content in exchange for donations or tips, membership fees, and product sales fees, they are not the only options. Buy Me a Coffee is a new alternative and provides several benefits to members that may be preferred over the more popular Patreon, for example.
Users can create a free profile, link it to several payment methods — such as credit cards, Paypal, Apple Pay, and Google Pay — and receive instant payouts from any donations. Fans of the creator don't need to create an account either to support the photographer either. As quite a new alternative for fan sites, Buy Me a Coffee gets regular updates from customer feedback and works on improving the experience.
Creators can use this site to sell "Extras." For example, photographers can sell downloadable content such as presets, PDFs and eBooks, templates, and other digital products, as well as other experiences — like Zoom calls, art commissions, or live event tickets — which can all be customized. Users can also "sell" free products, which the audience can download automatically and without any extra steps required by the photographer.
Photographers can use this website to also share free content, such as blog posts and articles, or hide them under a membership, depending on how they choose to use this platform for their business. For those whose website provider requires an additional monthly cost for selling digital downloads, Buy Me a Coffee can provide a free alternative to host the products as the commission is taken only when a sale is made.
Of Course, Use YouTube
The popular video website can be used for more than just watching music videos, listening to podcasts, or following the latest reviews and inspirational videos. For those who want to sell access to video tutorials, YouTube can be used as a platform to host the educational material by making it accessible to the audience through a unique link that cannot be found through a general search.
Although this is not the most reliable way to share material like this — navigating YouTube's rules can be tiring and challenging — it can be a start for those who are on a budget. If a creator has a website, most website providers also allow embedding a video which means that the video could be embedded on a page that is not accessible via the website menu. This way, photographers can share a link with the embedded YouTube video that is still under their website domain.