What is a Mood Board and How Do You Make One?
Mood boards are more than a random collection of photos found online. If you want successful photoshoots that deliver what you, your client, or your team envisioned, mood boards can help you. All it takes is some brainstorming and curation.

Table of Contents
What is a Mood Board?
Most photoshoots follow a plan, even if it's a loose one. You may not put your ideas down on paper, but you still consider the different parts of the shoot — the location, outfits or props, the lighting, and the overall theme. Mood boards are vision boards that help you organize all those ideas in one place. Think of it as a visual guide for your photoshoot.
Why Should Photographers Use Mood Boards?
Some photographers hone in on specific outfit choices, the overall color palette to help pick suitable backgrounds and props, and even particular poses or compositions. Others use mood boards to brainstorm ideas or to find inspiration for future shoots.
There is no right or wrong method. You can use mood boards whether you shoot for brands or individuals, like families and couples. Even personal shoots can benefit from mood boards — you can share them with your subjects and use them as a rough plan for any still-life shoots. Try it for yourself and see where mood boards fit in your creative workflow.
Sets a Clear Direction
Putting together a shoot plan with a mood board means not leaving a successful photoshoot to chance. By selecting photos, graphics, and other ideas, you can set a clear vibe for your shoot — for yourself and anyone else involved. That's not to say that you can't improvise or shoot unexpected photos. Instead, think of mood boards as a guide that gives you direction and opportunities to take detours if you want.
You and your client or team can plan for the shoot better if you know what you want to achieve. You will understand what props or studio you need to hire or what style of clothes or hairstyles will work best. A clear goal will allow you to plan ahead and not rely on inspiration when you arrive at the shoot location because even the most talented photographers can run out of ideas.
Some productions can be stressful, especially if it's large projects. So, when you get stuck, refer to your mood board and use it as a guide to get back into the flow.
Helps Clients Better Prepare
If you mostly photograph people, like portraits, families, and couples, or do lifestyle shots for business owners or artists, mood boards help your subjects prepare for the shoot.
If you regularly work with clients who ask you what to wear, show them a board full of ideas that you know will look great in photos. For example, if your style of photography features earthy themes, show different outfit colors, patterns, and layer combinations you know will work for an outdoor shoot.
If you shoot boudoir sessions, collect images with flattering outfits and poses to instill confidence in your clients even before they arrive.
Mood boards for outfit inspiration are not about having clients buy new clothes for a shoot, though. Instead, show them the different ways to mix and match what they already own for the best result.
When working with individuals, be mindful of the type of models or subjects you include in your mood boards. Visual, inclusive representation is vital so look out for mood boards with subjects who look vastly different from your clients. Remember, your mood board can also include photos from your past session photos.
It's also worth reminding your clients that having a mood board doesn't mean copying someone else's work or recreating a specific model pose that clients might feel uncomfortable doing. It's more about the overall feeling and theme, so you, as a photographer, can judge if the shoot is going in the right direction. At the same time, it's essential to be realistic about the available lighting conditions on the day, locations, client outfits and appearance, and your editing skills.
Helps Collaborate With Clients or Team
For many photographers, shoots are a collaborative process with input from clients and other team members. Some clients may submit their mood boards to show their ideas, while others may ask you to create a mood board based on any ideas discussed during a call or meeting.
For example, personal brand photographer Petra Gatek uses mood boards to understand what her clients envision. If a client says they like moody photos, it's always best to support it with visuals – after all, your interpretation of "moody photos" could be different than your client's.
Social media and marketing strategist Katie Barber similarly uses mood boards when working with clients and creatives. "Five different people may describe the same image in five different ways," she tells PetaPixel.
"As a team, it's really important that everyone is on the same page and understands the visual concept we're going for very quickly. Most people are visual thinkers, and I used mood boards not only for shoots but for content plans and sometimes proposals."
It's worth bearing in mind that sometimes your clients may have too many or unrealistic ideas. Using a mood board as a collaborative tool helps you show your expertise by curating ideas that you know will work but ensuring you stick to the client's brand vision. At the same time, you can set a clear shoot plan to avoid any unexpected scope creep.
Develops Creativity
Every photographer goes through moments where inspiration is nowhere to be seen. If your camera has started gathering dust, add some playfulness back into your photography by giving mood boards a go.
Creating a mood board and looking for visuals that catch your eye is an excellent exercise for your creative muscle. It's a practice for your artistic vision. Come up with a simple concept or take inspiration from everyday life, and start curating visuals, text, and videos that go with your theme. Sooner or later, your creative spark will light up again.
How to Make a Mood Board
If you prefer a less structured approach, you can simply collect visuals that inspire or relate to your photoshoot theme. But, if you want to get the most out of mood boards, follow the steps below.
Strategize
If you work with clients, you can start with a questionnaire to learn more about your client and their business. Gatek asks all her clients to fill in a brand questionnaire about who they are, information about their brand, and vision. Some clients may already have this information on hand. Bigger production shoots may also include specific project briefs approved by the stakeholders.
For any personal shoots, you can put down a mind map. Add words and phrases that come up when thinking about the shoot you want to create. Some photographers may prefer to jump straight into collecting mood board visuals.
Set the Tone
The next step is to start building your mood board by finding model or still-life photos. Barber recommends using visuals that "capture the essence of what you're trying to achieve, not just something you want to recreate." After all, it's still a creative process, not a copy of someone's work.
For example, if you're doing a confidence-boosting shoot for a creator or business owner, look for photos that show personality and inviting expressions. It could be natural smiles and relaxed body language. If your client wants a more corporate look, curate visuals that fit the brief.
You don't have to stick to only photos, either. Add videos, typography, product mockups, color swatches, or even music. Don't worry about culling your elements at this stage – instead, focus on exploring your shoot theme from different directions.
Add Locations
Now is the time to start adding specifics. Consider the most suitable type of location for your shoot. If it's an urban family shoot, there's no point adding countryside shots for inspiration. Look for city photos that best represent the locations available to you — doing so will help you and your client locate areas that will give you those backgrounds.
Similarly, target photos that show studio or in-home environments if you're shooting indoors. For a portrait session at a studio, there's no reason to collect wind-swept photos of a model on the beach.
Both personal and professional shoots will benefit from having suitable shoot location ideas in your mood board. You will have to hire a studio or give clients an outdoor shoot location at some stage. Use your location ideas in your mood board to help track down the right spot for your shoot.
Look For Outfit and Make-Up Ideas
What kind of clothes or hair and make-up style would work best for your shoot? Look for visuals that show outfits fitting the location and shoot theme. Your client or model might not have access to the identical ideas in your mood board, but it makes wardrobe planning easier.
If you work with a team, collaborate with the stylist to come up with outfit ideas. If it's a client shoot, show them what colors and styles of clothes to look for in their closet. Some clients, like maternity or boudoir, may want to invest in buying or hiring an outfit for the occasion.
Remember to consider make-up styles. For example, a fresh skincare brand may call for a minimal, dewy make-up look, while a striking fashion brand will demand a stronger, dramatic look.
Include a Color Palette
Look at the elements you have collected and think about the colors the shoot theme represents. Adding a palette of 3-5 colors to your mood board will make the background, prop, and outfit sourcing easier for you, your client, or other team members.
If you need help choosing a color palette, look at some of the tools below in our guide. You can browse different color combinations or use a source image to generate your own palette.
Edit Your Visuals
Have you found some photos that you like, but they don't quite fit your theme? Try to edit them. For example, you might like a color photo, but the shoot calls for a moody, dark look. Edit the photo in grayscale to match it with your shoot ideas.
Use your editing skills to finetune your mood board – it's a digital scrapbook you can design any way you like. Remember to keep the mood board private between you and your client, models, or the team to not infringe on other artists' copyrights if you have included their photos.
Organize Your Collection
There is no one correct way of organizing your mood board. It all depends on the purpose of your mood board. Some photographers prefer to cull down to 10-15 elements, while others may create a mood board with over 100 images.
If you use your mood board as an evergreen collection of outfit ideas for your clients, you may go for a bigger mood board that you update from time to time. If you have to send a mood board to a client, focus on fewer visuals.
When you have filled your mood board with different ideas, start by removing similar elements. Move others around to see how they interact with each other. Anything that doesn't feel right – remove it. Depending on your client's requests, you may consider creating two mood boards with distinctive themes.
Explain Your Mood Board and Get the Signoff
If you work with a paid client, add a description alongside your mood board. Explaining your creative choices will not only raise your profile as a professional. Your comments will also help clients better understand how your mood board will work with the practical photoshoot plan.
In your write-up, think about the feelings you want to evoke in the viewer. Touch on your color palette choice, and note what type of models, props, and shoot locations you recommend. You can add some posing and composition ideas, which can work as a helpful resource during the shoot. Use this step for personal shoots if words help you express your ideas.
The final step is to send your mood board and shoot description to your client or team. Some clients may find it helpful to review the mood board and the photoshoot plan over a call or meeting. But, if you prefer asynchronous communication, record a video explaining your reasoning behind the proposed mood board, and make sure to get any feedback and confirmation before booking any locations, models, or props.
Tools For Finding and Collecting Inspiration
You can create a photoshoot mood board using most tools you already have in your digital toolkit. However, if you are looking for ways to improve your workflow, here are some suggestions.
Possibly the better-known platform for collecting inspiration visuals is Pinterest. You can collect photos from any website using the app, the desktop version, or the web browser plugin. You can also find photos similar to those you have already found, which makes discovering others easier.
If you see something that captures your eye in the physical world, use the Pinterest Lens tool. It lets you capture photos on mobile or pick a photo from your camera roll to find similar images already pinned by others.
Any Pinterest board you create can be public or private. Use the public boards for any evergreen mood boards you update over time and share with clients or models. Private boards work best for sensitive project information kept confidential between you and your clients.
To collect high-quality images, you can browse photos available on royalty-free stock sites like Pexels and Unsplash. You can use intelligent search features, like a hex code picker on Pexels that finds photos that fit your search term and the picked color. Any photo you click into will also show similar images beneath. You can create collections to save your favorite images or download them.
Adobe's Behance is not just a platform for artists to share their work. You can also use it to collect visuals and projects that catch your eye by saving them. If you want to get inspiration from others, you can browse mood boards curated by others. Save any visuals you find to your mood board or click "Follow Mood board" to stay up to date with the latest curated finds by the individual artist.
Like Pinterest's Lens tool, you can use Google Lens to find photos online or from what's on your camera roll. However, Google Lens doesn't have a tool for collating and sharing collections to the same extent and ease of use as Pinterest.
Instagram can also work as a curation tool by utilizing different hashtags and following accounts that already curate content, like fashion photographs. You can save photos by clicking on each post's bookmark icon and organizing your finds by heading into the "Saved" section in your settings panel.
Tools For Picking the Right Color Palette
Searching for a particular color is easy. But what about coming up with a color palette? Mixing and matching complementary colors is a form of art, but you can use free tools available online to help you put together a palette that works.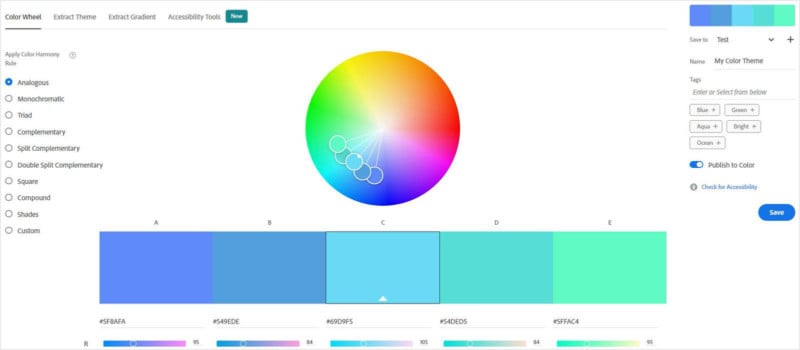 Adobe Color offers an extensive toolkit for anyone working with colors or wanting to learn more about them. You can use the Color Wheel to find different color combinations or the Extract Theme tool, which allows you to upload a photo and generate a color palette based on what's displayed. You can also browse different color palettes and check which ones are trending in fashion, graphic design, and other industries.
Other platforms offer similar color extraction tools and palette builders: Canva, Coolors, PaletteGenerator, Brandfolder, and others.
Tools For Putting Together a Mood Board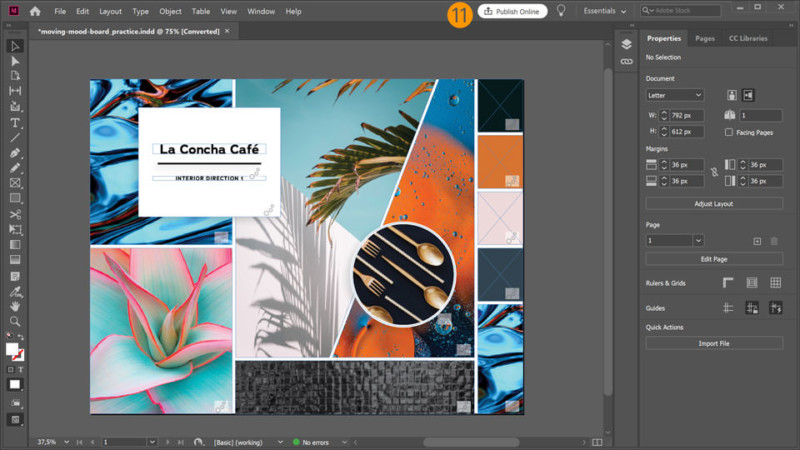 Your favorite photo editing and design tools likely already offer you a platform for creating a mood board. For example, Adobe Photoshop, Illustrator, Indesign, or Affinity suite – Photo, Publisher, and Designer – can all be used for creating one. Depending on which platform you prefer to work with, they all allow you to import visuals and design the final look of your mood board.

Numerous tools, apps, and software allow you to create mood boards. You can start by using simple note-taking tools like Google Keep, Notion, Evernote, Joplin, and others.
For example, photographer Roger Smith first scours social media and the web to download any images he likes and then creates a new Google Keep note with the shoot's title and adds all the downloaded photos.
"Any other ideas I have, that I don't have an image for, I can add as text items that are added as a list with checkboxes," he tells PetaPixel." During the shoot, I can check off those items as I complete them. I can also add a hand-drawn note – which might be for a lighting diagram, for example."
The simplicity of the app makes it easy for him to check the mood board and notes using the phone app during a shoot. "It is possible to collaborate on the mood board by inviting someone to it, or you can just export it to a Google Doc and share it that way," he adds.
A bonus of apps like these is keeping any not-safe-for-work photos private and adding tags or categories to organize and search past mood boards.
Similar tools like Milanote – which also has Pexels library integration – and Xtiles offer a mix of note-taking, curation, file upload, project management, and flexible workspace you can modify to fit your project. Both platforms already have premade templates for creating mood boards, or you can make your own.
If you like using a tablet, consider Microsoft Whiteboard, GoodNotes, NoteLedge, Notability, and other whiteboard or note-taking apps that enable handwriting and file upload. You can add your notes or doodles alongside visuals with a digital pen.
So as long as your text is legible, don't be afraid to share the mood board with others. Barber notes, "in University, we were taught to use very nicely presented mood boards, but the further into the industry you go, the sketchier the mood boards get."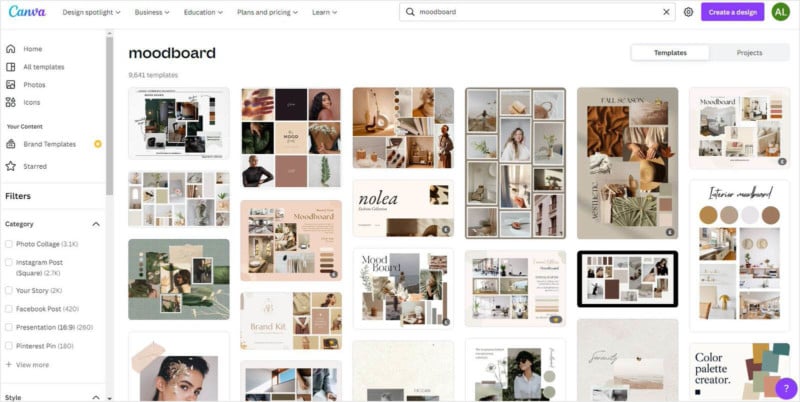 Both Canva and Adobe Express are powerful design tools and offer a professional finish, especially if you want to add notes, shoot agenda, and other content. You can start with a mood board template or make your own. Both platforms have various design elements, like fonts, stickers, shapes, graphics, and more.
You can share your mood boards online or download them as an image file or a PDF if you have several pages of content. You can even set up repeat templates and photoshoot resources with your business branding if you're a professional photographer.
Are you looking for more robust tools, especially if you regularly need to collaborate with clients or your team? Platforms like Figma, Miro, Mural, and Lucidspark are digital workspaces focused on brainstorming and idea sharing. You can upload your photos alongside notes and let others leave comments or modify the mood board.
These platforms are not necessarily targeted at creatives. Still, photographers who work as part of larger teams or whose clients have several stakeholders can find them useful for idea exploration and feedback exchange.
Lastly, if you have a photography website, you can set up hidden or password-protected pages for each client's mood board. Use your website builder to upload your finished mood board as a single image file or upload separate images and visuals.
Then add your text, and share the link with your client or team. A bonus for clients regularly using your website to view the hidden mood board will be the additional web traffic they will bring.
Are there any essential tips or design tools we missed?
---
Image credits: Photographs from Depositphotos