The Best Cloud Storage Platforms for Photographers in 2023
As another year of taking photos rolls on, having enough storage is yet another thing on every photographer's checklist. Thanks to the cloud, we can have another layer of security and enjoy the convenience of accessing our photos anywhere as long as we have an Internet connection.

Those who are frequently using free cloud storage platforms as an extra back-up may already know that they will soon have one less option.
Google Photos will stop providing unlimited free photo back-ups
on June 21st. Past the 15 GB mark, you'll need to pay for a Google One subscription starting at $1.99 per month for 100 GB. If you need more space, you can get 200 GB for $2.99 per month, 2 TB for $9.99 per month, and 30 TB for $149 per month.
The lowest tier doesn't sound so bad until you get to the part that apart from photos, other files like Google Docs, Sheets, Slides, and Forms will also be counted in the storage caps starting on June 1st. If you're a heavy user of these platforms and frequently store your photos, or if you need them for a secure long-term backup of your entire photo archive, you will likely find yourself needing to purchase extra space through the years.
If you don't need that much space yet or just need a temporary back-up for your extra photos, of course, there are still some remaining free options. We say temporary because these free services come with caveats like file type limitations and small storage allocation. Still, a good number of these platforms also offer options for upgrades once you're ready to pay for extra space and useful features.
What We're Looking For
While the ideal cloud storage service usually depends on your needs, the best option tends to accommodate a variety of file types, is a good platform for sharing and collaboration, includes some useful features or integrations for photographers, and provides ample and secure storage space — all for a reasonable price, should you decide to pay for it.
At a Glance
The Best Overall Cloud Storage Service
Our Pick: Dropbox
Allocation: 2GB free, up to 3 TB
Price: $19.99 per month (or $199 per year)
Dropbox continues to be a popular choice among photographers even if its free plan offers a measly 2 GB of storage. This is largely thanks to its simple drag and drop folder interface that mirrors what you see on your computer or device. It's also easy to share and collaborate through this platform, thanks to partner integrations with various apps and media companies. These make Dropbox a versatile option for storing different file types and streamlining remote work among photographers and their clients. You also have the option to set it to delete files from the cloud once they're deleted from your computer.
Should you need to upgrade, you can get 3 TB plus extra features under the one-user Professional plan for $19.99 per month or $199 per year.
---
The Best Cloud Storage Service You've Never Heard Of
Our Pick: IDrive
Allocation: 5 GB free, 5 TB, 10 TB
Price: $69.50 / $99.50 per year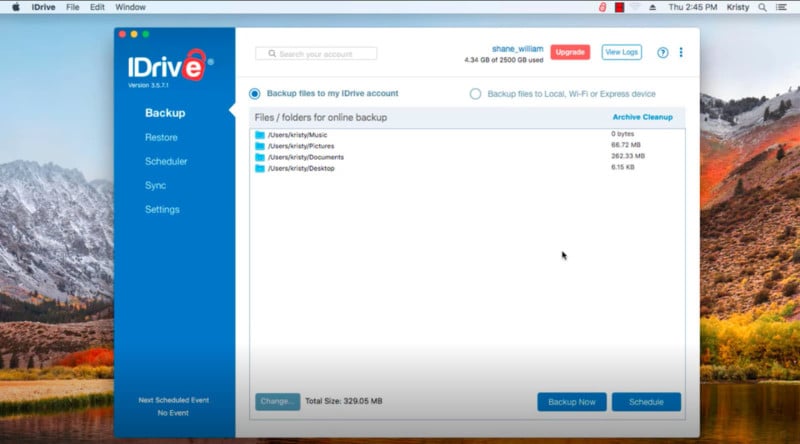 This option may be new to most, but it's steadily getting popular for fast and easy syncing across computers and devices, including NAS (Network Attached Storage) drives. This comprehensive cloud storage solution offers 5 GB of free storage, but if you need more, you can sign up for an IDrive Personal plan that will cost you $69.50 a year for 5TB of storage, or $99.50 a year for 10 TB.
Noteworthy features include easy file sharing by email or social media sites, the retention of up to 30 versions of all files, and facial recognition technology that can be especially useful for organizing your photos. Also, if you decide to delete files in your local hard drive, the continuous file syncing support doesn't automatically delete the versions uploaded to the cloud.
---
The Best Cloud Storage Service for Under $10
Our Pick: Apple iCloud
Allocation: 5 GB free, 50 GB, 200 GB, 2 TB
Price: $0.99 / $2.99 / $9.99 per month
Got an Apple device? You already have iCloud. If you're already using the Apple ecosystem — the proprietary iCloud storage is already good enough for temporary storage. It allows access throughout your devices anywhere and is integrated into the Photos app, making storing, organizing, and sharing images easy. The original, full-resolution photos are automatically uploaded to iCloud to save space on your devices. You can easily download them whenever you need them. If you need extra allocation — which is highly likely since the storage includes videos, files, and app data — the yearly paid plan starts at $0.99 for 50 GB, up to $9.99 for 2 TB.
---
The Best Cloud Storage Service for Under $5
Our Pick: pCloud
Allocation: 500 GB
Price: $3.99 per month when billed annually at $47.88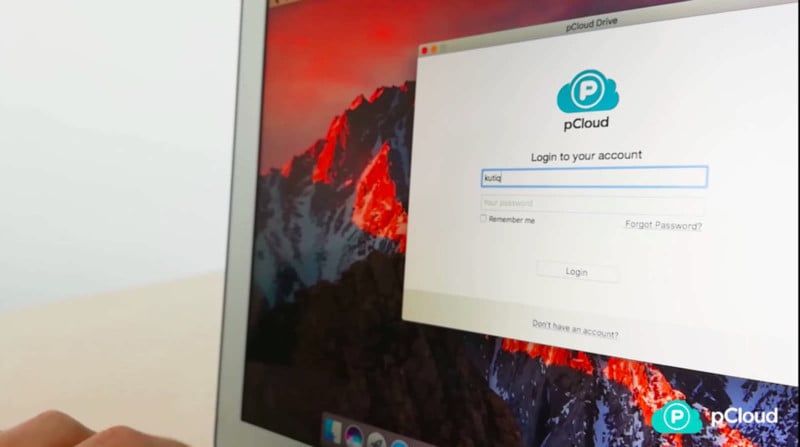 While pCloud is still mostly new to the cloud storage scene, it's starting to get attention for being one of the few options that offer a one-time, lifetime payment option. It's costly at $175 for 500 GB or $350 for 2 TB, but there are cheaper options if a lifetime commitment with a single storage service isn't your main requirement. If you're on a budget, the cheapest annual plan priced at $47.88 — or roughly $3.99 a month — will get you 500 GB, which should be enough if you're just after straightforward cloud storage for emergency backups.
pCloud provides access to your files from a Mac or PC as a local drive, as well mobile devices and the web, so you have plenty of options for backup and access. You can also share links and file requests, and invite users to shared folders. Aside from the usual security measures, there's also an upgrade option for pCloud Crypto, which allows encryption and password protection for each stored file for an additional monthly fee of $3.99. Other attractive features include unlimited file size and speed, backups from other cloud platforms like Google Drive and Dropbox, and file version recovery for up to 30 days.
---
The Best Free Cloud Storage Service
Our Pick: Box
Allocation: 10 GB for Free Individual account, 100 GB for Personal Pro account
Price: Free, $11.50 per month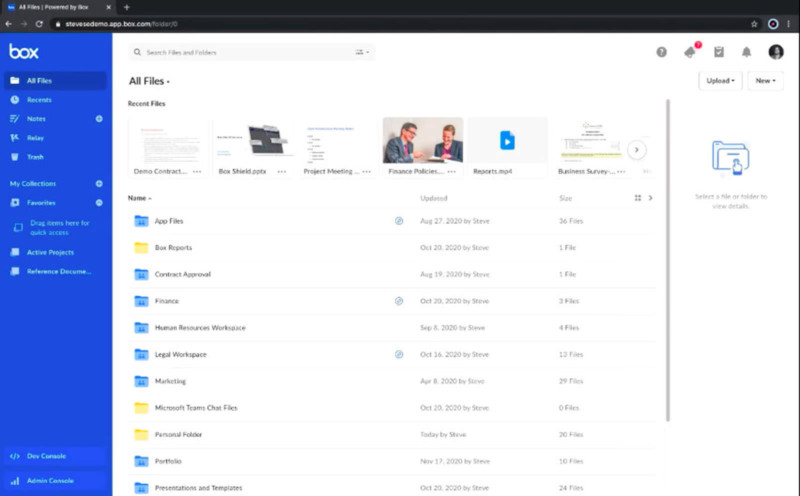 While most free options offer only 5 GB of storage at most, Box provides up to 10 GB for its free Individual account. You are only allowed one file version and upload a file of 250 MB max, but you also get secure file sharing with 2-factor authentication. Aside from an integrated desktop experience with shared folders and links, you can also collaborate through the Box mobile app and take advantage of built-in integrations with G Suite and Office 365.
Should you decide to upgrade to a paid account, the $11.50 per month Personal Pro plan will give you 100 GB of storage, 5 GB file upload, and 10 file versions, along with all the features of a free account.
---
The Best "Bang for Your Buck" Cloud Storage Service
Our Pick: Microsoft OneDrive
Allocation: 5 GB for Free account, 1 TB for Microsoft 365 Personal
Price: $5.99 per month ($59.99 per year)
OneDrive is Microsoft's answer to Apple iCloud, but it also supports Mac, iOS, and Android devices. Since it's extensively integrated into Windows 10, it's a pretty effortless cloud solution that can be accessed as you would a physical hard drive or SSD. It comes with several clever features; for photos, in particular, it has great RAW file support and can automatically recognize image content and tag them accordingly, so you can easily search photos by theme, tag, or content.
If the free 5 GB allocation isn't enough, you can get 1 TB for a Microsoft 365 Personal plan priced at $5.99 per month or $59.99. Above that, you'll have to go somewhere else. However, if you're also a heavy Microsoft Office user, this subscription will give you the most for your money. You'll be able to install Office apps on up to 5 PCs or Mac computers, as well as enjoy extra features like free 60-minute Skype calls per month, advanced security, increased sharing limit, PC folder backup, and productivity tools.
---
The Best Cloud Storage Service Included With Software
Our Pick: Adobe Creative Cloud
Allocation: 20 GB, 1 TB
Price: $9.99 / $19.99 per month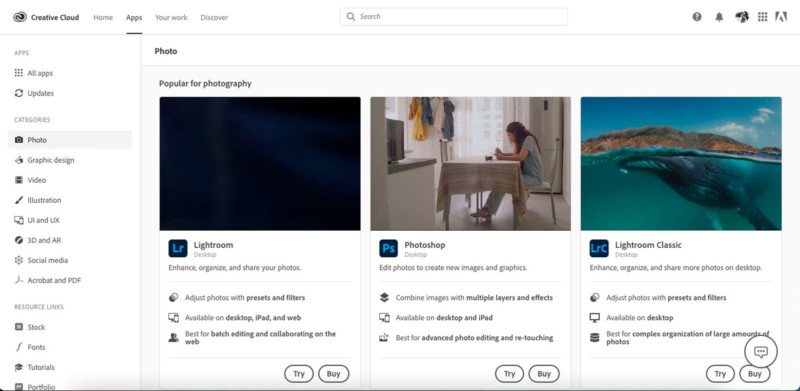 Since Adobe Lightroom and Photoshop remain popular image editing software among photographers, it can be difficult for most to avoid them even if the subscription tends to be on the expensive side. To sweeten the deal a little, however, Adobe has thrown in a cloud photo storage allocation along with other features in the Adobe Creative Cloud.
For $9.99 per month, you have the option to get the Photography plan, which comes with Lightroom and Photoshop plus 20 GB of storage. Now, that's not a lot, but for the same price, you can opt for the Lightroom plan instead if you use it more often and need the 1 TB storage more than Photoshop. If you need both software and the 1 TB storage, you'll have to shell out $19.99 per month.
Creative Cloud allows you to create classy image galleries, invite collaborators to add photos to shared folders in Group Libraries, and seamlessly upload files whatever device or operating system you're using. Given that the two popular photo editing software are bundled with it, RAW files are fully compatible with this cloud storage option.
---
Image credits: Header photo by Andrea Piacquadio