Insta360's New Ace Pro Action Camera Combines Leica Engineering with AI
Insta360 announced the Ace and Ace Pro, two new action cameras that were co-engineered with Leica and promise to bring incredible image quality powered by blending hardware with computational photography driven by artificial intelligence.
The flagship Ace Pro houses what Insta360 calls an industry-first Type 1/1.3 image sensor capable of shooting video at up to 8K at 24 frames per second (fps), 4K at 120 fps, and can capture 48-megapixel photos. It also brings a "vlogging-friendly" 2.4-inch flip touchscreen to provide live preview and camera control. The whole unit is housed in a rugged body that is waterproof down to 33 feet (up to 196 feet with the dedicated Dive Case). It can also be PD fast charged to 80% in 22 minutes and fully in 46 minutes.
The Ace is what Insta360 calls the "budget-friendly" option, with the key differences being a smaller Type 1/2, 48-megapixel sensor, a standard non-Leica lens, and standard charging.
Insta360 says its packed with AI-powered features, too, like the ability to control it with voice or gestures as well as a new AI Highlights Assistant and custom-keyword based AI Warp feature that it says will transform the shooting and editing experience.

The Promise of Excellent Image Quality
Insta360 says that the size of the sensor in the Ace Pro sets it apart from the competition as it captures more light and has more dynamic range than is typical of a camera of this style and size. That, mixed with the lens that was co-engineered with Leica, gives it an edge — especially in low light conditions.
Insta360 also has a dedicated shooting mode for low light called PureVideo. Using an onboard 5nm AI chip, the Ace and Ace Pro cameras use a custom-trained AI neural network to denoise the footage for a clearer image in real time, Insta360 claims. Combined with the large sensor and stabilization, which also works even at night, the company says that filmmakers can expect performance that is good enough to handle everything from a twilight stroll to late-night urban shooting.
When lighting conditions are more ideal, the two cameras have Insta360's Active HDR that brings more details in the highlights and shadows. Colors are also more vibrant, but the company says it put a lot of emphasis on accuracy so that they don't appear over-tuned. The promise of accuracy even extends to the use of the cameras under water.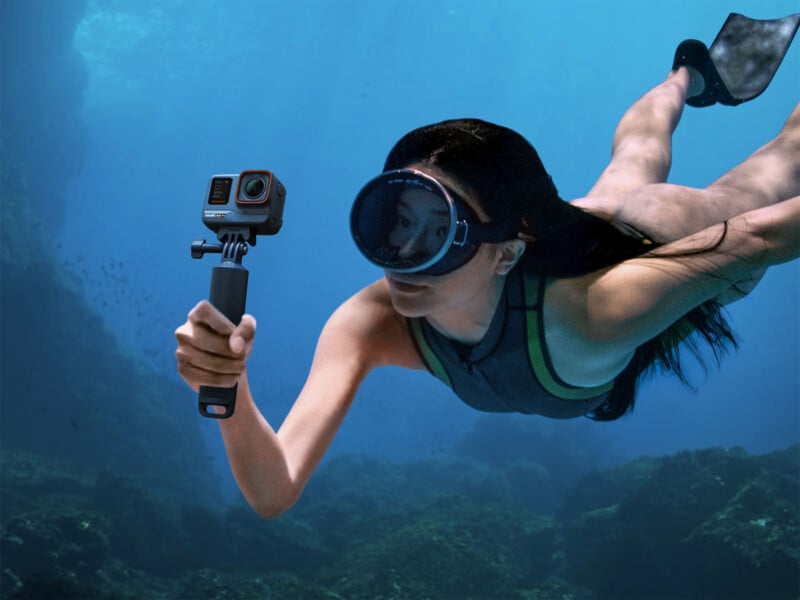 AI is also at the core of overall image quality on the Ace and Ace Pro. Insta360 says its team trained the onboard computational photography models that underpin the 48MP Photo Mode and 4K 30fps PureVideo based on the cameras' unique lens and sensor data. The company is so confident that it enhanced the signal-to-noise ratio and dynamic range in low light that the results surpass all other action cameras on the market.
Software Smarts
Insta360 added a set of features that it says directly address complaints it and other users have with the other action cameras on the market.
It has Clarity Zoom, which allows the Ace Pro the ability to get 2x zoom in and out without any loss in quality of footage. It also has gesture control use hand signals to start/stop recording or take a photo — it also supports voice control. If a recording isn't right, users can instantly cancel it and retake the shot, saving space on an SD card and preventing need to dig through unneeded files later. Related, the cameras have a pause/resume feature that lets users stop a recording in one place and restart it in another but keeps the take as a single clip to make file management easier. Finally, the Ace and Ace Pro support photo grab, which allows users to film a video but also capture a photo at the same time. While not at the full 48-megapixel resolution, it is captured at a higher resolution than a simple screen grab from the video clip would be.
Another major new addition is what Insta360 calls AI Highlights Assistant.
"We like to make shooting as easy as possible, but every creator knows that feeling of looking at an intimidating number of files and not knowing where to start. Enter the revolutionary new tool, AI Highlights Assistant," Insta360 says.
"First, it automatically detects the peak moments in a video, and delivers 'clip highlights' for in-camera review. Creators can merge every thrilling moment into one incredible recap, or choose the ones they like, and quickly delete any unwanted clips to save storage."
The Assitant is also able to edit a video automatically and send it directly to a phone or other mobile device through the Insta360 app. If an editor wants a more hands-on edit, that same app is loaded with a ton of AI editing tools. One of these is AI Warp, a new tool that, through preset or custom keywords, editors can add dynamic effects to their videos.
"This premium AI feature is highly customizable, giving your footage an incredibly unique twist based off of any prompt you can think of," the company says. It also, of course, supports timelapses, hyperlapses, and a selfie-stick eraser — all features that have come to previous Insta360 cameras.
It doesn't end there. Both cameras integrate with a Garmin or Apple Watch and allow users to overlay their videos with GPS, speed, and other data.
Pricing and Availability
The Insta360 Ace and Ace Pro are available starting today for $380 and $450, respectively.