The New 'Affordable' Chronos 4K12 and Q12 Shoot at Nearly 30,000 FPS
Kron Technologies has spent the past two years developing its next-generation Chronos high-speed cameras, including the brand-new Chronos 4K12 and Chronos Q12 models.
The Chronos 4K12 captures 4K (4,096 x 2,160) slow-motion video at more than 1,397 frames per second (fps) and can reach speeds eclipsing 29,000 fps at reduced resolutions. At the camera's maximum speed, the resolution drops to a mere 128 x 32.
This is a significant upgrade over Kron Technologies' prior Chronos 1.4 and Chronos 2.1-HD cameras though, which peaked at 1,280 x 1,024 and 1,920 x 1,080 resolutions, respectively. Granted, while those two cameras are slower at their lower max resolutions, the Chronos 1.4 can reach 40,413 fps at 320 x 96 resolution.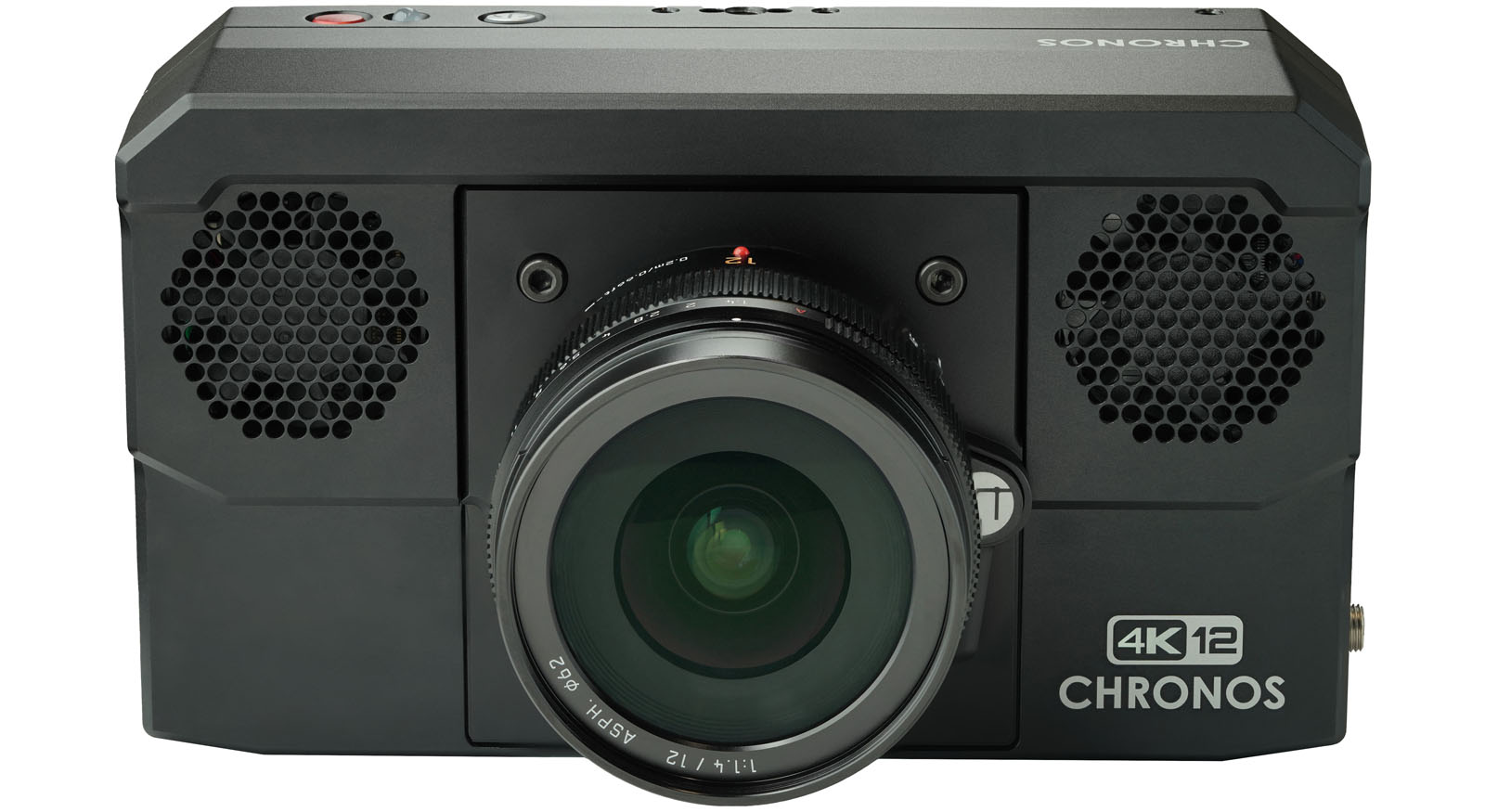 That said, the Chronos 4K12 sports many other upgrades, including significantly higher throughout (11.8 Gigapixels per second versus 1.4 and 2.1, respectively) and higher memory options (64GB and 128GB rather than 8, 16, and 32GB choices). The Chronos 4K12 also sports internal storage, something the prior Chronos cameras lacked, in the form of a 1TB NVMe SSD.
At the heart of the Chronos 4K12 is a four-thirds image sensor with a 4.5-µm pixel size. Like other four-thirds cameras, the Chronos 4K12 has a two times crop factor compared to full frame cameras. For color versions of the camera, users can select from ISO settings ranging from 100 to 400. On monochromatic sensors, the options move to 200 to 800. The camera has a global shutter system and promises 11.3 stops of dynamic range.
The Chronos Q12 can shoot at up to 2,782 fps at its maximum resolution of 2,048 x 2,016. At its minimum resolution, which is also 128 x 32, it can shoot high-speed video at a slightly faster rate of 29,411 fps.
These differences are due to the camera's larger Super35 image sensor, which sports a pixel size of nine microns, double the pixel size of the Chronos 4K12. The larger image sensor has a 1.6 times crop factor compared to full frame.
Otherwise, the two cameras are very similar to each other. They each have the same 5-inch 800 x 480 LCD as their predecessors and the Q12 also has a 1TB internal SSD. The cameras also weigh the same at 2.91 pounds (1.32 kilograms) without a lens.
Concerning the lens, unlike the Chronos 1.4 and 2.1-HD models, the new 4K12 and Q12 have moved to a universal plate system, enabling users to install different lens mount plates to attach C, E, F, EF, and Micro Four Thirds-mount (MFT) lenses. The prior cameras only supported C and MFT lenses.
As for usability, the new high-speed cameras include focus peaking, over-exposure indicators (zebras), 1:1 zoom, a new histogram, gain control, color temperature and white balance settings, and more. The cameras have also moved from USB-A to USB-C connectivity and support external recording and HDMI output.
Kron Technologies says its latest cameras cater to a "wide array of professionals," including media production, academia and research, industrial and manufacturing, and sports and live events.
Pricing and Availability
The Chronos 4K12 is available to preorder now, and the first batch of cameras will ship in February 2024. Prices start at $14,495 for the 64GB model and $15,995 for the 128GB version.
The quicker Chronos Q12 is also available to order now, with shipping expected to commence in March. The 64GB version costs $19,995, while the 128GB model is $21,995.
While these prices may seem rather high, the new Chronos models are relatively affordable in the world of high-speed cameras. For example, Vision Research's renowned Phantom cameras can cost as much as $80,000, even for the company's "entry-level" models. The complete details and specifications of the Chronos 4K12 and Q12 cameras are available on the Kron Technologies website.
---
Image credits: Kron Technologies