ProMaster's 1.3TB CFexpress Type B Card is Worthy of Your Attention
CFexpress cards used to only be available from just a small list of manufacturers but over the last few years, that has changed and now there is a wide variety of very good options. One example is ProMaster's new 1.3TB Velocity CINE card which is a great blend of speed, capacity, and price.
PetaPixel is one of the few outlets that regularly brings in new CFexpress memory cards and tests them to let photographers know which are the ones to avoid and which can be trusted. In the most recent version of that guide, we had taken a look at the older ProMaster Velocity CINE cards, but they have since been updated to the PCIe 4.0 specification and now feature a much larger capacity of 1.3TB along with the promise of improved performance. So, before updating that guide, let's take a look at this card specifically to see how it fares.
To clarify, while they do use PCIe 4.0, the new cards aren't yet CFexpress 4.0 cards. However, upgrading from PCIe 3.0 to PCIe 4.0 is still a significant step up, and ProMaster says this increases potential data transfer rates and supports the design of more efficient cards. With that in mind, let's first look at what ProMaster promises this $650 card can do. The card promises a minimum sustained sequential write speed of 1,400 MB/s and a maximum write speed of 1,700 MB/s. It also promises a minimum sustained sequential read speed of 1,600MB/s and a maximum read speed of 1,780MB/s.
ProMaster Velocity Cine: Test Results
Maximum and sustained performances are the two most important aspects of any memory card, and the former is easier right now to verify than the latter, so we'll start there.
For this test, I ran the memory card through the new ProGrade Digital CFexpress Type B reader, which is the best way for us to get reliable performance numbers out of this card — regardless of the CFexpress 2.0 or 4.0 — thanks to the improved throughput of USB 4.0. For those who want to know why this reader is special, I explain that in a previous story.
Using this reader, we ran the ProMaster Velocity Cine card through the Blackmagic Speed Test which shows average performance over time, although watching the test run also shows speed peaks.
The speed test shows an average write speed of 1,554.5 MB/s and an average read speed of 1,519.6 MB/s, which is faster than all but one CFexpress Type B 2.0 card we have ever tested. It only comes in just shy of the Nextorage B1 Pro card, and only just barely. Given that the B1 Pro at 1.3TB costs over $1,000, ProMaster's showing here is admirable.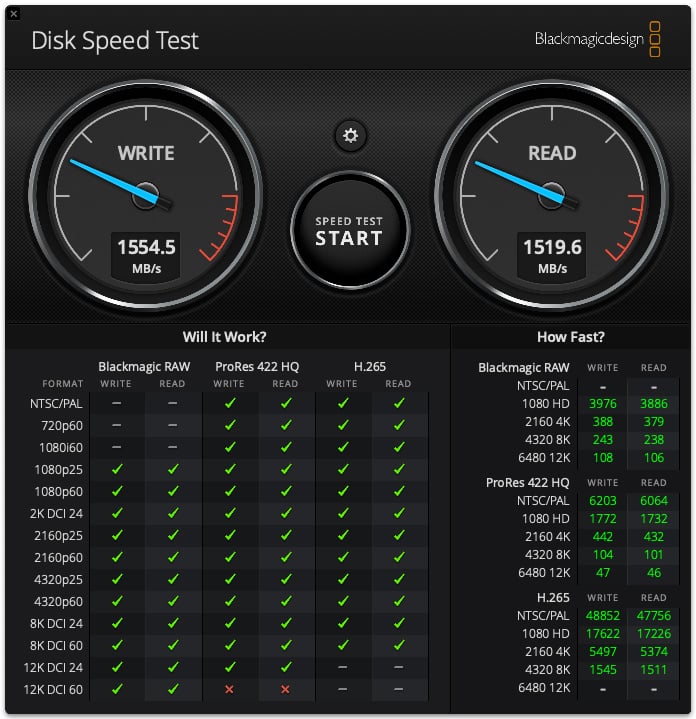 During the test, the speed did peak above 1,700 MB/s on both the read and write side, which backs up ProMaster's speed claims. So far so good.
While ProMaster did not seek VPG certification for this card (which is a seal that promises at least 400 MB/s write speed through the entire card), the promise of 1,400 MB/s minimum sustained is very high. It is also, unfortunately, difficult to verify. Right now, the best tool we have access to for measuring sustained transfer speeds is called HD Tune and it's only available on PCs. Unfortunately, no PC that PetaPixel has access to is currently equipped with a USB 4.0 port. As such, even if we use the new ProGrade Digital card reader, we are locked to the lower bandwidth of USB 3.2.
That said, based on PetaPixel's testing, ProMaster would qualify for VPG 400 certification: the card easily clears 400 MB/s transfer speeds. The Velocity CINE card never dipped below 459 MB/s and peaked as high as 791 MB/s on pace for an average of 674.8 MB/s sustained transfer speeds. That is very, very good.
Of note, the speed benefits when measuring through a card reader are almost twice as good when comparing USB 3.2 to USB 4, so it would not be out of the question to see the ProMaster card actually hit that promise of 1,400 MB/s sequential write speed minimum, we just can't verify it.
What we can verify is burst photo performance. The last portion of our CFexpress test is to see for how long a card allows the Canon R5 to shoot at its maximum burst and how quickly the buffer can be cleared to the card. As a note, the Canon buffer is only 45 shots, so in order to shoot at its maximum frame rate of 20 photos per second, the card has to be pretty fast. In this test, the ProMaster Velocity Cine was able to sustain a maximum burst for five seconds. It was able to fully clear the buffer and be ready for another full burst in 4.6 seconds. Five seconds of burst matches the best performance of any card we've tested, which is a very impressive showing.
Lots of Value Here
Just about every CFexpress card we test is good, so what makes a great buy largely comes down to price, capacity, and warranty. What makes the ProMaster Velocity Cine such a good deal is that it hits all three of those points while also being very, very fast.
For starters, the 1.3TB capacity card is $650, hundreds of dollars cheaper than some competitor cards. It's also 1.3TB, which is a lot of capacity for both photo and video use. Finally, ProMaster not only supports its cards with a 48-hour replacement guarantee, but it also backs its Velocity Cine cards with a lifetime warranty. Getting more than five years of warranty coverage for any SSD product is very good and a lifetime warranty is simply the best you could ask for.
There are a lot of good CFexpress cards out there, but scant few that use PCIe 4.0. ProMaster is one of the few to release a card that uses this newer specification and while the end result isn't going to beat CFexpress 4.0 card speeds (and never promised it would and no camera right now can even take advantage of CFexpress 4.0), the the 1.3TB Velocity Cine card does have a compelling blend of price, capacity, performance, and level of support.
---
Welcome to a PetaPixel Showcase, in which our staff gives you a hands-on with unique and interesting products from across the photography landscape. The Showcase format affords manufacturers the opportunity to sponsor hands-on time with their products and our staff, and it lets them highlight what features they think are worth noting, but the opinions expressed by PetaPixel staff are genuine. Showcases should not be considered an endorsement by PetaPixel.