Sony a9 III Hands-On: Finally, An Actual Game-Changer
This week, Sony announced the a9 III featuring the world's first full-frame 24-megapixel sensor to feature a global shutter in a interchangeable lens mirrorless camera. There have only been a few times in my reviewing career where I would, in all seriousness, call something an actual game-changer. This is certainly one of those moments.
Before we get into it, first it's important to mention that the Sony a9 III is still in the pre-production phase so we can only give our earliest of impressions. The cameras we had access to were very early pre-production units and we were unable to shoot in RAW. Still, there is a lot we can talk about.
Sony Alpha a9 III: An Industry First
A modern sensor scans an image in electronic shutter modes from one side of the chip to the other, usually in a vertical direction. If an object is moving fast enough across the frame or if the camera is panning, it's possible that the subject starts in one place at the beginning of the scan, and has moved significantly by the end. This causes a phenomenon called "rolling shutter" whereby a subject renders in a diagonal orientation.
Lately, many high-end cameras are featuring faster and faster scanning stacked sensors which largely reduce this undesirable effect. For many years we have wondered when the first global shutter would come to a mirrorless camera because the significance of such in a hybrid camera cannot be overstated enough since it wholly eliminates this problem.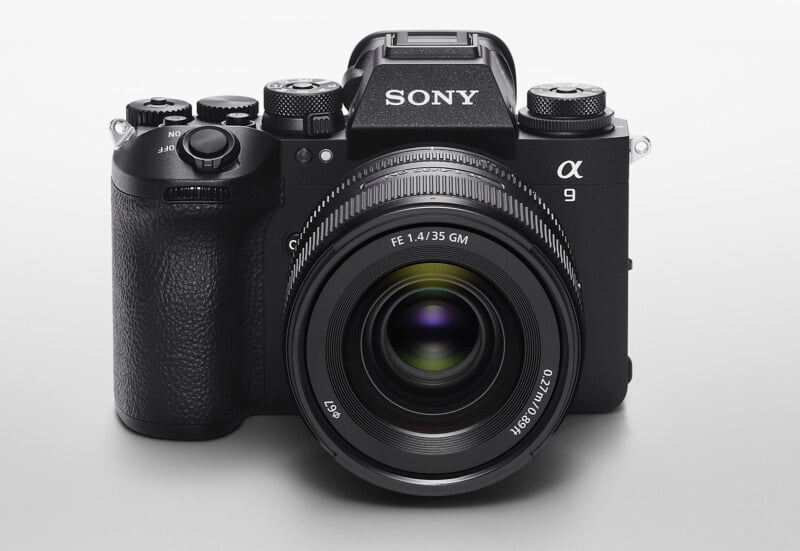 Take the Nikon Z8 and Z9 cameras which read out fast enough that a mechanical shutter is not even required, and can instead rely fully on electronic-only shutter modes without fear of rolling shutter ruining the shot. However, it is possible to have your cake and eat it too. You see, a global shutter scans the entire sensor at the exact same time, avoiding all rolling shutter effects. Creating a sensor this large with a stacked global shutter is a technological achievement, and Sony has done it with the a9 III.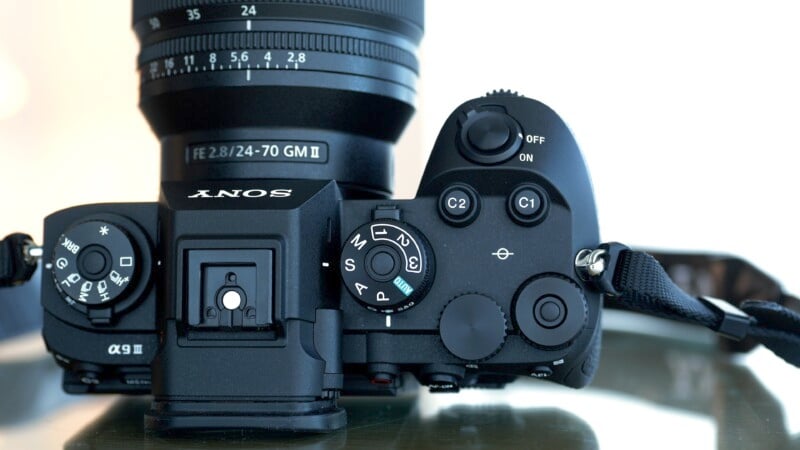 If you want to read more specifically about the global shutter, Jeremy Gray put together an excellent explainer that I highly recommend.
Sony Alpha a9 III: Global Benefits
The benefits don't end there. By scanning so quickly, the a9 III can perform 120 autofocus calculations per second and can shoot bursts of up to 120 frames per second (FPS) with full autofocus working the whole time. There is no blacking-out of the viewfinder at these insanely high burst rates either, which is a serious advantage for action shooters. Unlike earlier Alpha bodies, the a9 III's electronic viewfinder (EVF) can also deliver 120hz refresh rates and still maintain the full 9.44 million dots of resolution.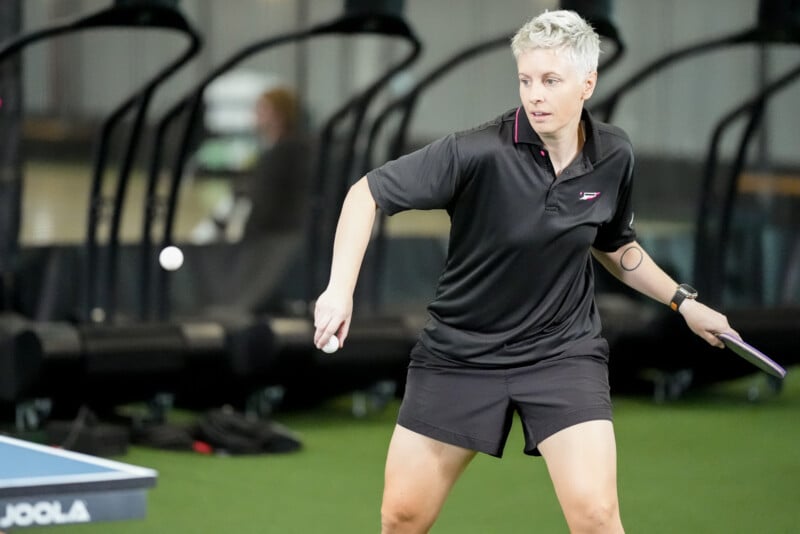 One thoughtful addition for the action photographer who may want to shoot at more conservative burst rates is the inclusion of a fifth custom button which can be set to deliver a pre-set burst speed whenever it is pressed. For example, you could have the camera set to shoot at 15 FPS and then only when you hold the button does it engage 60 or 120 FPS until you hit the buffer or release the button.
For the first time in a Sony body, there is a pre-capture mode that can buffer up to a full second of images before the shutter button is pressed. I found this feature to be straightforward to use and I like how Sony groups all these bursts together during playback.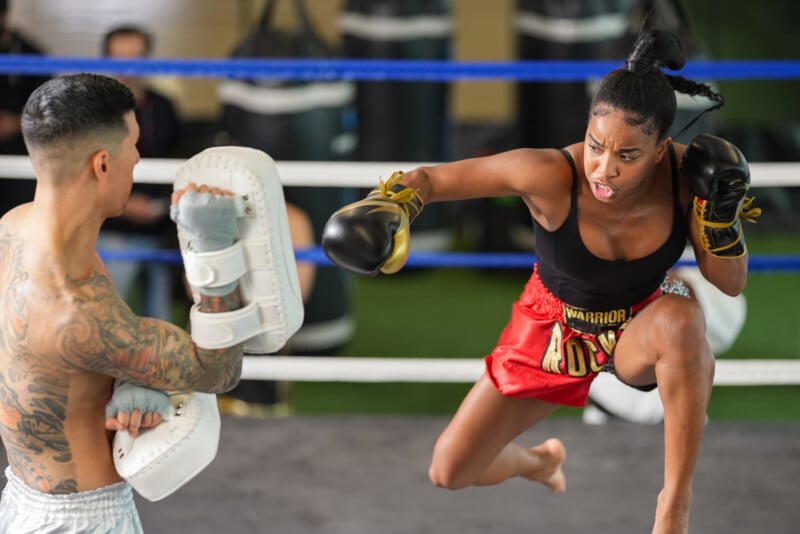 Who needs a mechanical shutter when the stacked sensor in the A9 III can go to 1/80,000 second? Curiously, we found that setting a fast-aperture lens wider than f/1.8 will limit the speed to 1/16,000 second but this is still ridiculously fast.
A huge advantage to these fast electronic shutter speeds is the ability to cut ambient light when required, a benefit that applies even when using flashes. We were able to light a subject with on-camera flash at 1/80,000 second and cut so much light that a sunny background looked like dusk. There are no limitations whether you use TTL flashes or third-party strobes, there is no light lost like there is with high-speed sync, and no ND filters would be required. The a9 III empowers photographers who use flashes regularly like never before.
Sony Alpha a9 III: Handling
The a9 III will feel very similar to someone familiar with the current crop of Sony bodies, save for the repositioning of two custom buttons behind the shutter. The camera manages to shed 20 grams off the weight of the a7R V and the body has a rather sexy new look, with rounded contours on the edges that deviate from the boxy norm. The a9 III uses our favorite four-axis articulating LCD panel that we love from the a7R V and we also see the return of the eight-stop IBIS system, too.
Sony brought us to Chelsea Pier Fitness Center to test the autofocusing capabilities by taking pictures of various athletes partaking in volleyball, martial arts, table tennis, and more. Much like the a7R V, the a9 III utilizes the latest autofocus algorithms from Sony but it also has a more advanced 759 point autofocus array with more coverage across the sensor. Although the camera is pre-production, I don't see any reason why it won't perform as well or better than any of the other recent Sony bodies. In my experience, the hit rate for shots in focus and right on the eye of the athletes was near perfect.
Sony Alpha a9 III: Video Performance
The video specifications of the Sony a9 III are — at least on paper — very compelling. It can shoot 4Kp60 video that is oversampled from 6K and this is also the first Sony Alpha body to offer 4Kp120 video without a crop factor. Binning is required to achieve this but the results look promising.
Let's also remember that any rolling shutter in video is completely non-existent with this camera. The a9 and a9 II had a lot of video features omitted but we are happy to report that S-Cinetone and S-LOG 3 are fully reinstated here in the third iteration of the line.
Again, we want to reserve judgment on dynamic range until we have a final version of the camera, but from what we've seen, the files look sharp and pleasing.
Sony Alpha A9 III: Questions Unanswered
The two big questions we are left with are related to image quality. Without having the RAW file support necessary to truly evaluate the data, we can only make educated guesses.
The base ISO of the a9 III is 250 which suggests that there could be some loss of dynamic range compared to a standard sensor. Adding credibility to this possibility is the fact that global shutter sensors have — at least in the past — less dynamic range compared to a stacked sensor.
Furthermore, we have confirmed that the a9 III sensor is not dual gain. From the shots we have taken so far, I feel like the a9 III seems to be balanced more towards enhanced high ISO performance, perhaps by trading out some detail and introducing more noise at lower ISO settings. This would be an acceptable trade-off for a camera aimed at fast-action sports and action. However, we won't know for certain until RAW images can be fully evaluated, which we expect to be able to do closer to the camera's public launch next year.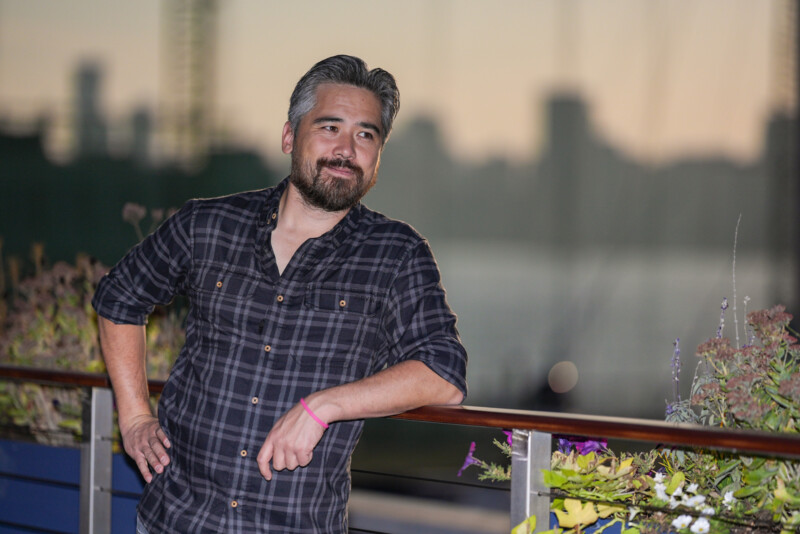 Sony Alpha A9 III: The Future is Bright
Even with questions still looming about just how good the images will be out of this new sensor, there is no denying that the first stacked global shutter is a real step forward. Remember that the a9 III is a specialized tool designed for journalists and sports photographers who need blisteringly fast burst rates and clean images in low-light situations.
Being able to freeze almost any movement with incredibly fast shutter speeds and suffer no penalties from rolling shutter or loss of autofocus performance is also a huge benefit. A global shutter sensor makes a lot of sense for a camera just like this.
The fact that global shutters are now in the mirrorless full-frame world will have a big impact on how photographers use flash strobes, too — not just with the a9 III but any future cameras as well. Only time will tell how long it will take the other big industry players to catch up, but for now, Sony is once again the one making waves.
---
Image credits: Photos by Chris Niccolls unless otherwise noted.