Elinchrom Three Review: A 'Just Right' Light for Photographers on the Move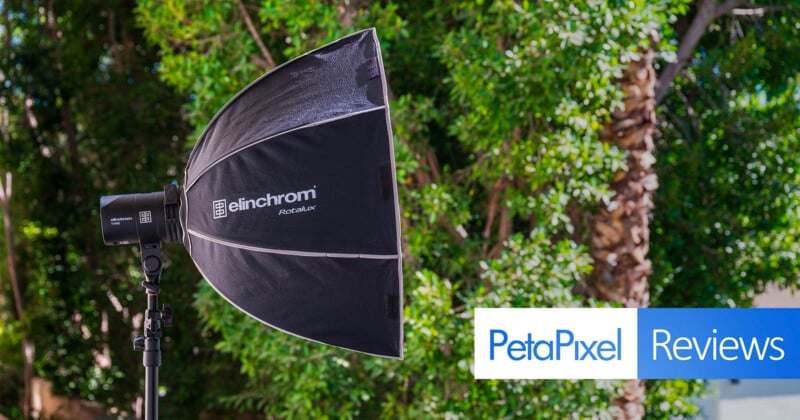 Elinchrom has aggressively expanded its offering of strobes for creatives in recent years. The 261 watt-second (Ws) $1,000 Elinchrom Three seems to be placed in position to be the "Just Right" adventure light Elinchrom is advertising.
The new light from Elinchrom finds a sweet spot in between the One and Five lights. It is twice the power of the One and half the power (and size) of the Five. This effectively fills out the collection for creatives as a flexible light source great for both indoor and outdoor shooting that fills in what's missing for both of the others. The One is great for indoor and low-power situations, and the Five is excellent when partnered with larger modifiers in brightly lit scenarios. The Three is firmly planted in the middle, offering some of the best of both worlds. It offers great portability with the "just right" amount of power.
The Elinchrom Three light is roughly the size of a standard 70-200mm f/2.8 lens and gives users up to 525 full power flashes (420 if the modeling lamp is on) on a single charge of the device's built-in battery. If you find yourself running out of power and needing more than the 500 or so pops out of your light, the Three allows you to charge it while shooting using any USB-C type battery pack or power source. This means you don't need to turn it off or stop using it while charging it.
What makes this light particularly interesting is it will match with any existing Profoto system of modifiers, and it ships with an adapter to use it with any standard Elinchrom modifier as well. So regardless of which light system you have modifiers for, the Elinchrom Three will work with them and can save users some money irrespective of which path they came from. For myself, as primarily a Profoto user, it was great to leverage all of my existing modifiers and softboxes on the Three so I could truly test it out in a variety of ways.
Design and Build Quality
The light system is similar to the Elinchrom One, with the Three just a little bit bigger and heavier (at 3.6 pounds). Like the One, the Three features an external flash-tube design that arguably lets it perform better than similarly powered lights (like the Profoto B10X) with a recessed flash-tube since it can provide a wider (better) light spread. This can give it more even coverage in larger softboxes/modifiers and effectively give you a "better" usable power output.
Unlike the Five, the Three's mount positioning is center mass, making it easy to balance with lighter modifiers. The light-stand mount attachment comes with two different tightening methods; a standard knob (out of the box) and a lever to better secure the tilt mechanism when using larger/heavier modifiers. For the most part, you can get away with using just the knob. Still, if you plan on using larger modifiers, I'd highly recommend switching out the knob for the lever, as I experienced a lot of drifting when using the heavier softboxes until I swapped them out and was able to tighten up the grip a little more. But even then, after some time, the tilt mechanism would drift on me again, so I used an additional light stand to hold it in place. This was one of those instances where the Five shined bright and was just a tank standing in place no matter what was attached.
As I mentioned above, the Elinchrom Three has a built-in battery, which might annoy some people, myself included. Still, they do make it a little less frustrating to deal with by being able to charge the light when in use using any sort of USB-C connection located on the bottom of the light near the control screen. While that active charging is a benefit and "plus" in general, if I'm on location for a long day of shooting, I'd rather have a bunch of fresh spare batteries ready to swap out than rely on USB-C battery packs to keep me up and running.
In the studio, you can plug the light into a power outlet and be good to go. The good news is the system packs a decent punch and offers 525 full charge pops per battery charge with a 1.2-second recycle time, and it takes a little under two hours to charge from empty.
On the back of the light, users will find a full-color touch screen that gives quick access to the light's most common and important settings like power levels, group and channel settings, modeling lamp settings, sound/beep notifications, and access to the advanced settings menu.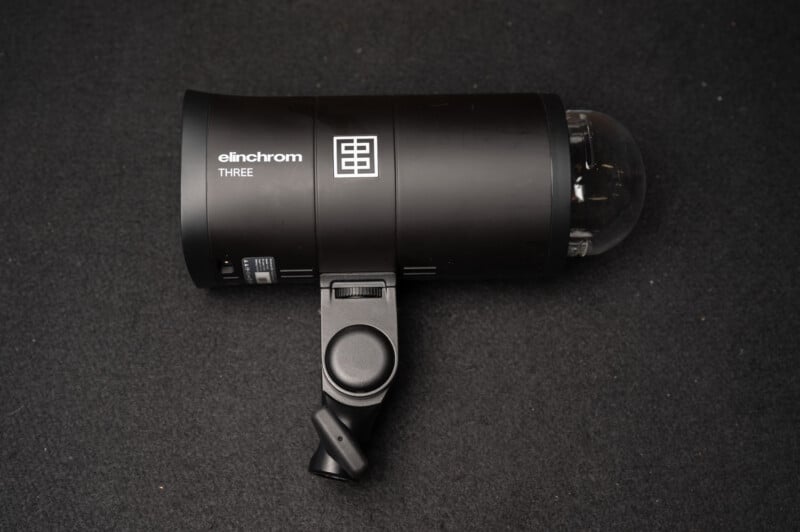 Compared to Profoto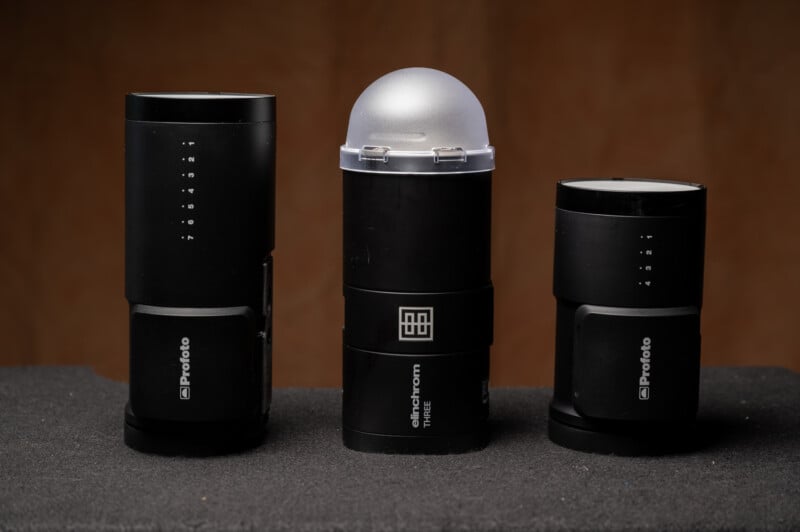 Side-by-side with the Profoto B10X and B10X Plus, you can clearly see the similarities and differences between the systems. To be fair, the B10X Plus is only really there for a size comparison since it is a 500Ws light. The Three is pretty close in size, at least with its dome, to the B10X Plus, but is only slightly heavier than the 3.3-pound B10X.
An interesting difference between the similarly powered Three and B10X is the Three gives users six stops of power control. In contrast, the B10X offers 10 stops, giving users a lower-powered flash output option, which would come in handy in twilight situations. If you find yourself in a situation where you need a lower power output than the Three offers, you can actually just use the modeling lamp as an option. It's not ideal, but if you're stuck, it does work and offers users 3,000 lumens of light at 2,700 to 6500 Kelvin temperatures.
Features and Settings
The menu system for changing the settings within the light is rather easy to figure out, even for a beginner unfamiliar with the system. In addition to the LED touchscreen, the logo and branding along the sides of the light also light up when in use, and can be color-coded to be easily identified by each group or channel they are in, just like the Five. Making it easy to identify which lights are which on busy and complicated setups.
When the lights are in hard-to-reach positions, users can easily manage and adjust up to 20 lights using the Elinchrom Studio mobile or desktop apps (connected via Bluetooth). Additionally, they can create lighting setups using the app and save the preset for each light as a configuration file. These can then be loaded up on another shoot so you have all your settings precisely the same as last time. This is ideal if you have a particular setup for your shots that you use repeatedly.
Controlling the lights is pretty much the same as the One and Five systems, leveraging the Skyport Pro Trigger. While it's pretty easy to get connected and running (User guides can be found here to help), I found the triggers themselves a bit disappointing. While you can make many adjustments to the light directly from the trigger itself, several settings and options are simply unavailable through it and require users to use the desktop or mobile apps to take advantage of, such as turning an individual light or group entirely off. Yes, you can do this using the app(s), but it would be such a workflow improvement not to have to dig out your phone in the middle of a shoot to make the adjustment.
You are just as well to walk over the light or group of lights and manually turn them off. Additionally, using these triggers, I experienced a slight but noticeable amount of misfires where the light wouldn't fire. I think over a week of testing, it worked out to be less than 3%, which is pretty tiny but still a bit frustrating when compared to my Profoto triggers, which only seem to have issues when the battery is on its last legs. I'm nitpicking here since it's not a dealbreaker, but finding these little hiccups is part of what we have to do.
As I mentioned above, the Three allows users to control the color temperature of the modeling lamp and allows for power adjustments from 4.8 to 10 (or 7Ws to 261Ws). Something that I found interesting and useful is that the Three also displays the actual flash duration to discharge the light on the back of the LED below the power settings allowing users to see precisely the shutter speed needed to "freeze" any motion when using High-Speed Sync (HSS). It is not strictly necessary, but it is a cool feature with helpful information for the shooter.
Light Quality and Performance
The Elinchrom Three offers users a pretty consistent 261 Ws light that is just powerful enough to be used outdoors in the daylight and is a more than capable light in a studio with just about any modifier attached. The protruding "dome" style flash tube allowed for a much more even and fully lit spread in larger modifiers with a 160-degree beam angle, as opposed to the 70-degree beam angle from a Profoto B10X.
Per Elinchrom, the Three offers users a +/- 150K variance in all modes for color stability at 5900K in action mode and 5600K in HSS. During my testing, I didn't find the color temperature shifting much, even at its lowest power settings, making it impressively reliable for color accuracy in a fast-paced environment. Much like the Five, the only time you would see some color variance in the shots is when shooting at the lowest power settings in mixed light or ambient settings, and those were mostly from external factors and not the Three at all.
The Three light was able to put out the same sort of power that I've been getting from my Profoto B2 and B10x heads, so other than getting used to the new menu system, it feels like second nature in my workflow, especially since I was able to use my existing Profoto modifiers on it.
Below are a variety of image samples captured with the Elinchrom Three light by itself or mixed with other lighting.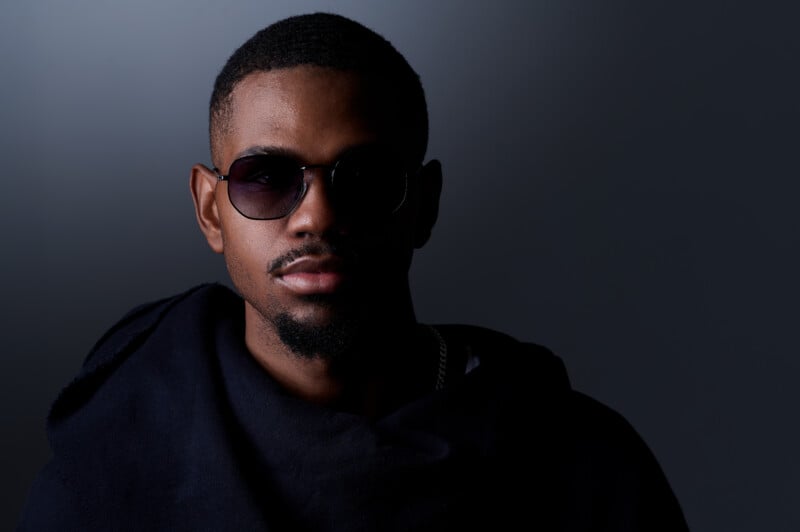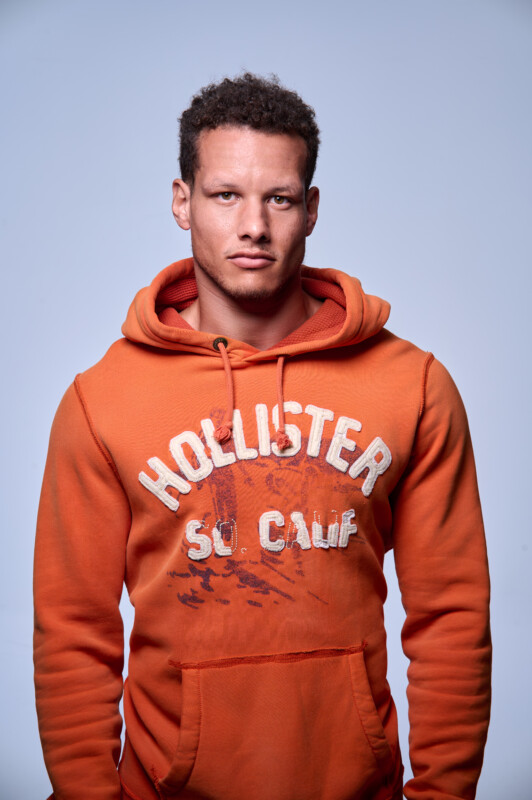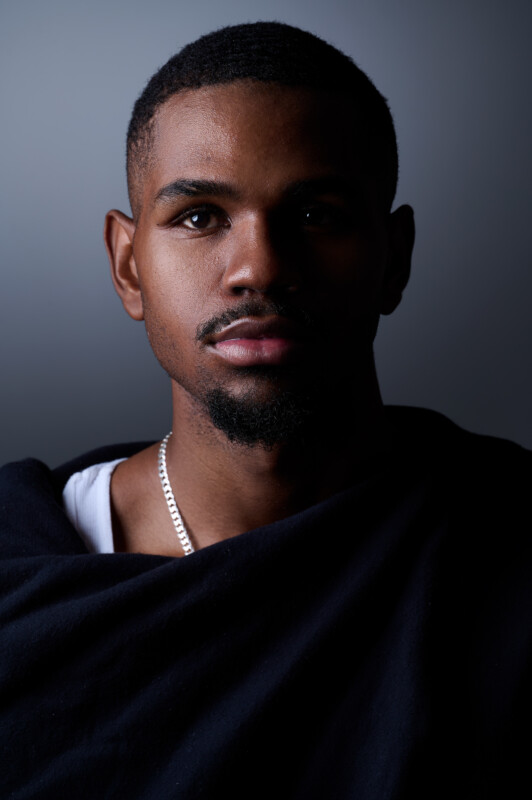 Actually Kind-of Is a Just Right Adventure Light
The Elinchrom three was an impressive light as far as I was concerned. For existing Elinchrom shooters, it finds itself right in the middle of their offerings for both size and power, making it an ideal lighting solution for creatives on the move, and the small footprint meant it could travel easily in my camera bags without the need of a special/secondary system like I would with the larger Five. It also brings a touchscreen menu for quick access to the most used settings on the light, giving the user more options for making adjustments on set.
The fact it can share my existing Profoto light modifiers and work in tandem with Profoto lights, triggered optically or using non-standard radio triggers, also means that anyone looking to expand their lighting setups can do so pretty comfortably and affordably seeing as how they are half the price of a Profoto B10X and offers the same sort of power. The Elinchrom Three's built-in battery is a bummer, but it allows you to do active charging while using the light and not hurt the battery. Even though that part is great, I still wish the Three offered the option to have hot-swappable batteries, even if it would increase the cost of the units.
The Elinchrom Three is available in a single light kit for $1,000, or as a two light kit for $1,900.
Are There Alternatives?
As I mentioned above, there are quite a few alternatives available in the size and power outputs the Elinchrom Three offers. These include the $1,995 Profoto B10X or the $1,285 Broncolor Siros 400S. Saving a little money, you can look at the $600 Westcott FJ400, the $400 Westcott FJ200, the $500 Flashpoint (Godox) XPLOR 300 Pro TTL R2, the $349 Flashpoint Rapid 400 II, and the $109 Flashpoint Studio 300 II-V. All these options give users something in the range of 200-400 Ws with a mix of different features.
Should You Buy It?
Honestly, if you're already a photographer using Profoto or Elinchrom lights, the $1,000 Elinchrom Three makes a great addition to a kit thanks to its familiar and useful power and compact travel-friendly size.