The Elinchrom FIVE is a New 522Ws Battery-Powered HSS Strobe
Elinchrom has announced the Elinchrom FIVE, a new 522Ws active-charging, battery-powered, portable, off-camera monolight that lets users work equally well in the studio or on location. The new $1,850 strobe features High-Speed Sync (HSS), a continuous running modeling light, and a removable (and rechargeable via USB-C) battery that can power the light for up to 450 full power flashes per charge.
Elinchrom says the FIVE is a "tough and reliable" light that is built to withstand anything a user can throw at it and comes equipped with a fast recycling time of just 1.6 seconds at full power. The design has a focus on cooling, which Elinchrom says ensures users will get the most out of their batteries.
According to the company, with a full charge, users on remote locations can get up to 450 full power flashes and it can be charged (both passively and actively) by connecting the light or battery to any USB-C power source. This means that, in a pinch, even a battery power bank can power the light and enable continued shooting.
The Elinchrom FIVE is a little larger than its ONE counterpart, weighing 6.6 pounds (with the battery, 5.3 pounds without) and measuring 10.35 by 6.57 by 11.22 inches (including the protective cap), but is still small enough to be easily portable for easy use both in the studio and on location. The light also packs a similar 500-plus Ws punch as a Profoto D2 or B10X light but is priced $250 to $550 cheaper.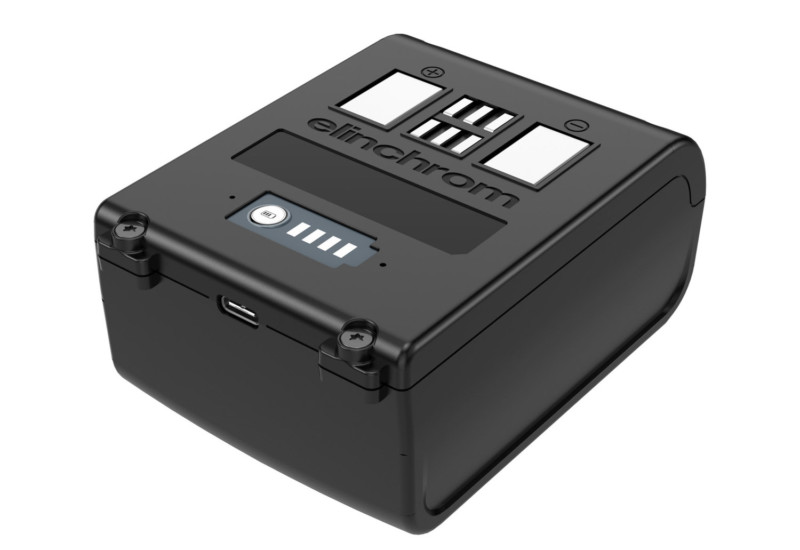 The new strobe features a bicolor 26W LED modeling lamp with a color temperature range of 2,700 to 6,500K with an output of 4,000 lumens and a CRI 95 rating. Additionally, the light features HSS up to 1/8,000 second which is fast enough to freeze motion and overpower even bright outdoor ambient light.
The FIVE also supports TTL with Manual Lock, a "smart" Pro-Active cooling system that Elinchrom says adapts to users' shooting style, and includes built-in Bluetooth 4.2 that allows users to adjust settings and control multiple lights via the Elinchrom Studio App (available on Apple, Android, MacOS, and PC devices) without the need of an Elinchrom Bridge. And yes, the light also includes a standard 3.5mm sync socket for standard radio trigger and sync-cable connections.
Additionally, the Elinchrom FIVE can recycle as quickly as 0.01 seconds at low power settings and to 1.6 seconds at the highest power setting while maintaining a +/- 200K color temperature over the entire 7 to 522Ws power range. The company says the charging time of the battery using the 65W USB-C wall charger from zero to 100% takes just one hour and 35 minutes when plugged into the unit.
According to the company, the new Elinchrom FIVE features a power range of 1/1 to 1/64 with a t0.1 flash duration of 1/1,800 second to 1/200 second in normal mode and 1/8,080 second to 1/250 second in action mode.
Below are some sample photos captured using the Elinchrom FIVE:
The Elinchrom FIVE is currently available as either a single or double-light kit for $1,850 and $3,650 respectively.