Canon Unveils World's First 24-105mm f/2.8 Lens and It Can Power Zoom
Alongside the RF 200-800mm telephoto zoom lens, Canon has announced the RF 24-105mm f/2.8 L IS USM Z, the world's first 24-105mm zoom lens with a constant f/2.8 maximum aperture.
Designed for still and video professionals who want a single lens that can handle a wide range of tasks, including in low-light situations, the 24-105mm f/2.8 is sure to be popular with portrait, event, documentary, and photojournalism photographers and videographers.
There is no such thing as a free lunch, so there is a cost to breaking new optical ground. The RF 24-105mm f/2.8 lens is rather heavy, weighing 2.9 pounds (1,330 grams). It is also quite large, with a maximum outer diameter of 3.5 inches (88.5mm) and a constant length of 7.8 inches (199mm).
The RF 24-105mm f/2.8 weighs nearly twice as much as the RF 24-105mm f/4 L IS USM lens, which tips the scales at 1.5 pounds (700g). The f/4 zoom is also significantly smaller, with a length of 4.2 inches (107.3mm).
Compared to the Canon RF 24-70mm f/2.8 L IS USM lens, adding the extra 35mm at the long end adds nearly a pound, or 430g. The RF 24-105mm f/2.8 lens is also almost three inches (73.3mm) longer. Both f/2.8 zoom lenses sport an 82mm front filter thread.
There is also a significant price difference between the three RF zoom lenses. The cheapest choice is, of course, the RF 24-105mm f/4 lens. It is competitively priced at just $1,300. The RF 24-70mm f/2.8 lens is currently on sale for $2,100, down from its usual price of $2,400. Finally, the new RF 24-105mm f/2.8 lens is priced for professional photographers and will set customers back $3,000.
That said, innovation rarely comes cheap, and there are a lot of exciting aspects of the RF 24-105mm f/2.8 lens. It includes two Canon Nano USM focus motors, promising extraordinarily swift and accurate autofocus performance. The lens incorporates a floating optical system to help ensure consistent performance while maintaining a constant lens length, which is essential when using it as a video lens in a rig.
The lens can focus as close as 11.7 inches (0.45m) across the entire focal length, meaning that the max magnification is 0.29x at 105mm.
The RF 24-105mm f/2.8 also includes optical image stabilization. It is rated for 5.5 stops of optical shake correction, although when used with a Canon camera with in-body image stabilization, coordinated IS delivers eight stops of stabilization.
There are numerous other "firsts" here. The RF 24-105mm f/2.8 is the first Canon RF "standard zoom" lens to include a built-in IS Mode switch. It is also the first Canon RF lens with a manual aperture control ring. However, Canon explains that this will not work with still photography functions on "current" camera bodies but will work with future products in 2024 and later, whatever those products may be. Photographers with many current Canon cameras must lock the iris ring into the "A" position and control the aperture via the camera body. That said, the iris ring does work as expected during video functions on compatible cameras.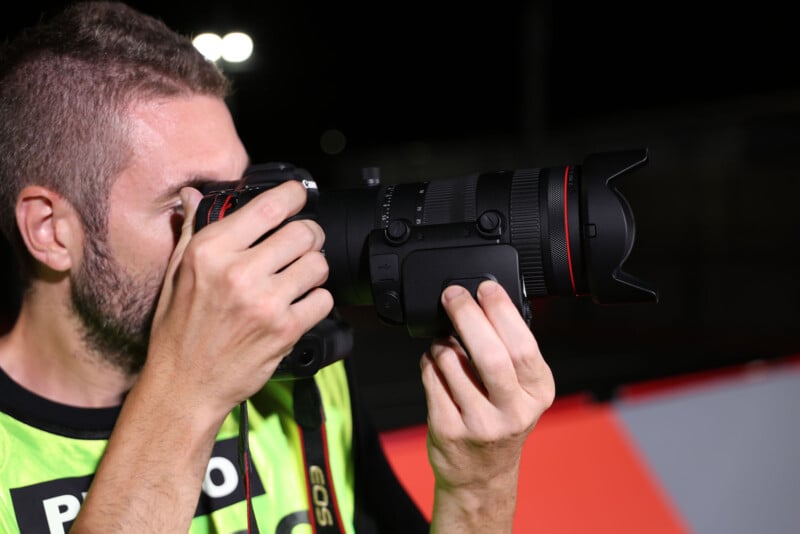 The 24-105mm f/2.8 includes a lot of glass. It features 23 lens elements across 18 groups and incorporates four ultra-low dispersion elements and three aspheric elements. It has Canon's Super Spectra Coating (SSC), Air Sphere Coating (ASC), and Fluorine coating.
Power Zoom Adapter
The Canon RF 24-105mm f/2.8 L IS USM Z is also the first Canon RF lens to offer Power Zoom functionality. However, this will require using Canon's new Power Zoom Adapter (PZA), which attaches directly to the side of the 24-105mm f/2.8 lens.
The PZA will come in two versions, one with only a USB port and the other with a USB port plus a 20-pin connector. The 20-pin connector allows additional accessories to be used alongside the Power Zoom Adapter. As for the USB-C port, faster maximum zoom speeds are possible when supplying power to the PZA, at least when using the lens on specific camera models.
Concerning zooming, both versions of the PZA include a rocker switch to adjust the lens' focal length.
Canon emphasizes that the PZA is designed exclusively for use with the RF 24-105mm f/2.8 L IS USM Z.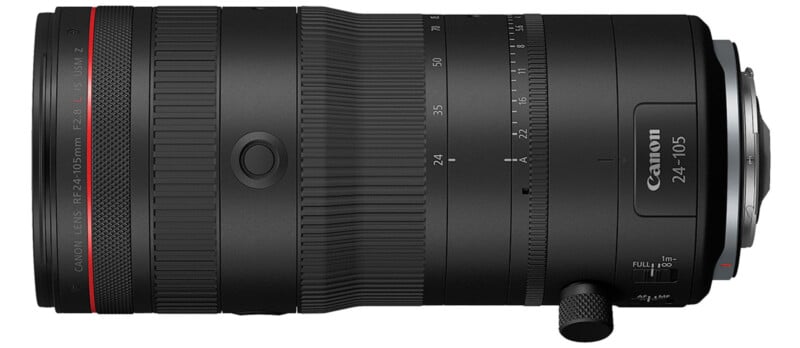 Pricing and Availability
The Canon RF 24-105mm f/2.8 L IS USM Z lens can be ordered now for $3,000 and will start shipping next month.
Both versions of the new Power Zoom Adapter will be available beginning next spring. The USB version will be $1,000, while the USB plus 20-pin connector variant will be $1,300.
---
Image credits: Canon