Canon Launches Affordable 24-105mm f/4-7.1 IS Kit Lens for the RF Mount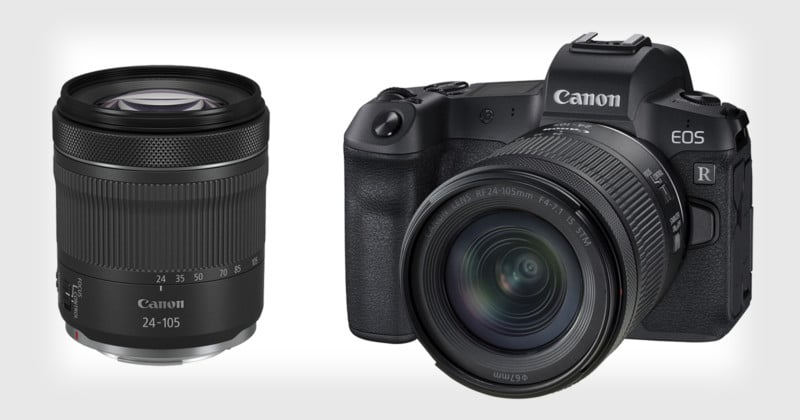 Canon released a new kit lens for the RF Mount tonight. The new RF 24-105mm f/4-7.1 IS STM promises to be an affordable and versatile lens for photographers who love the new EOS R system, but don't want to spend more on a lens then they did on their camera body.
One of the main criticisms of Canon's full-frame mirrorless RF Mount thus far is the lack of affordable glass, which is probably how the 24-105mm f/4-7.1 IS STM came to be.
This compact, stabilized standard zoom lens is made up of 13 elements in 11 groups—including one aspherical element—which gives it a minimum focusing distance of 0.13m (using Center Focus Macro) and a maximum magnification ratio of 0.4x when zoomed all the way in. The lens uses a stepper motor (STM) for smooth and quiet autofocus, features a customizable control ring, and offers up to 5-stops of shake reduction via in-lens optical stabilization.
All of this fits into a package that—thanks to the surprisingly slow f/4-7.1 variable aperture—measures in at just 88.8mm long and weighs only 395g.
Here's a quick introduction to Canon's latest budget-conscious RF mount lens, followed by some product photos and a feature overview:
The Canon RF 24-105mm f/4-7.1 IS STM lens is available now for $400, which is a whole lot cheaper than both the $1,100 RF 25-105mm f/4L IS USM, and the $900 RF 24-240mm f/4-6.3 IS USM. You'll also find it packaged in kits with the EOS R and EOS RP moving forward.
To learn more about this lens, head over to the Canon website.