Xiaomi 14 Series Phones Feature New Snapdragon Chip, Faster Leica Lens
Qualcomm announced its new Snapdragon 8 Gen 3 mobile platform on Tuesday and smartphone maker Xiaomi wasted no time in launching its first smartphones to utilize Qualcom"s new, super-fast chip.
As reported by Engadget, the Xiaomi 14 and 14 Pro smartphone, which arrive only a month after Xiaomi announced the 13T series smartphones, sport not just Qualcomm's latest mobile platform, but are also Xiaomi's first devices to run the company's HyperOS system.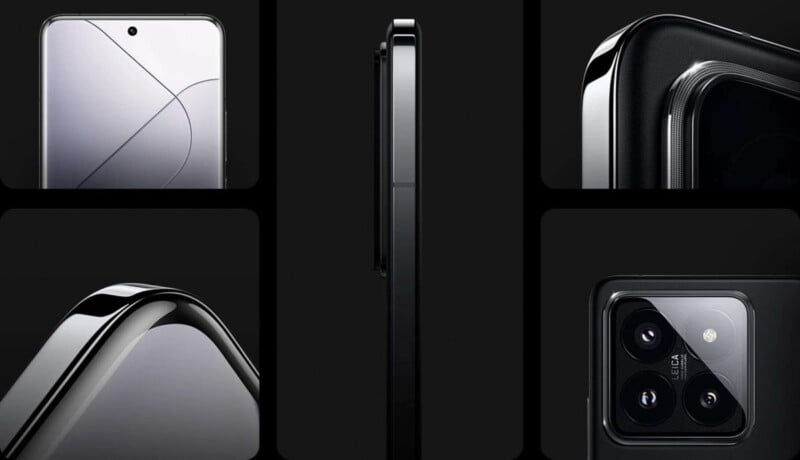 There is also good news for photographers, as the Xiaomi 14 and 14 Pro incorporate a faster Leica Summilux lens. Both models come with similar camera systems. Notably, the 14 series has moved away from the large Type 1-inch sensor of the Xiaomi 13 Pro and Ultra and gone with a new, smaller 50-megapixel Type 1/1.31-inch sensor. The new "Light Hunter 900 "image sensor features 1.2 μm pixels and promises 13.5 stops of dynamic range.
The "Leica super dynamic main camera" has a custom 23mm equivalent lens with a variable f/1.42-4 aperture and optical image stabilization. Xiaomi says that the lens has a 1,024-step variable aperture. It can also pixel bin, effective pixels that are 2.4 μm large. Further, per GSM Arena, Xiaomi claims that while the sensor is about 44% smaller than the imager in last year's 13 Pro smartphone, the new faster lens makes the overall light-gathering performance "virtually unchanged."
Alongside the primary camera are telephoto and ultra-wide cameras. The Leica 75mm floating telephoto lens captures 40-megapixel "regular" photos and 50-megapixel "portrait mode" photos. The f/2.0 lens features a floating focusing group and can focus as close as 10 centimeters.
The Leica 115° ultra wide angle camera is a 50-megapixel camera with 14mm equivalent focal length and an f/2.2 aperture. It also offers macro capabilities, at least on the 14 Pro model. 9to5Google reports that the standard 14 has no autofocus capabilities with its ultra-wide camera, and as a result, does not offer the same macro capabilities as the Pro.
Another difference between the 14 and 14 Pro is that the former's main camera has an f/1.6 maximum aperture rather than f/1.42. However, the telephoto cameras are identical, which is a first for Xiaomi's standard versus Pro models.
The two phones also differ in size. The Xiaomi 14 has a 6.36-inch C8 AMOLED panel with an industry-leading peak brightness of 3,000 nits. The screen has a variable refresh rate ranging from 1Hz to 120Hz.
On the other hand, the Xiaomi 14 Pro features a larger 2K-resolution 6.73-inch screen. Another difference between the two phones is that the 14 Pro's USB 3.2 port delivers 10Gbps data transfer speed, double that offered by the standard 14.
The Xiaomi 14 Pro also features more curved edges, a new "Xiaomi Ceramic Glass" covering that is apparently 10 times more resistant to damage from drops and 1.25 times more scratch resistant. The 14 Pro also comes in a titanium edition, which features this special new glass on both sides of the phone, which has added an extra seven grams to the total weight.
Pricing and Availability
Xiaomi has not yet listed the 14 series smartphones on its global website, but the company has begun offering the models for preorder in China. The 14 starts at 3,999 yuan, or about $550, with 8GB of RAM and 256GB of storage. The 14 Pro base model features 12GB of RAM and 256GB of storage and starts at 5,999 yuan (around $820). Both devices can be purchased with more RAM and storage.
Engadget speculates that while the Xiaomi 14 series smartphones haven't yet been announced for international markets, "it's probably just a matter of time."
---
Image credits: Xiaomi