Sharp's Leica-Branded Aquos R6 Phone Packs a Massive 1-Inch Sensor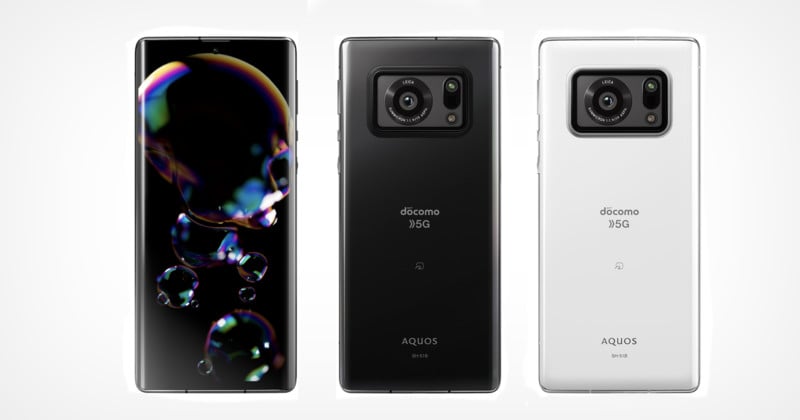 Sharp has just announced the Aquos R6 smartphone with a large Leica-branded lens and huge 1-inch sensor, a first for a traditional handset manufacturer.
The Verge reports that the Sharp Aquos R6 has a "Summicron" lens that is produced by Leica and a large 20-megapixel, 1-inch sensor. While it is not the first phone ever to feature a sensor this large — the Lumix CM1 carries that honor — it is the first by a traditional handset manufacturer to do so and may have a sensor that was actually designed specifically for a smartphone.
The smartphone's f/1.9 Leica "Summicron" ultra-wide lens has a focal length equivalent of 19mm and is especially wide compared to other smartphones on the market. The upside to this design is that photos taken with this sensor and bright lens will no doubt look much better than what smartphones thus far have been able to accomplish, but the downside is significant as well: this is the only rear-facing camera the smartphone offers. In order to achieve any other focal lengths, digital zoom is the only recourse.
That said, that large sensor allows Sharp to claim that its Aquos R6 camera can produce realistic-looking bokeh and performs well in low-light scenarios. Below are a few images taken with the new smartphone.
Additionally, Sharp has set up a sample gallery of shots here in a format that mimics an actual museum gallery. The quality of these images seems significantly higher than the ones the company published above as well.
The smartphone claims its large display is the world's first to be driven by a 1Hz to 240Hz adaptive refresh rate and combines energy-saving performance with a clear Pro IGZO OLED display which achieves a peak brightness of 2000 nits. The Aquos R6 is also of course powered by Qualcomm's Snapdragon 888 processor and features 12GB of ram.
This new partnership between Sharp and Leica solidifies the camera manufacturer's previously-questioned future partnership with a smartphone brand, following its several-year-long collaboration with Huawei.
An inside source, first reported by GSM Arena, revealed that the Huawei and Leica partnership, which was established with the release of Huawei P9 in 2016, was rumored to come to the end before the end of the official partnership term with the release of Huawei P50 smartphone series, and a future partner was still unknown at the time. It was rumored that Leica may partner up with Xiaomi, Honor, or Sharp.
The collaboration between Leica and Huawei is apparently coming to an end P50 series will be last Leica Huawei phone and Leica is looking for a new manufacturer for its brand.
Honor / Xiaomi / Sharp etc https://t.co/QJJ4OdmMDT

— Teme (特米)😷 (@RODENT950) May 15, 2021
Before the announcement of the Aquos R6, Unbox speculated that Xiaomi would be the most plausible option for Leica because Xiaomi had focused on increasing the camera performance of its smartphones, making the Leica partnership a possible option. At the same time, Huawei denied any reports of the partnership coming to an end despite its collapsing market share in mainland China.
PetaPixel reported in March 2021 on the decline of Huawei as a consequence of the U.S. trade ban, which saw the brand's market share drop. The brand navigated its marketing and manufacturing downfalls, such as lack of key manufacturing components in conjunction with selling Honor, a smartphone and consumer technology brand that has now branched out independently from Huawei and secured a deal with major suppliers, like Microsoft, Intel, Samsung, and Qualcomm, as reported by Wired.
The difficulties faced by the brand could have contributed towards the Huawei-Leica partnership coming to an early end, however, the Aquos R6 announcement confirms that Leica has secured at least one new partner.
R6 is expected to go on sale in June 2021 in Japan via NTT Docomo and SoftBank phone carriers but no pricing information was available at the time of publication.