Xiaomi's 13T and 13T Pro Smartphones Make Leica Imaging Tech More Affordable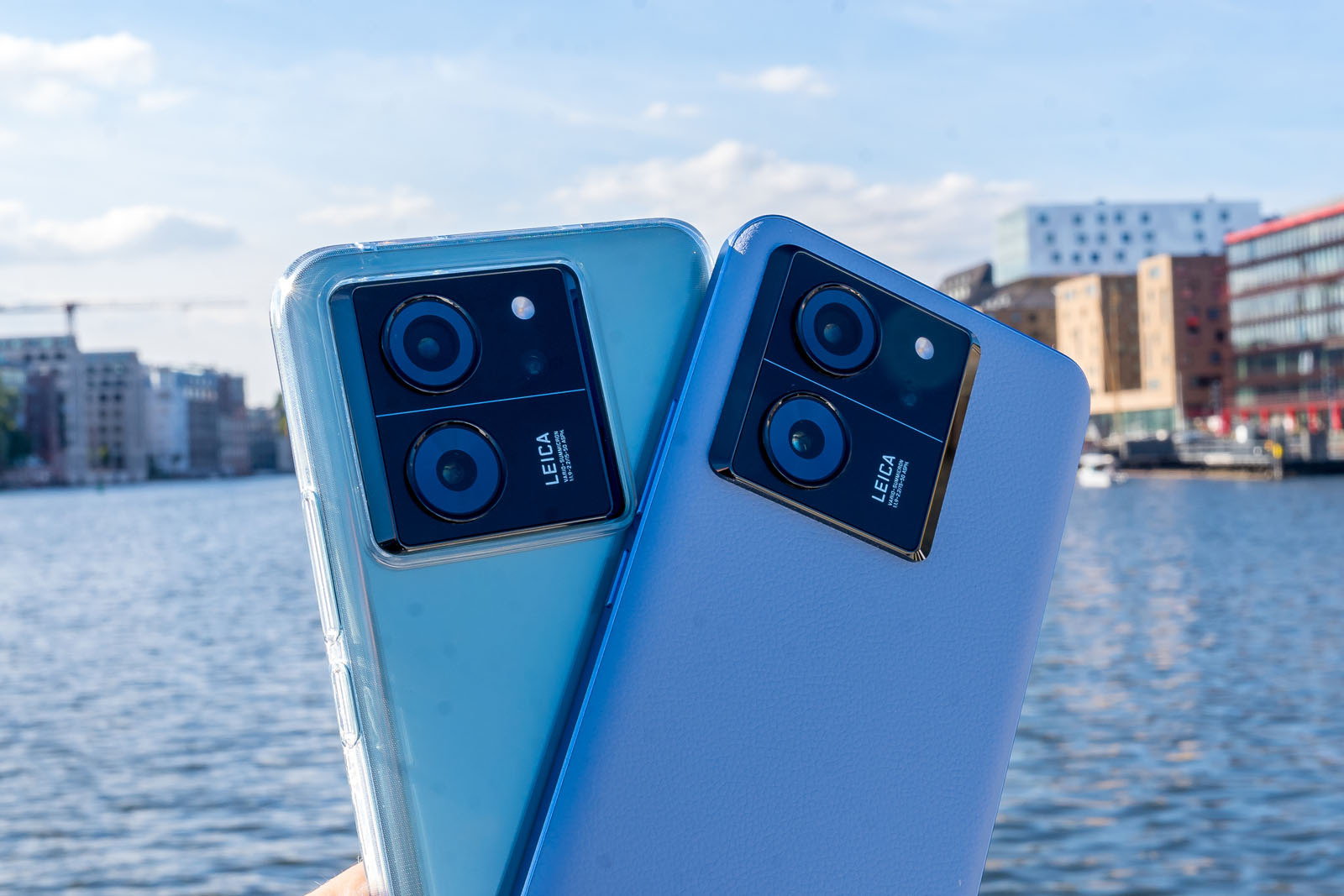 Xiaomi unveiled two new smartphones in its Leica-affiliated lineup ta a launch event in Berlin, this time going the more mid-range and affordable route by way of the 13T Pro and 13T.
These new phones mark Xiaomi's attempt to bring more of its camera features — not to mention the Leica partnership — to devices in a lower price range like the T Series, which had previously never included Leica's input. Both will be available in global markets, though not in North America, unless you buy them from an online retailer that ships there.
While the two devices largely borrow from their higher-end siblings, the 13 Pro and 13 Ultra, Xiaomi is also adding some experimentation and using the launch to highlight an educational initiative in Europe.
Familiar Look, Slightly Different Specs
You can determine the lineage of the new handhelds just by the vegan leather back and prominent camera bump that appears inspired by the 13 Pro. They even share the same colors: alpha blue, meadow green, and black. These devices feature the same 6.7-inch CrystalRes AMOLED display (without any curves) with a refresh rate up to 144Hz and peak brightness up to 2600 nits. There's Gorilla Glass 5 protection for the screen, while the whole device has IP68 dust and water resistance. You can expect Dolby Vision and HDR10+ support, plus Dolby Atmos on the audio side.
Underneath, the two run on MediaTek processors, though you get the faster Dimensity 9200+ 14nm chipset on the 13T Pro, as opposed to the 8200 Ultra chip in the 13T. It's hard to tell how much of a difference this creates in most conditions, though Xiaomi says the extra boost will play a role in faster performance all around, including with the cameras.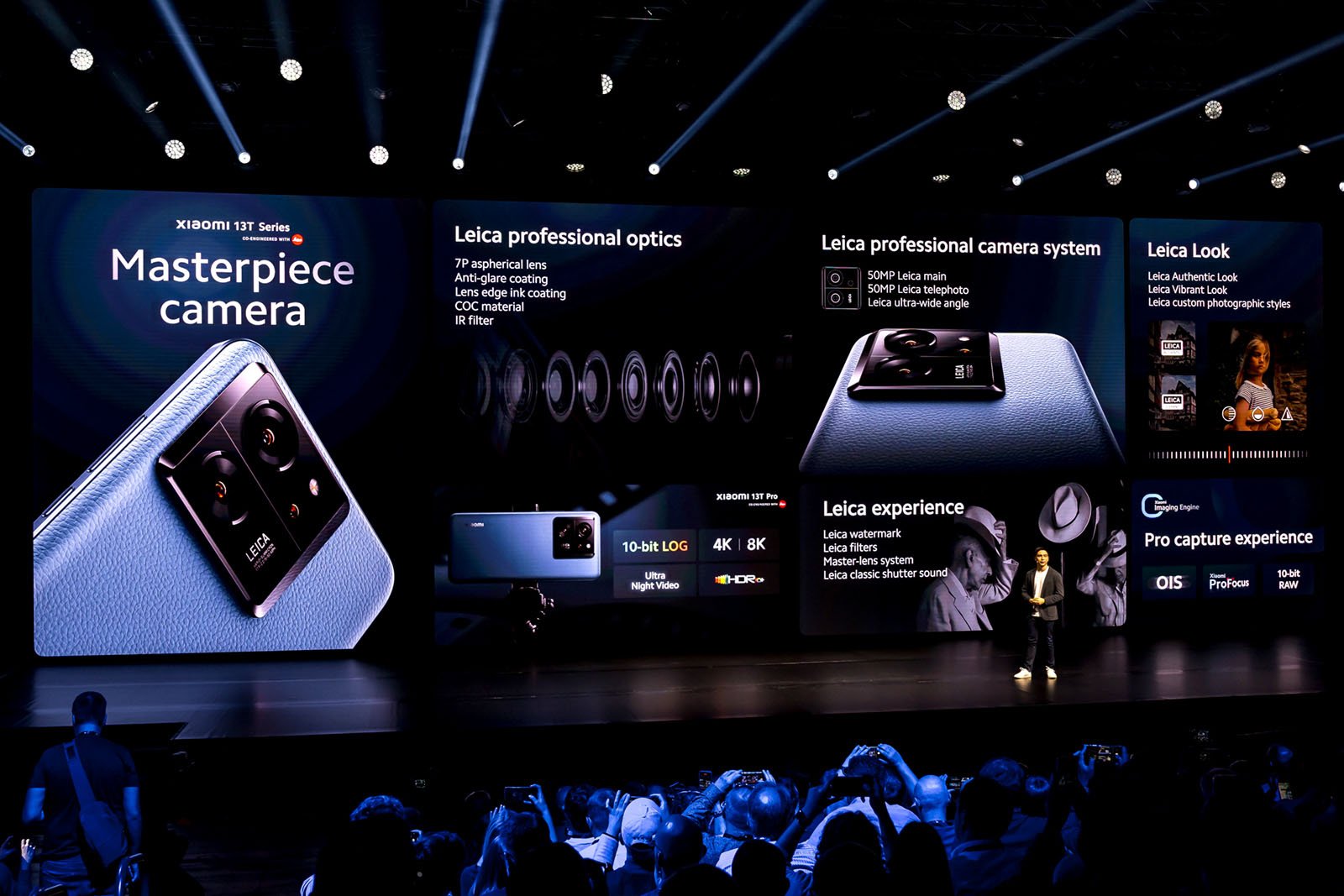 For memory and storage, the 13T Pro comes in 12GB of RAM with either 256GB or 512GB of storage, along with a higher variant that raises it to 16GB and 1TB, respectively. The 13T is more modest, with either 8GB or 12GB of RAM and 256GB storage. Regarding connectivity, the 13T Pro is optimized for Wi-Fi 7 but otherwise shares the same specs and bands as the Pro model. Both have dual SIM slots, and 5G support, mostly with bands that aren't operational in North America.
Both come with fast charging adapters, of which the 120W HyperCharge charger for the 13T Pro can fully recharge the device's 5,000mAh battery in just 19 minutes. The 67W charger for the 13T manages to do that in a very respectable 42 minutes.
Camera Features
For the most part, the 13T and 13T Pro share the same camera specs and features. There's a 50-megapixel (24mm equivalent) wide camera using a Type 1.3-inch Sony IMX707 sensor with f/1.9 aperture and both optical and electronic image stabilization. Pixel binning increases pixel size to 2.44µ, and the sensor enables 8K resolution, as well as 10-bit Log recording with LUT import support for the video options in the 13T Pro.
The 50-megapixel telephoto has an f/1.9 aperture but a modest zoom at a 50mm equivalent, making it more suitable to portraits, which is where it's more likely to shine. The 12-megapixel ultra-wide (15mm equivalent) has a decent f/2.2 aperture. Leica's Vario-Summicron 1:1.9-2.2/15-50mm ASPH lenses cover the camera module, so you don't lose out on the glass or coating when switching between shooters here.
That also includes the Leica modes and filters seen in the previous Xiaomi phones under the Leica partnership. You can shoot in Authentic or Vibrant, plus choose from various Leica filters within some of the camera app's shooting modes, like Vivid or Black and White Natural, for example. Leica's watermarks are also available, along with tweaks to the overall camera app interface inspired by Leica cameras.
These two phones introduce a new feature called "Leica customized photographic styles," which is a longer way of saying you can create your own styles based on your preferences. It's a new setting within Pro mode with granular control over tone, tonality, and texture that you can then save as a preset alongside Authentic and Vibrant. You use either of those as a base, and along with those particular adjustments, you have a style that can suit your tastes. It only works in Pro mode and with JPEGs, as switching to RAW toggles the feature off.
A Xiaomi rep has confirmed to PetaPixel that the customized styles will come to the 13 Pro and 13 Ultra in future software updates at some point in the future without providing a ballpark timeframe. An upcoming review will give some clues on how that, among other features in these devices, delivers on the imaging side.
Xiaomi Education Kicks Off
Xiaomi also announced it is partnering with the University of Barcelona and Leica Akademie photographer Giuseppe Nucci on an initiative called Xiaomi Education — Story in Sight. The idea is to run workshops at the university to teach students majoring in photography-related studies "the skills and knowledge required to create captivating visual narratives through their photographs." Nucci will be the instructor and the students will use phones throughout the workshops, only it's not entirely clear if they'll exclusively use Xiaomi devices or if all phones, regardless of brand, are acceptable.
The workshops will consist of two sessions under three faculties at the university, starting in mid-October 2023, and will be free for students who want to participate. The parties involved couldn't speak to any plans beyond these initial workshops in Barcelona.
Xiaomi did say it plans to expand its educational initiatives to other institutions, though wouldn't comment on where else they had in mind. In this case, the focus is on storytelling, so Nucci will teach students how to capture photos in meaningful ways rather than just simply how to compose an image from a technical perspective. No stranger to teaching, he says he's been doing it since 2017, and the Leica Akademie admitted him in 2022, thus opening up this opportunity.
Speaking with PetaPixel, Nucci says he wants to ensure students learn unique ways to convey thoughts or emotions in an age where social media often distorts those things. He contends it's not an anti-social media exercise, only that it will be about the art of photography with the capabilities now found in phones like those from Xiaomi, as well as preparing students for the challenges they may encounter when pursuing a photography career. To demonstrate that, he shot a photo essay with the phones in the Abruzzo region in Italy, which he also confirmed were 50-megapixel JPEGs rather than upscaled RAW captures, indicating what the 13T Pro and 13T are capable of when shooting in rural conditions.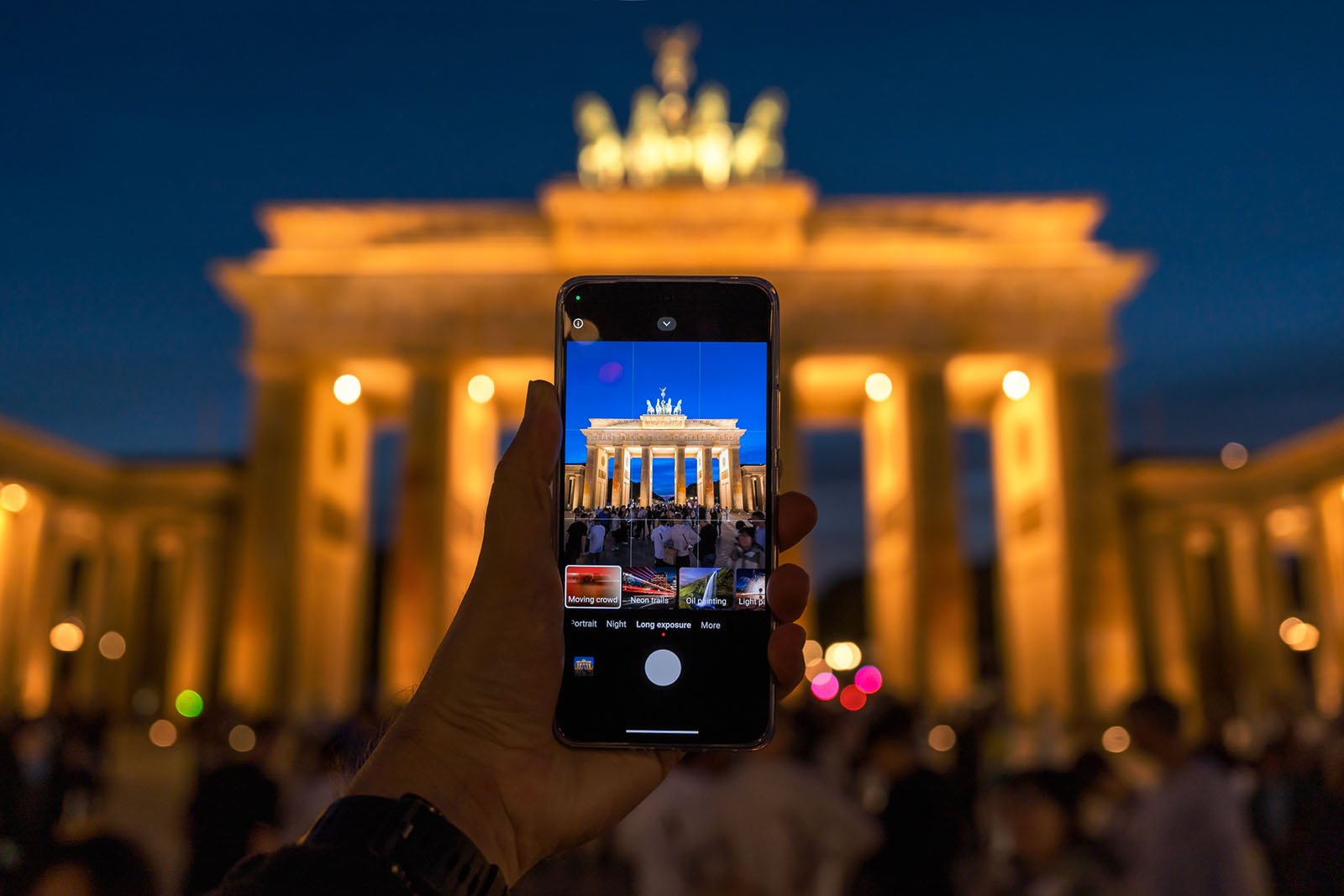 Coming Soon
Xiaomi isn't shying away from stating its intentions, at least regarding what it thinks a mid-range or affordable phone should have. That doesn't include changing the scope of global availability to include the challenging North American market, but those who want one of these should be able to get their hands on one.
Converted for USD, the Xiaomi 13T Pro will start at about $840 for the 12GB and 256GB versions and $680 for the 13T.