'To Be Continued' Film Camera Is Built to Capture a Lifetime of Memories
A trio of international designers have built a simple 35mm camera using existing camera parts and an eye-catching transparent body design.
The limited camera, called the To Be Continued, was designed and built by Croatian Joshua Cirjak, Canadian Shraeyas Massey, and Ferj David from the United Arab Emirates. PetaPixel first read about the new film camera on Kosmo Foto.
"As a photographer and videographer myself, I wanted to create a product primarily for myself because I know that if I love it, others will as well. Although there are so many great professional cameras out there, I find there's something so special about taking a picture and not being able to see it until it's developed," Joshua Cirjak tells PetaPixel over email.
"I see our TBC camera as a memory-capturing tool, as opposed to a professional film camera. It's all about capturing your memories in the most raw and unedited way."
Cirjak is no stranger to film photography. He has owned many film cameras, including the Canon A1, Canon AutoBoy D5, and numerous Olympus cameras.
However, Cirjak tells PetaPixel that his all-time favorite film cameras are Fujifilm disposables. "It's not perfect, but that's what made it so beautiful."
"However, I felt guilty using it every time and having to throw it away after I used it, so I decided to create my own camera that was similar to a disposable but could be reusable," Cirjak says.
Photography With Friends
"I started the project for my brand IUTD Studios with my buddies Shraeyas and Ferj from university," Cirjak explains. "We started by 3D printing shells and inserting old, discarded disposable internals into the shell. We spent hours after school, working on [making] the perfect cam, but soon came to realize that we needed to create a mold in order to create a camera that was durable and long-lasting."
However, when they started the project three years ago, they were fresh out of university and didn't have much money to spend on a mold. Manufacturing a camera is very complex and expensive, so they decided to modify an existing camera to fit their needs.
"We found a super cool camera with a wider lens (28mm) and spent months finding ways to modify it to completely change the look. We redesigned the shell to make it hug the internals as close as possible, which really emphasized the internals," Cirjak says. "We switched the internal cables, the shutter button, and the film spool winder, and we added a carabiner to the side to give it more of a utility look. The carabiner also allows you to 'wear' the camera as opposed to hiding it in your pocket."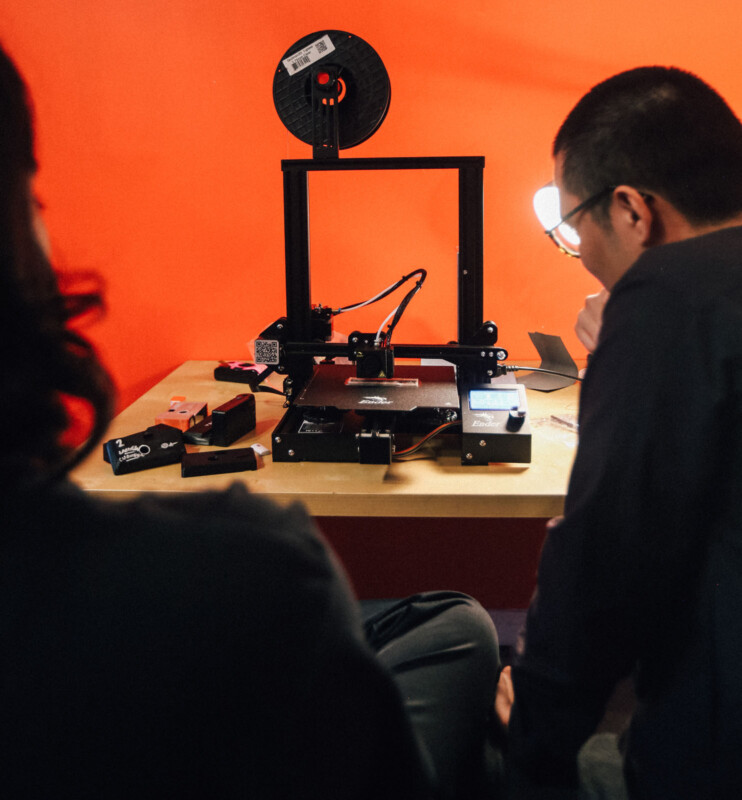 The 35mm camera's housing is a custom translucent PETG body, and its internal components are carefully arranged to ensure that the TBC camera is very compact.
Why 28mm?
The To Be Continued camera sports a built-in 28mm f/8 lens. The camera's shutter speed is 1/120s, and it can focus from one meter to infinity. The built-in LED flash is rated for up to two meters.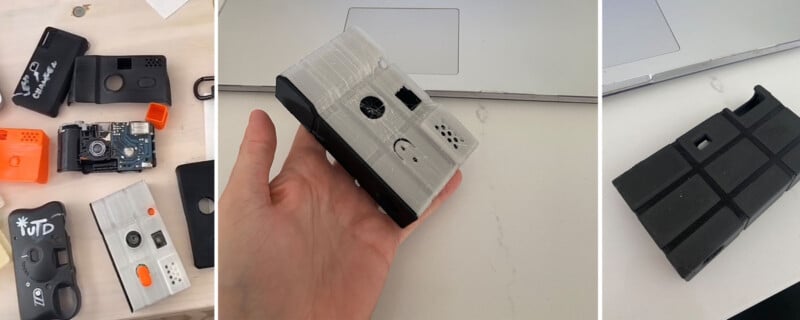 As for why 28mm, Cirjak tells PetaPixel, "Aside from running my brand IUTD Studios, I am also a full-time videographer and photographer. I've worked alongside artists such as Will Smith, Marshmello, and Martin Garrix, mainly filming at large-scale music festivals around the world. My go-to professional lens is a 16-35mm lens. I love wide angle. For a camera like TBC, where the goal is to capture memories, I think the 28mm lens allows the user to capture more of the memory, more of the moment."
To Be Continued's Target Audience
The trio of designers hope the TBC camera will be a great, affordable alternative to disposable cameras. "It has the same feel but can be reused an unlimited amount of times," Cirjak says.
The friends also hope their camera strikes a chord with fashion-forward and style-conscious photographers. After all, Cirjak says that the camera "looks fricken cool."
"Our goal was not to just make a camera exclusively for photographers, but for the general population, to use also as a fashion accessory!"
"There's something so cool about transparent products. We knew from the very start that we wanted to make it transparent. A huge inspiration to us were products like the Concord clear-shot, Polaroid Sun660 transparent, the Nothing phone, etc.," Cirjak explains.
However, a transparent camera can create some concerns about light leaks, which the designers carefully considered. "Light leaks are a concern for many people, but we knew this could pose a potential issue, so we were very careful when designing to ensure there would be no light leaks. Although the shell is transparent, the area where the film is put is fully enclosed in black, opaque plastic so that no light leaks through," Cirjak assures.
A Smash Hit in the Making?
The initial launch of the To Be Continued camera will be limited to just 400 units. However, the team has seen a lot of excitement about the camera online so far, and they are already hard at work on their next collection, "which will probably be released by the end of next year."
"We are super passionate about film cameras, and we just truly enjoy making cool cameras. We hope the public loves them as much as we do!" Cirjak says.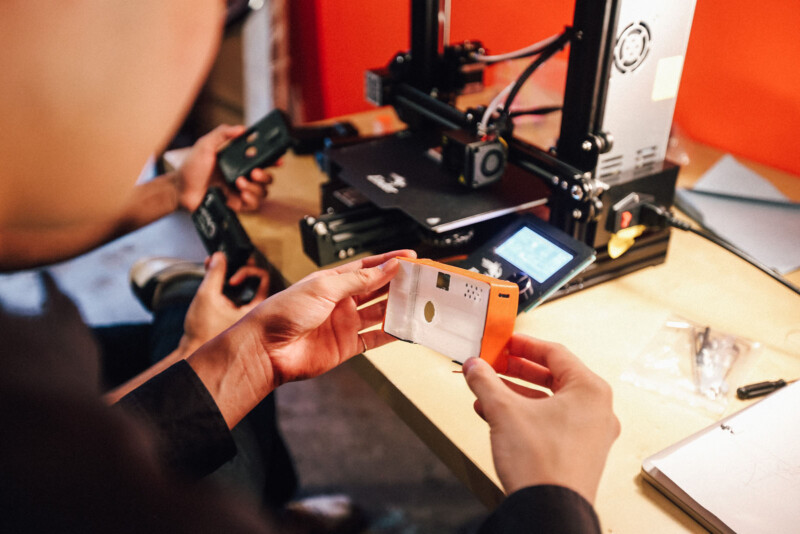 He also tells PetaPixel that the team is thinking about making a To Be Continued camera in different colors, including changing the colors of components like wires, the shutter release, and the film spool knob. The possibilities are practically endless. The group of friends is also considering selling future cameras alongside stickers so photographers can add a personal touch to their cameras.
"We want people to get back to living in the moment. Nowadays, everyone is trying to take the perfect pic, but we wanted to create something where they don't have to set up the perfect shot, all they have to do is take a pic and capture the memory," Cirjak says, emphasizing the very personal nature of the TBC camera.
Pricing and Availability
The To Be Continued camera will go on sale on October 30 and sell for €69 (about $73) plus shipping.
Cirjak says he and his friends do not expect to make money on this first batch. They have already invested $30,000 in a custom mold, which is more than just the revenue — not profit — they can expect from the initial batch of cameras.
"We are just a group of three guys passionate about good design and cameras. This whole project was an experiment that led us to our final product, which is still technically a work in progress," Cirjak says.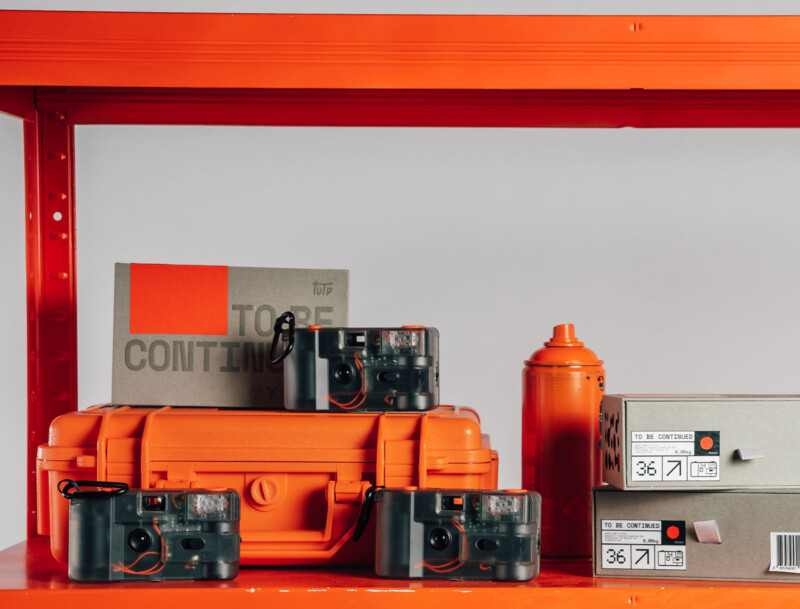 "If this camera does well, we are planning to upgrade this camera and make it better with every collection. At this moment, making money is not our primary goal, but we already invested a significant amount of our own funds into making the perfect product. I'd rather have a perfect product, than a half-done job just to generate sales. Our ultimate goal for this project is just to gain some traction, test the market, and hopefully, be able to develop even better cameras in the near future."
People can stay up to date with the To Be Continued camera by following IUTD Studios on Instagram.
---
Image credits: IUTD Studios