Panasonic's S5 II Gets Handheld, High-Res, 8-Second Long Exposure Mode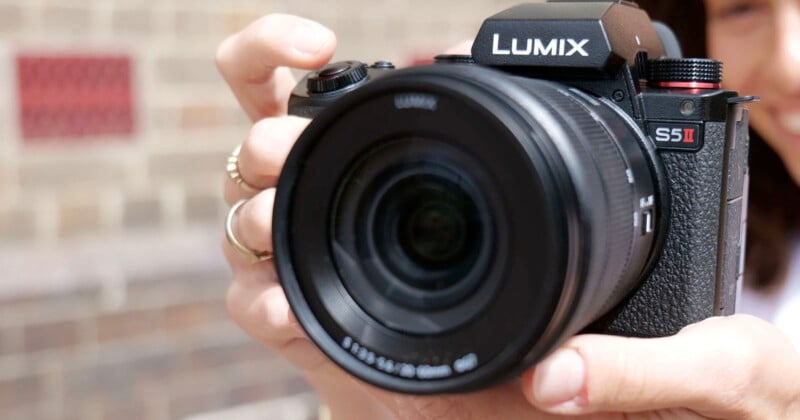 Panasonic will release a firmware update for the S5 II and S5 IIX on October 24 that adds two new features to the 96-megapixel high-resolution mode, including the ability to shoot at a maximum eight-seconds and the ability to shoot handheld.
---
Update 10/19: After publication, Panasonic reached out and admitted its press release may not have been well written and critical details regarding the firmware update were either not properly explained or not stated at all. Panasonic provided PetaPixel with a revised version that better illustrates the update, and the text of this article now reflects that.
The main adjustment concerns the time photographers can hand-hold a long exposure. The original release made it sound like the camera was going to support eight second exposures, but the company has clarified that only applies to when it is used with a tripod. Hand-held mode is restricted to one second.
---
The Lumix S5 II and S5 IIX were announced this past January as the first Panasonic mirrorless interchangeable lens cameras to feature phase detection autofocus. A long-requested feature, the Lumix-brand full-frame cameras became immediately popular thanks to the excellent mix of reliable autofocus and breadth of video capture options.
In addition to that standout feature, Panasonic also added the ability to capture 96-megapixel high-resolution photos in-camera, a feature that has existed in its Micro Four Thirds Cameras as well. However, the advantage Panasonic's GH6 and (more recently) G9 II had over the S5 II series in this regard was that it was capable of creating those composites without a tripod — the S5 II and S5 IIX require one.
Thanks to firmware update 2.2 on the S5 II and version 1.3 on the S5 IIX, that is changing. With it, both cameras can now capture long-exposure, high-resolution, noise reduction-applied photos for up to eight seconds. Hand-held, Panasonic says this will max out at one second. Leaning heavily on its outstanding image stabilizing technology, Panasonic is completely eliminating the need for a tripod in order to take photos at higher resolutions, even if longer exposures are necessary.
"Thanks to the image stabilizer, [Handheld High-Res] mode has been added to enable recording pictures with higher resolution even without using a tripod," Panasonic writes.
The firmware updates also add two other features. Panasonic is adding an AF-Point Scope function, allowing users to magnify the focus position during autofocus.
The company is also improving manual focus assist, making it possible to magnify the full screen mode display in the function to approximately 20 times, which the company says allows for a more precise application of manual focus.
As far as Panasonic firmware updates go, version 2.2 and 1.3 (for the S5 II and S5 IIX, respectively) are relatively small in scope, but the addition of an entirely new way to use the cameras thanks to the hand-held high-resolution mode is noteworthy.
The updates will be available to download from Panasonic's Lumix Global Customer Support website starting at 6 AM Pacific Daylight Time on October 24, 2023.