Panasonic Announces Blackmagic RAW Compatibility for S5 IIX and S5 II
Panasonic has announced updated information concerning the Panasonic Lumix S5 IIX full-frame mirrorless camera's video features and announced a firmware update for the Lumix S5 II.
S5 IIX Video Features
When Panasonic announced the S5 II and S5 IIX cameras at this year's Consumer Electronics Show (CES) in early January, Panasonic specified that the S5 IIX would be able to deliver RAW video output and All-Intra ProRes recording using an attached USB-C SSD.
Those features remain true, but Panasonic has announced that the S5 IIX will also offer Blackmagic RAW recording. Further, Panasonic has revealed that the camera will offer expanded compatibility with external devices, plus support for Atomos Nina V, Atomos Shogun Connect, and the Atomos Ninja V+.
Panasonic has additionally outlined the S5 IIX's recording modes: when using a full-frame image area, the camera records 12-bit 5.9K resolution 16:9 video (5888 x 3312 pixels) at 23.98p, 25p, and 29.97p.
For APS-C video at 4.1K (17:9 aspect ratio and 4128 x 2176), 12-bit video recording is available at up to 59.94p. 3.5K APS-C video (4:3, 3536 x 2656) is available at up to 29.97p.
A full breakdown of the S5II and S5IIX's features is available to peruse in PetaPixel's launch coverage. The S5 IIX is slated to begin shipping later this month.
S5 II Firmware Update
Panasonic has also announced that the S5 II firmware update that adds RAW data output over HDMI will also include support for Blackmagic RAW. Further, Live View Composite, which is pre-installed on the S5 IIX, will be included in the new firmware update.
It's worth noting that the RAW data output functionality for the S5 II requires the Software Upgrade Key DWW-SFU2, which is a $200 paid upgrade.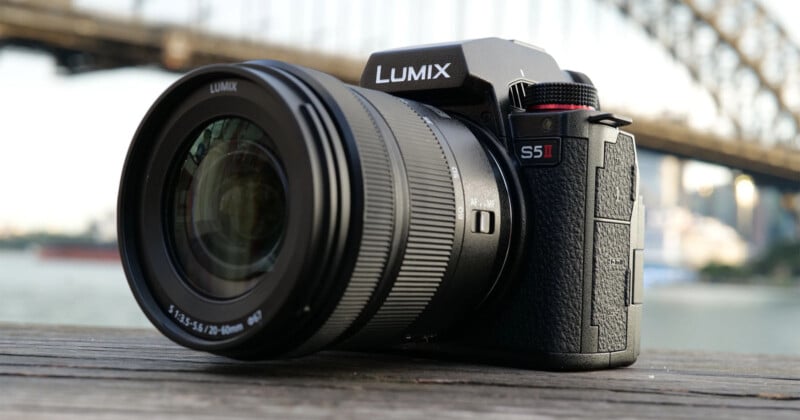 Even with this upgrade key, which enables RAW video output over HDMI, the S5 II cannot record directly to an SSD or do IP streaming — these features are exclusive to the S5 IIX, regardless of the firmware.
While the Panasonic S5II is already available, the new firmware update will release on June 13.
S5 II and S5 IIX Signal a Major Shift for Panasonic
The S5 II and S5 IIX finally add phase detection to Panasonic's mirrorless Lumix cameras. The AF technology has been a long time coming, and despite differences in high-end video features, the S5 II and S5 IIX promise identical autofocus performance.
Users have been clamoring for Panasonic to add PDAF to its cameras for a long time, and the move has been well-received so far. Shortly after revealing the S5 II, Panasonic announced that preorders exceeded its expectations and, unfortunately, its ability to meet the unexpectedly high demand.