Influencers Complain About 'Unflattering' iPhone 15 Selfie Camera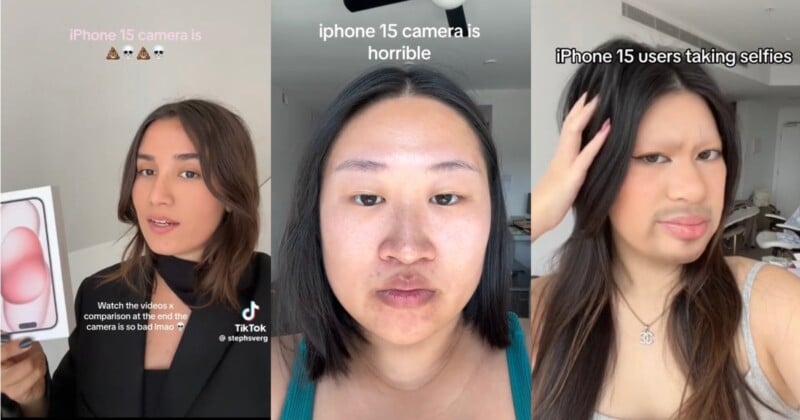 Influencers are not happy about the "unflattering" selfie camera on the new iPhone 15 — with TikTokers complaining that it is making them look worse than in real life.
Last month, Apple introduced the iPhone 15 family of smartphones — which now feature a 12-megapixel main camera for taking self-portraits.
However, influencers have apparently not been pleased with the selfie camera on Apple's latest smartphone and they have been taking to TikTok to complain about the quality of their photos on the iPhone 15.
TikTokers have lamented that the iPhone 15's main camera is ruining their selfies for various reasons — including making their skin look dull, showing too much detail, and darkening their photos.
'The iPhone 15 Camera is Horrible'
In a video, captioned "iPhone camera is horrible" that has amassed over 4.1 million views, TikToker @pcosgirl warned viewers about Apple's latest smartphone. She urges them: "The iPhone 15 is not worth it. Don't buy it."
The TikToker then compares the better selfies taken on her older iPhone 11 to photos shot on her new iPhone 15 to prove her point.
When viewers suggested that @pcosgirl only hated her iPhone selfie camera because the photographs were "more realistic" than any shot on an older Apple smartphone model, the influencer refuted this.
"I like how sharp the iPhone 15 front camera is," @pcosgirl explains in a follow-up TikTok video.
"But I don't like the color balance, especially when you take a picture right in front of the window.
"I don't know if it's the HDR or if it's some sort of post-processing thing… it just makes you look a zombie — like halfway into the casket grey."
Influencer Nicole Fay similarly offered a "warning" about the iPhone 15's detailed camera in a TikTok video that racked up 2.4 million views. She said that she found it challenging to take photos with Apple latest smartphone because it emphasized the subject's flaws.
"I just wanted to warn you that this phone will humble you… Taking a photo on this phone and taking a video, I can literally see my DNA through my pores. It's that crystal clear," Fay tells viewers.
"I'm just forewarning you — this phone is going to humble you… I'm having a hard time taking pictures because I didn't realize my pores were this big."
'Why Did You Do This Apple?'
Meanwhile, TikToker @stephsverg said she wanted to return her new iPhone 15 because of the camera. In a video, that amassed one million views, she compares the selfie that she sees on her smartphone screen with the duller final photo with the iPhone 15 camera.
"I am extremely disappointed with the camera and I'm going to see if I can return it. I really don't like the camera. It's just not it," @Stephsverg says of Apple's latest smartphone in a further video.
"You go to take a picture, you look one way in the camera and then you take the picture. And then the picture is like 10 shades darker, like it just looks so bad."
Likewise, influencer Sally Kim said that she would not be taking selfies with her new iPhone 15 and questioned why Apple would make a main camera of this quality.
Kim laments: "My skin looks dull. It's desaturated. I don't understand… Like why did you do this Apple?"
Other TikTokers attempted to help out Apple customers — showing them exactly how they could fix their "terrible" iPhone 15 selfies in the edit.
"If the iPhone 15 camera did you dirty, let me show you how to fix that so you don't look as dull and detailed," TikToker Abigail Grace tells viewers.
She suggests that the "auto" edit option and changing the contrast can bring some warmth back into selfies. Grace also instructs how the "noise reduction" editing feature can soften the subject's skin in a photo.
On TikTok, Generation Z users seemed to be criticizing the artificially intelligent (AI) computational features of the iPhone 15's main camera. There is seemingly no skin-smoothing algorithm on the iPhone 15's main camera, unlike some other smartphone brands.
Instead, Apple's processing can apparently make some facial features come out overly pronounced in selfies by sharpening and micro-contrast enhancement.
This is not the first time TikTokers have moaned about the iPhone's main camera. An influencer claimed "screenshotting" is the secret to taking the best selfies and beats any photo shot with an iPhone camera lens — and Generation Z users overwhelmingly agreed with her.
---
Image credits: Header photo via TikTok/@stephsverg; TikTok/@pcosgirl; TikTok/@emilia.chia