Influencer Says 'Screenshotting' is Better Than iPhone Camera For Taking Selfies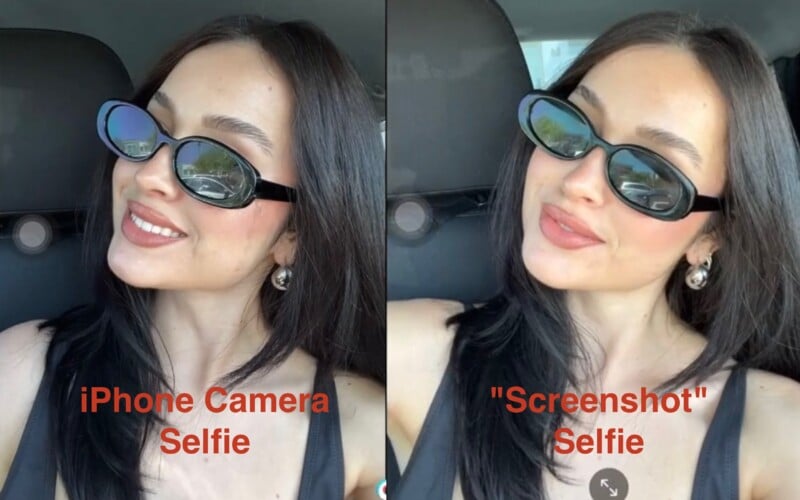 An influencer has claimed "screenshotting" is the secret to taking the best selfies and beats any photo shot with an iPhone camera lens — and Generation Z users overwhelmingly agreed with her.
In a TikTok video, which has amassed 3.4 million views this week, influencer Liliana Madrigal criticized the iPhone's camera quality for selfies and explained that "screenshotting" is the "only" way to take a flattering photo.
"I always get asked how I take my selfies so I'm going to show you because I do not [use the camera]," Madrigal explains at the start of the clip.
Madrigal then takes a selfie on her iPhone's front-facing camera to illustrate why she refuses to shoot photos with it.
Madrigal shows the supposedly unflattering photograph she just took with her iPhone camera and exclaims: "Ugh! The quality always comes out so bad."
As iPhone images are always disappointing, the influencer details how she first poses for a picture on the front-facing camera.
Madrigal then screenshots the selfie that she sees on her smartphone screen — instead of taking the photo with the iPhone camera.
"What I do is I pose and instead of tapping [the camera button] to take the picture, I screenshot," Madrigal says.
She shows viewers the flattering selfie she has just screenshot on her iPhone. Madrigal then explains how she crops the screenshot in her smartphone so that it looks more like a normal photograph.
At the end of the video, Madrigal explains why she thinks a screenshot selfie looks so much better than a photo taken on an iPhone camera.
"I just like how it comes out way better because the lighting is such a difference," she says. "And I don't know why our phones do this but this [screenshotting] is the way around it."
One user asked Madrigal if she edited the "arrows at the bottom" of an iPhone screenshot out of her selfie. But the influencer says she simply leaves the arrows in the photo because it looks "kinda cute."
'Finally Someone Said It!"
Madrigal's video received over 389,000 likes on TikTok. The influencer was not alone in her belief that the iPhone camera was inferior to a screenshot — in fact, she seemed to have spoken to a shared sentiment among Generation Z viewers.
Madrigal was hailed as a "genius" for the screenshotting selfie tip and viewers thanked the influencer for bringing awareness to the iPhone camera's "poor" quality.
One user praised Madrigal: "Finally someone said it!"
"I've literally been hating the iPhone quality omg," another individual similarly comments.
A further viewer complains: "Why does the iPhone edit the photos all weird after you take it [on the camera]?"
"Why isn't Apple doing something about this problem?" another TikToker furiously asks.
'I Thought I Was The Only One Who Did This'
Meanwhile, several TikTok users shared that they also use the screenshot method to take better iPhone photos. And up until Madrigal's viral video, they assumed they were the only people who shot photos like this.
"I'm happy to find my people! I thought I was the only one who thought my pictures looked better with screenshots," a viewer writes.
Likewise, another user said they hated how "detailed" a normal iPhone photo is and that the screenshooting method imbues a selfie with a flattering "filter" effect.
While other TikTok users suggested other photo-taking methods they used to circumvent the iPhone's "bad" camera quality.
"I just record a video and screenshot. The quality of these new iPhones are getting on my nerves," one viewer writes.
Meanwhile, another individual says: "I take a 'Live Photo' and move it a tiny bit. It gets rid of the awful HDR [High Dynamic Range] effect."
On TikTok, Generation Z users seemed to be almost united in criticizing the artificially intelligent (AI) computational features of the iPhone camera. They seemed to dislike the way the iPhone camera "corrects" and uplifts the original photo.
For whatever reason, the image that appears on the iPhone screen when an individual uses the screenshot method for a selfie is simply more flattering in their eyes.
For example, while the iPhone's HDR effect may help balance and capture detail in a landscape photo, this effect may not be considered to work so well on a subject's face in a selfie.
---
Image credits: Header photo via TikTok/@lilimadrigal_.