AGO Film Processor Is an Automated Tool for B&W, C-41, and E-6 Films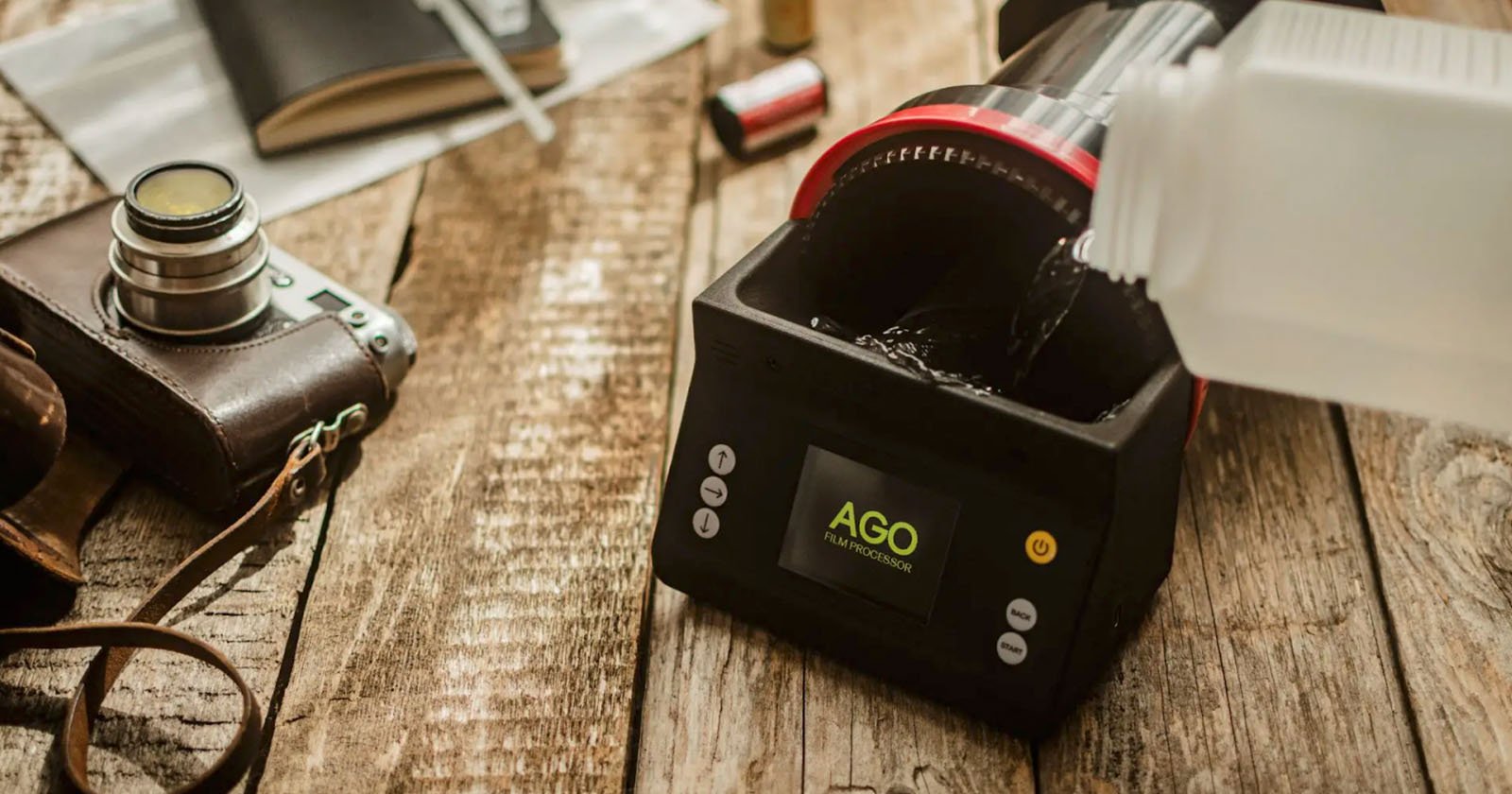 The AGO Film Processor aims to be an analog photographer's "gateway to effortless film development for B&W, C-41, and E-6 films."
Launched by Vintage Visual on the crowdfunding platform Indiegogo, the AGO Film Processor enables the user to non-destructively convert a standard Paterson hand-processing tank into an automated film processor. It can be used vertically or horizontally as a rotary processor, as 35mmc explains in a hands-on review.
The setup process is straightforward. The user must first put their film into the Paterson tank in the dark. Next, they attach the rear stand to the tank and connect the AGO Film Processor to the tank, funnel holes facing down.
At this point, the photographer prepares their chemicals and powers on the AGO. Using on-device controls and a color display, users can access a program menu to select the appropriate process for their film. The process can be further customized as needed. Once the process is ready, it is time to pour in the prepared chemicals and press start. Once the processing is completed, the user can pour out the chemistry and repeat the process with the same or other chemicals.
The AGO Film Processor is designed with small labs, photographers, and community centers in mind. The product works with full-frame (35mm) film, medium format (120), and large format (4×5).
Vintage Visual explains the AGO's "most groundbreaking feature" is its time compensation system. "The concept is simple yet transformative: you no longer need to meticulously maintain the chemical temperature; you just pour in the chemicals within the right temperature range. AGO takes care of the rest by continuously monitoring the temperature and automatically adjusting the processing time during the process, guaranteeing consistently perfect negatives with every use," the company says.
This is a significant benefit for all users, especially those who are inexperienced or lack the time to monitor chemical temperatures constantly.
"I can see that for somebody new to processing, this would be an excellent way to take some of the trepidation out of the idea. Knowing you're able to get consistent results on hot or cold days and use less chemistry while you're at it gives great peace of mind," writes Dave Walker on 35mmc.
As for more experienced users, Walker says that the AGO Film Processor removes some chances for photographers to make mistakes. The device is small and light enough to be used anywhere, even in the field, assuming that the ambient temperature is within the suitable range for development.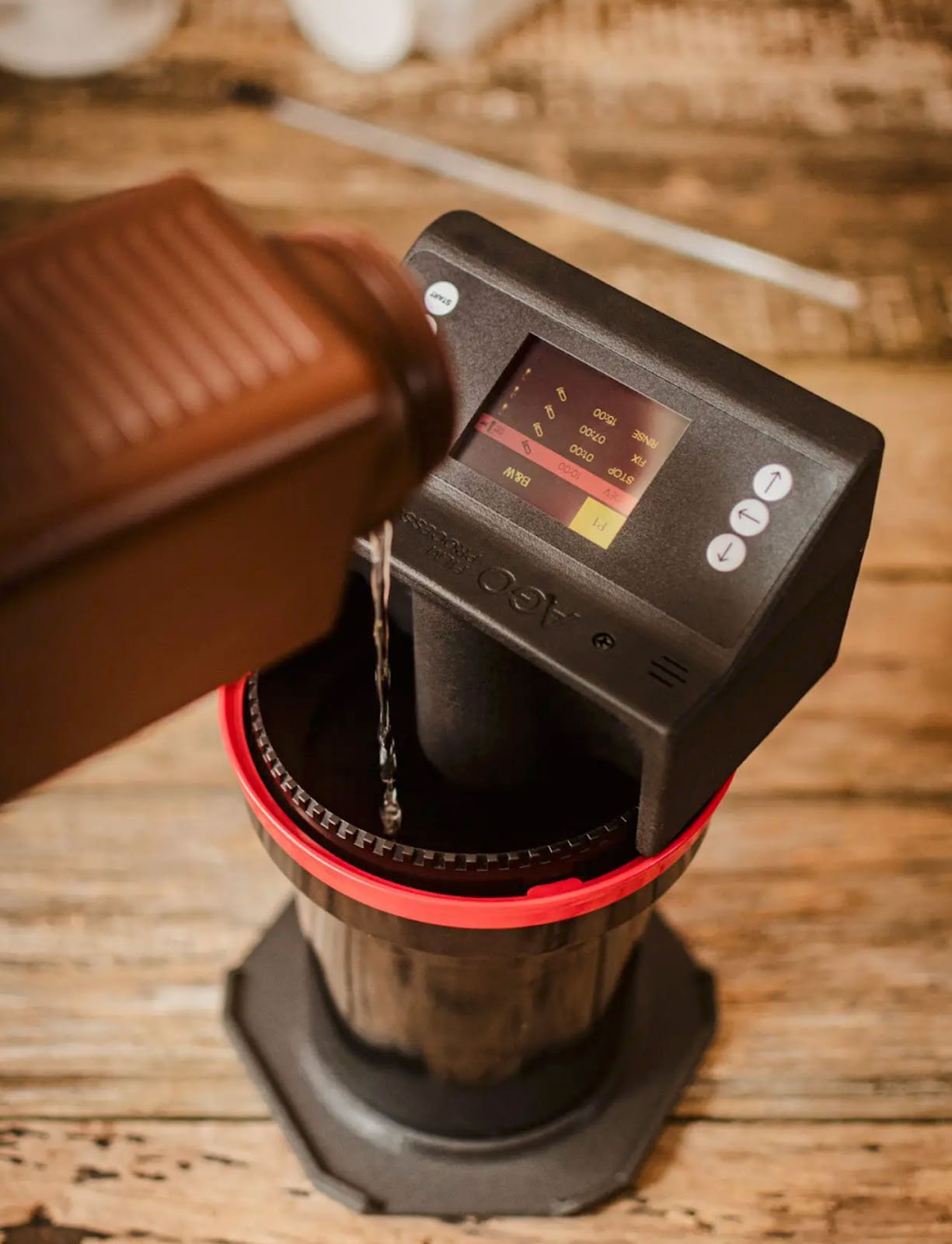 Pricing and Availability
The AGO Film Processor is available to back on Indiegogo for as low as $336. For users who also need a Paterson tank, a bundle is available for $357. Vintage Visual expects the first units to arrive to backers in May 2024.
---
Disclaimer: Make sure you do your own research into any crowdfunding project you're considering backing. While we aim to only share legitimate and trustworthy campaigns, there's always a real chance that you can lose your money when backing any crowdfunded project.
---
Image credits: Vintage Visuals