DZOFilm's Pavo 2x Anamorphic Lenses for Super35 Are Available Now
Cinema lens maker DZOFilm announced its Pavo 2x Anamorphic Prime Series of lenses earlier this year at NAB 2023. At last week's IBC 2023 in Amsterdam, the company released more information about them including details on pricing and availability.
The DZOFilm Pavo 2x prime lenses come in six focal lengths, each offering a T2.1 aperture, save for the 100mm T2.4 lens. The series comes in 28mm, 32mm, 40mm, 55mm, 75mm, and 100mm focal lengths. The DZOFilm Pavo series is designed to cover Super35 image sensors and comes in EF or PL mount versions. The lenses also come in two different variants, one with blue streak anamorphic flare and other with gold streak.
Individual lenses are available for $5,500 each, while sets of three lenses cost $16,000. 28mm, 40mm, and 75mm lenses comprise one set, while the other trio includes the 32mm, 55mm, and 100mm lenses.
Each Pavo lens delivers a 2x anamorphic compression factor. This means the Pavo lenses double the amount of horizontal information captured compared to a traditional spherical lens. In the case of a 16:9 image, a 2x anamorphic, when de-squeezed during post-processing, will deliver a 3.55:1 aspect ratio, or roughly 32:9.
All six lenses feature a front diameter of 95mm and are designed to be easily swappable without reconfiguring various filming accessories, like gimbals and drones. That said, the lenses are not identical in weight, weighing between 1.2 and 1.6 kilograms. The lenses have identical 270-degree focus throws, but their aperture throws vary from 58 to 79 degrees.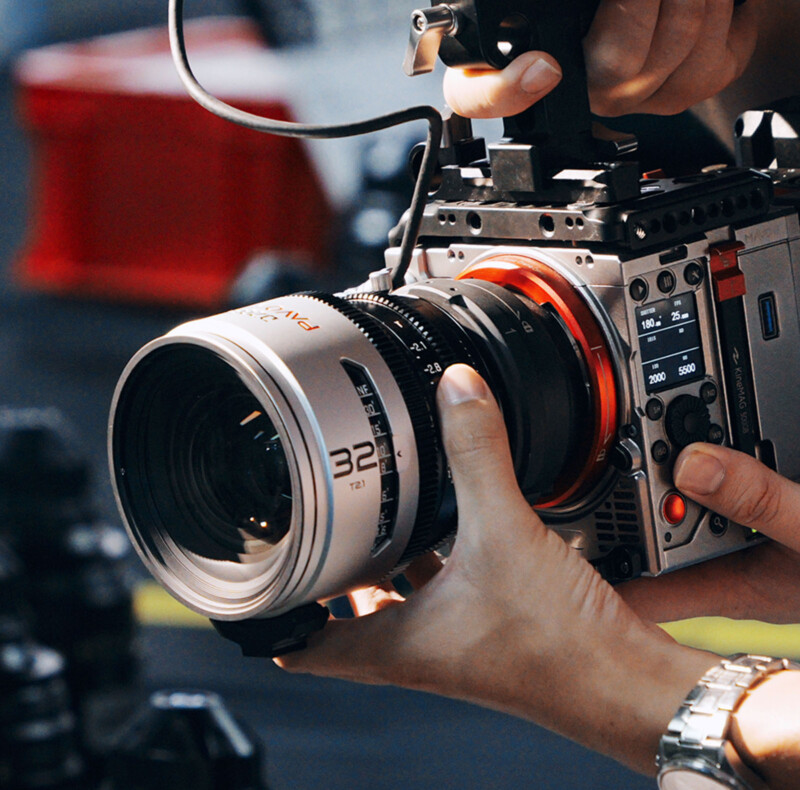 Each Pavo lens promises an impressive close-focusing distance for anamorphic lenses. The focus distance from the sensor plane ranges from 0.4 meters (28mm lens) to 0.95m (100mm prime). "This lens set is an ideal tool for filmmakers seeking to add depth and nuance to their storytelling," says DZOFilm.
This year has been good for anamorphic lens fans. At the beginning of this year, Venus Optics announced the Laowa Proteus 2x anamorphic lenses for Super35 cameras. These lenses are available for $5,000 each or in a two-lens set for $9,500. The Laowa Proteus 2x series comes in 20, 28, 35, 45, 60, 85, 100, and 135mm focal lengths, with the 20, 28, 100, and 135mm versions slated to arrive later this year. The other four focal lengths are available to order now.
Venus Optics also just announced a special collaboration with rental house Keslow Camera. The Proteus 2x series will come in a special "Flex" variant that allows the user to swap the flare color on the fly.
---
Image credits: DZOFilm