Laowa's Four New Anamorphic Lenses Include Widest-Ever for Super35
Venus Optics launched its new line of high-end Laowa Proteus 2x Anamorphic lenses in January with 35mm, 45mm, 60mm, and 85mm T2 primes. The company has now announced another quartet of Proteus 2X lenses, adding 20mm, 28mm, 100mm, and 135mm focal lengths to its cinema lens series.
The four new Laowa Proteus 2x Anamorphic Series lenses feature the same T2 maximum aperture as their predecessors and the series now includes focal lengths ranging from 20mm to 135mm, greatly expanding Laowa's anamorphic lens options for filmmakers. Per Laowa, the 20mm Proteus lens is the widest 2x anamorphic lens designed for Super35+ sensors.
Although Venus Optics hasn't published full specifications for all four of its new lenses, the 28mm prime will feature roughly the same dimensions as the 35mm and 45mm lenses, which are 182 millimeters (7.2 inches) long and weigh around 2.4 kilograms (5.3 pounds). The 28mm lens has a slightly smaller diameter of 116mm (4.6 inches) versus the 119.6mm (4.7 inches) diameter of the 35mm and 45mm Proteus primes. Although precise specifications aren't available for the 20mm lens, it looks to be about the same size as the new 28mm lens in Laowa's teaser image.
The new 100mm lens is slightly longer than the 85mm lens — 260mm (10.2 inches) versus 240mm (9.5 inches) — but should weigh about the same at 2.9kg (6.4 pounds). However, like with the 20mm lens, Laowa has not provided precise specifications for its new 135mm Proteus lens, but it appears to be the same size as the 100mm lens in Laowa's official image.
While slightly different in dimensions, the four new Proteus lenses share much in common with the other Proteus lenses, including their constant 2x squeeze ratio. Achievable at any focus distance thanks to their optical designs, the Proteus 2x lenses deliver a classic widescreen anamorphic look that works with 4:3 or 6:5 ratio image sensors to provide a 2.66:1 or 2.4:1 aspect ratio following de-squeeze. Venus Optics explains that filmmakers can use the footage entirely or crop it to a 2.39:1 ratio with "minimal loss of resolution."
The Super35 lenses also work with Laowa's 1.4x full-frame expander, ensuring that the lenses can be used on full-frame image sensors without an appreciable loss in image quality or sharpness.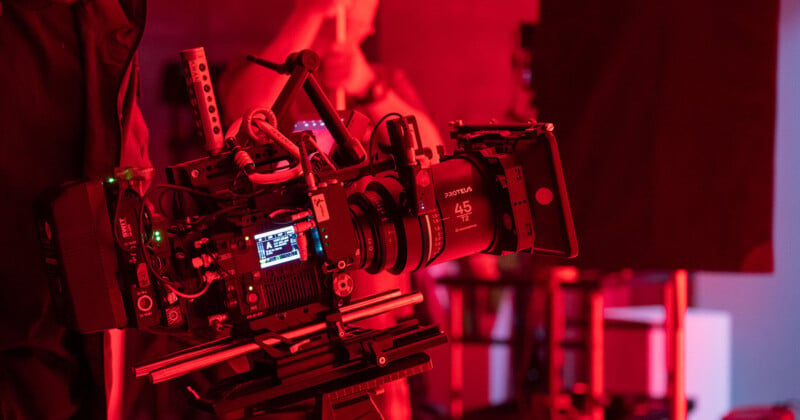 As high-end cinema lenses, the optical designs of all Proteus lenses combat focus breathing, which is when the angle of view shifts as the user changes the focusing distance. However, some subtle focus breathing is visible in Laowa's focus breathing video for its first four Proteus lenses.
Like the 35mm, 45mm, 60mm, and 80mm Proteus lenses, the four new anamorphic lenses feature a back focus adjustment mechanism to allow users to calibrate the back focus of the lenses to avoid any shimming. Further, the new lenses also employ the same unified gearing position, allowing filmmakers to quickly swap between lenses without reconfiguring a gear system.
The aperture and focus gear use a 0.8 mod gear and feature common 114mm outer diameters and 105mm filter threads. The lenses, which can be outfitted with metric or imperial focus scales, feature a 300-degree focus throw. Concerning aperture, all Proteus lenses have a 10-bladed aperture diaphragm.
The four new Laowa Proteus 2x Anamorphic Series lenses are expected to ship in late 2023.
The existing four Proteus lenses (35mm, 45mm, 60mm, and 85mm) are available now for $4,999 each or as a two-lens set (35mm/60mm and 45mm/85mm pairings are available) for $9,499. The complete set of four currently available lenses is $18,998. The first 100 orders for each set will receive a cash rebate of $1,200 for two lens sets and $2,400 for the entire set.
Laowa hasn't opened preorders for the four new Proteus lenses, but they will also cost $4,999 each. It's reasonable to expect that there will be multiple-lens sets available once the lenses can be ordered. Like the 35-80mm lenses, the new Proteus lenses will be available in amber, blue, and silver flare color options.
---
Image credits: Laowa