Polaroid's New I-2 is a $600 Instant Camera Packed with Features
Polaroid has announced a new high-end instant photography camera, the Polaroid I-2. Promising to blend a traditional analog experience with modern camera technology, the I-2 is designed to be a premium product.
Costing $600, the I-2 far surpasses the Polaroid Instant Now and Now+ instant cameras, which are $120 and $150, respectively. For the relatively high asking price, photographers are treated to Polaroid's sharpest lens, built-in manual controls, and a LiDAR-driven (light detection and ranging) autofocus system.
"For a long time, it was our dream to make a high-end Polaroid camera and give people more choice in the world of analog photography — a choice that many passionate photographers told us they were craving," says Polaroid's CEO Oskar Smolokowski. "To develop the I-2, we expanded our engineering team and spent more than four years designing and finessing every element. It is the most capable camera we've ever made and a true milestone in our journey."
The new autofocus lens drives much of the camera's promised performance. The three-element f/8 lens has been designed in cooperation with Japanese optical engineers with "decades of experience developing marquee analog products." The camera can focus from 1.3 feet (0.4 meters) to infinity thanks to the lens' stepping motor.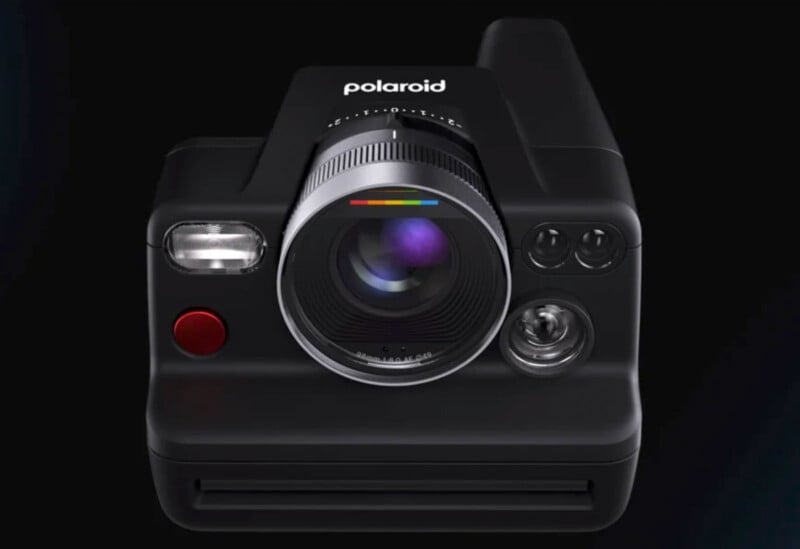 The 98mm lens delivers a field of view equivalent to a 38mm lens on a full-frame camera thanks to the size of the Polaroid instant film. The lens includes a 49mm filter thread. The I-2 is compatible with i-Type, 600, and SX-70 film. It is the first Polaroid camera that uses integral film that offers built-in manual controls.
Concerning these controls, the I-2 promises significant functionality. It includes automatic exposure modes, of course, but where the camera shines relative to Polaroid's other instant cameras is concerning manual control and the creative possibilities that these controls enable.
The Polaroid I-2 is built using an impact-resistant plastic covered in a premium coating. The camera features a large, bright optical viewfinder with an integrated display showing camera settings. Concerning settings, users can swap between six shooting modes, including automatic, shutter speed priority, aperture priority, and a fully manual mode. The I-2 also includes a built-in strobe with an eight-foot (2.5-meter) range. The camera also includes a 2.5mm jack to work with external flashes.
"The design of the I-2 is a celebration of its functionality. The exterior is built around the lens and the camera's manual controls. It is made with high-quality materials and has a modern look while remaining uniquely and unmistakably Polaroid," explains Polaroid in a press release.
The I-2 includes Bluetooth connectivity, and with an accompanying app, photographers can update firmware and remotely control the camera. The I-2 is powered by an internal rechargeable lithium-ion battery that charges via USB-C. The battery can shoot 15 packs of instant film. The camera also includes a standard tripod mount on its bottom.
To mark the release of the I-2, Polaroid commissioned artists for an "Imperfectionists" campaign that celebrates instant photography's beauty and unpredictability. Coco Capitán, Kotori Kawashima, and Max Siedentopf were the first photographers to try the Polaroid I-2.
"I am not interested in perfection. Chaos. Spontaneity. Randomness. That's where reality exists," remarks Spanish artist Coco Capitán. "Working with the I-2 and the Polaroid film is remarkable. As a creative tool, it has a lot of capabilities, while you cannot always predict what the photo will look like. Every shot is unique, and the process is as meaningful as the result."
The Polaroid I-2 camera is available starting today for $599.99.
---
Image credits: Polaroid