Festival La Gacilly-Baden Photo: Shining a Light on Iran & Afghanistan Photography
The Festival La Gacilly-Baden Photo, from 15 June to 15 October 2023, features The Orient, emphasizing photography in Iran and Afghanistan. The photo exhibits are all outdoors over 7 kilometers (4.3 miles), making it the longest outdoor gallery, which a quarter million visitors will view.

This large outdoor Festival in Baden, Austria (25 miles southwest of Vienna) collaborates with 
Festival La Gacilly Photo
 in 
La Gacilly,
 Western France.
Photographers have always had difficulties with the authorities in Iran, as shown by PetaPixel time and again: Iranian Photographer Set To Shoot World Cup is Arrested and Disappears,  French Photographer Gets 8 Years in Jail in Iran Over Drone Photos,  This Iranian Music Streaming Site is Photoshopping Women Out of Their Own Album Covers,  Photos Show What Life Looked Like for Iranian Women Before 1979 Revolution.
Festival Director Lois Lammerhuber is concerned about the difficulties photographers face in Iran today.
"I think they [photographers] are doing the right thing," Lammerhuber tells PetaPixel. "They stand up as good as they can. And some of them really take a big risk. Some of them have to feel the consequences, so others [can] go away. But altogether, I think they are incredibly brave, incredibly tough…contributing to society's progress, and pushing through women's rights.
"And they need to know they have to have a few artists around. I am not informed enough to judge Iran because it must be an incredibly complex society."
2023 is the sixth annual edition of the Festival, with 30 exhibitions from as many photographers, with 25 of them participating in person. There are about 1,500 photos distributed between a Garden Route and a City Route.
The largest print on display is about 23×12 meters (75×39 feet) by Rudolf Koppitz, an Austrian photographer best known for his works of the human figure and his use of the nude in natural settings.
Why a Photo Festival in Austria?
Lammerhuber, who has shot over 250 assignments for Geo (similar to Nat Geo in content and published from Germany) magazine since 1983, wanted to increase the awareness of photography in Austria.
"It might sound silly, but Austria is not a photography country," admits the photographer with sadness in his voice. "There is no photography museum. In some museums, little things are going on, but not much. And the interest in photography [is not everywhere].
"People do not know the names of the important Austrian photographers like Inge Morath or Erich Lessing. The recognition is not there. That is not the case in France. I think every child knows about some of the prominent [French] photographers.
"In Vienna, I thought the first step is to make photography known by telling stories [through photographs]. Everybody is affected by these [photo] stories."
The Festival is committed to environmental issues and has collaborated with Reporters Without Borders (Reporters sans frontières or RSF). RSF is celebrating its 30th anniversary by publishing an album of 100 photos by 100 photographers on the theme of The Tree – an emblem of the fight to preserve our environment. About 20 images are displayed near the tourism office.
This year, the notable Austrian photographer is Horst Stastny, a lover of B&W.
"I photographed Las Vegas – actually the most garish place imaginable – in black and white for Paramount," says Stasny. "It took some convincing, but it turned out to be a very special project."
The Challenges of an Outdoor Exhibit
Putting up an outdoor exhibit that remains open to the public day and night over four months has unique challenges.
"[There is] the hope that it is not vandalized or stolen," says the director.
"I'm not here alone. It is a city of 25,000. So, I have also to respond to what people wish. It's all about the acceptance of the public who live here. Let's not forget that a festival of four months means that the picture is out there for six months [including installation and removal]. This is an incredible intervention for the look of the city. When the pictures are down, it looks calm. Completely different.
"[There is always] the hope that it will be accepted widely by the people who live there and not [just] the visitors who commute in and out of the exhibit. It's the stage, you know. The visitors go into a museum or another place, but they matter to those living there. They're the most important visitors, so to speak, because it's their city with their kind of look.
"[To give you an example] last year we had birds facing extinction at a landmark place [and everybody loved the beautiful birds].
"This year we have artwork which deals with garbage, a serious problem in Africa, but very nicely photographed, very attractive photographs. It has a lot of humor, and you can look at it easily.
"But of course, some people [who live there and do not like it] say, 'How can you do [put up garbage photos] that?"
Big Festivals Need Big Budgets, and Canon is Not Interested in the Austrian Market
There are 1,500 prints at the Festival. And since it is outdoors, people will view them from a greater distance than a gallery show, and therefore, the images have to be generally printed large-sized. 60% of the images are on aluminum Dibond, the rest on canvas or fabric. This is a considerable expense, plus the cost of framing/installing the displays all over the city and ensuring that strong winds do not blow them away and injure people or damage property.
"1 million euros [$1,079,550] is the Festival budget," explains Lammerhuber. "€192,000 comes from the city of Baden [Beethoven, during the summers of 1821, 1822, and 1823, wrote substantial parts of the 9th Symphony here]. And from the government of Lower Austria another €80,000 and the remaining from sponsors, which number about 80.
"Austria is not a photography country. You do not find main [big, single] sponsors. Leica, a sponsor, has a solid connection to Austria and is owned by an Austrian, and another main sponsor is Cewe.
"All [30] participating photographers receive the same amount, €2,000 [$2,160] and, of course, all travel expenses. If they give a talk, it depends on what it is, where it is, and how I can finance it. They get an extra €500, €750, or €1,000.
"They [Leica, Cewe] are strong in Austria, but Canon and all the others are not interested. I even have it in writing. They tell me, 'This is no market. Don't contact us again. Austria is no market."
"[Austria has a population of] just 9 million people [which is like the population of New York City]. They tell me, 'Why don't you do it in Germany? We're on.' It's not unfriendly. You know how companies think…they have the market and a budget for photography. But if there's no market, there's no budget."
Producing Colored Prints that Keep Photographers Happy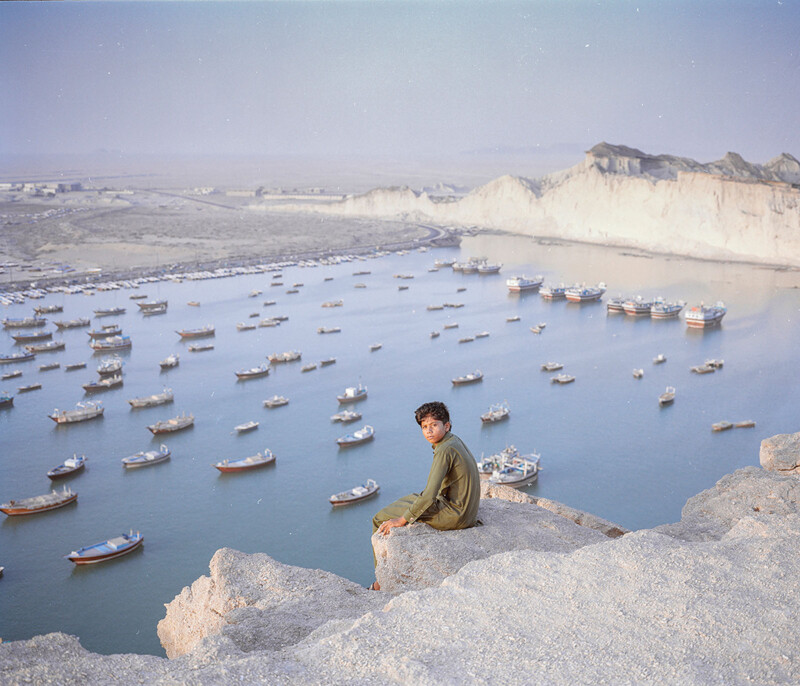 When so many photographers send files from around the world for printing in an outdoor exhibition, making prints that will make them happy with the colors, whether it is a cloudy day, bright sunlight, or dusk with some street lighting thrown in good measure, may be challenging.
"This is very easy," says the photographer turned Festival director. "This is very easy for us because we are a publishing house [Edition Lammerhuber]. So, I have everything in-house.
"And we do quite a few books with National Geographic photographers. They sit in our studio for a week. They come to do the layout; they sit with the technicians. So, whatever files we get, we look at them, work on them, and proof-print them.
And if necessary, we check back with the photographers. Our studio has a huge terrace, and we always take the largest possible print into the sun. What you usually do for a book [is that] you try to find a place, you think, you could most likely be that you look at it. So, there should be a balance between red light, yellow light, sun, and the pictures must always work.
"Most of the pictures, we have to bring them down a little bit. So, maybe, let's call it one stop, make them a little darker."
At next year's Festival, two giants will be exhibiting – Martin Parr and Sebastião Salgado.
"I have a feeling that I know him [Parr] for 100 years," says Lammerhuber. "Because he feels the pulse of our time. He is honest. He does go really close to people and shows us how we are. We are not models. We are ordinary people. We have our flaws, we have our beauty, we have everything. And he can make this visible and always with a lot of humor. That is maybe the most influential voice in photography currently.
"Salgado has found a way to become an ambassador for nature for the world and mankind. The first images I saw about his work have been so full of poetry. Amazingly, I bought a few of them [prints] because I thought I had to have them nearby in my house, which was also seen by others. At the heart of all his work is Amazônia."
---
About the author: Phil Mistry is a photographer and teacher based in Atlanta, GA. He started one of the first digital camera classes in New York City at The International Center of Photography in the 90s. He was the director and teacher for Sony/Popular Photography magazine's Digital Days Workshops. You can reach him here.
---
Image credits: All photos courtesy of Festival La Gacilly-Baden Photo, Baden, Austria.