Limited Edition Leica M6 Celebrates the Leitz Auction's 20th Anniversary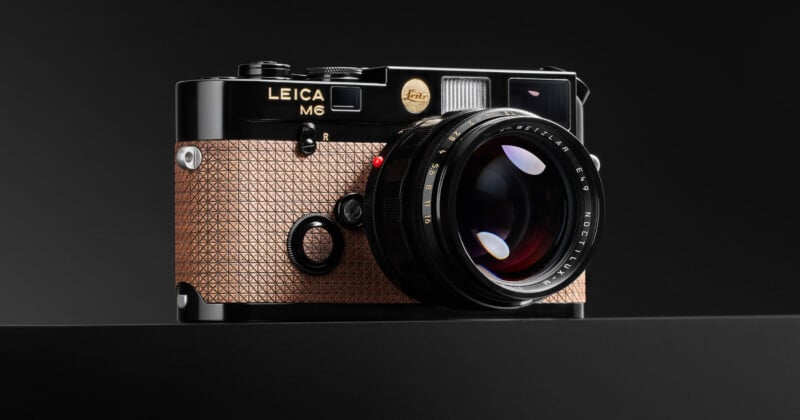 Leica is commemorating the 20th anniversary of the Leitz Photographica Auction, the official auction house of the German camera company, with a limited edition Leica M6 black paint finish set.
The company says that its commitment to excellence in cameras over the last 100 years is why its "handcrafted, precision optical tools" are so widely respected and, as a result, considered collectors items in many cases. Because of this, the Leitz Photographica Auction is able to offer rare and special Leica equipment annually and has been doing so for the past 20 years.
To celebrate two decades of auctions, Leica Camera AG and Leitz Photographica Auction have come together to develop an "extraordinary" set called the Leica M6 Set "Leitz Auction." It includes a specially designed M6 and the Noctilux-M 50 f/1.2 ASPH, both which feature a glossy black paint finish.
"The Leitz Photographica Auction is one of the world's most renowned auctions of vintage cameras, lenses, and other interesting accessories. The M6 Set 'Leitz Auction' is appropriately festive in commemoration of the anniversary: with a glossy black paint finish, the Leitz logo made of solid gold — specially prepared by a goldsmith in Wetzlar, Germany — and exclusive real wood armoring made of walnut veneer. The noble design is exquisitely rounded off by engravings in gold and red," Leica says.
In addition to the camera and the Noctilux-M 50 f/1.2 ASPH lens, the set includes a lens cap, body cap, and lens hood all also in a glossy black paint finish, along with a custom-made strap made of smooth black leather and a certificate of authenticity.
"The set's elegant packaging with a golden Leitz logo adds an extra touch of excitement to this extraordinary and rare camera set," Leica says.
This particular set is rare even by Leica limited edition standards: the company will only produce 20 copies. Beyond that, it will only be available to purchase through Leica camera Classics in Vienna, Austria starting today, August 17. Leica Camera Classics is one of the company's brick-and-mortar locations and can be found in the heart of downtown Vienna. It is very unusual for Leica to limit the sale of a product to a physical location, let alone one specific store, which no doubt adds to the rarity of the set.
The Leica M6 Set "Leitz Auction" costs 25,980 euros, or about $28,247.
---
Image credits: Leica