Prototype 1964 Leica Noctilux 50mm f/1.2 is Expected to Sell for $500K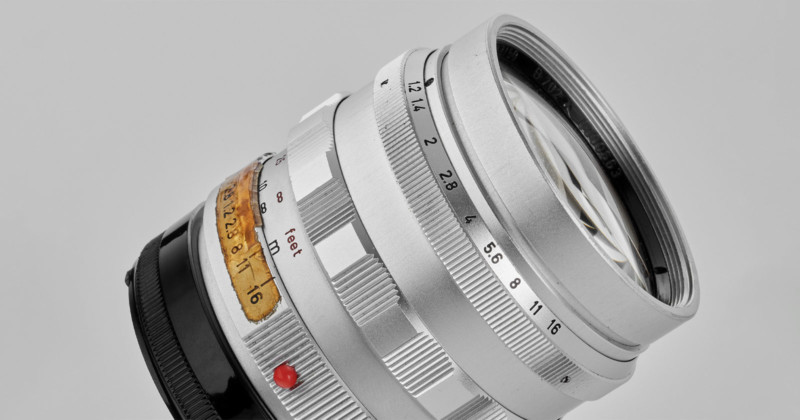 A prototype Leica Noctilux 50mm f/1.2 from 1964 is expected to sell for $500,000 at the Leitz Photographica Auction next week. The rare lens informed the design of the first mass-produced 35mm lens to feature aspherical elements which was introduced in 1966.
The lens will be offered as part of the 41st Leitz Photographica Auction that is set to take place on November 26 in Vienna.
The Noctilux 50mm f/1.2 B702 chrome prototype came two years before the mass-produced version of the lens was introduced in 1966. According to the Leitz Photographica Auction, that lens represented the pinnacle of lens design and technological capability as the optic produced images that were virtually free of spherical and coma aberrations and had exceptional contrast.
"50 years ago, it was a great challenge even for Leitz to develop such a lens, which was also reflected in the price: the lens was almost twice as expensive as the body of a Leica M4," the Leitz Photographica Auction says.
The lens was produced for 10 years at a rate of about one per working day for a total of only about 1,800 units, making even the mass-produced version of the lens rare and highly sought after.
This prototype, which was used to inform the production of the final units, is therefore even more rare. Described as a "unicorn" among Leica M lenses, this chromed original prototype is said to be in excellent condition, despite some minor blemishes on the front and rear optics.
"The photographic test shows that the lens still delivers the beautiful, dreamy images that the first version of the Noctilux is famous for. A small piece of graph paper is taped over the depth of field scale — it was used at the factory to mark test results on it," the auction house describes.
As it is a prototype, the designation "Noctilux" is not engraved on it. The Leitz Photographica Auction values the rare lens between $400,000 and $500,000, and it will have a starting price of $200,000.
The prototype Leica Noctilux 50mm f/1.2 is joined by several other rare specimens, including a Leica M3 prototype, a Leica M2 Black Paint edition, and an M3 OLIV Bundeseigentum. As KosmoFoto reports, that last camera is another example of one that sold last year at the Wetzlar Auction for $450,000.
---
Image credits: Leitz Photographica Auction