Lexar Has a New Set of Silver Series SD and CFexpress Cards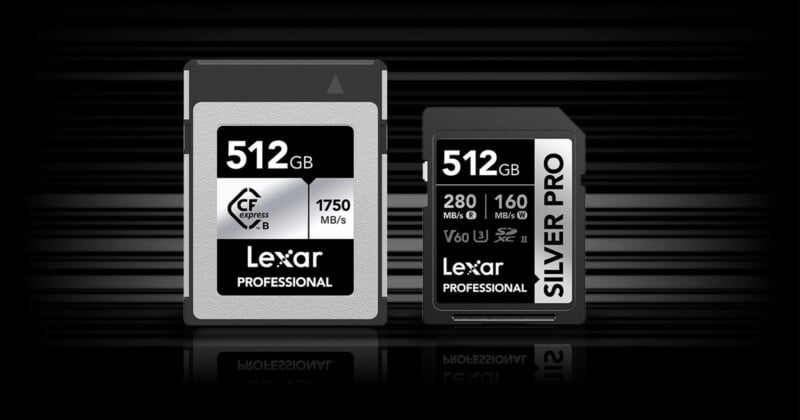 Lexar is rounding out its memory card options with the launch of new Silver series UHS-II SD and CFexpress cards. While not as high capacity or as fast as the Gold or Diamond series, they're still plenty fast for high-resolution photo and video applications.
Lexar's Silver series is designed to slot under the Diamond series (it's highest-end) and Gold series cards but still offer enough performance to appeal to a wide range of shooters. Before getting into what the Silver series is rated to do, it's important to recap what the higher tiers are capable of.
Lexar's Diamond series CFexpress cards and Gold series both promise up to 1,900 MB/s transfer speeds, but only the Diamond series boasts the VPG 400 rating — meaning the cards will never dip below 400 MB/s write speeds at any point. While many cards can boast very fast transfer speeds, most fall apart when it comes to sustained performance. Photographers won't care as much about this, but losing speed during a write will result in dropped frames during high-resolution, high framerate video shooting.
The new Silver series isn't VPG 400 certified either, but Lexar does promise they can handle 8K video recording thanks to their 1,750 MB/s read speeds and write speeds of up to 1,300 MB/s. Another differentiator are total capacities: while the Gold series offers capacities up to 2 TB, the Silver sticks with what the Diamond series caps out at: 512GB. Again, this isn't going to be a major concern for photographers, but filmmakers will want to recognize that 512GB isn't going to be very much 8K video footage.
Lexar doesn't currently make a Diamond series SD card (very likely because SD cards can't go much faster than the performance found on the Gold series cards), so the Silver series SD cards are definitely more something photographers will gravitate towards than filmmakers will since they are only V60 and therefore don't promise sustained write speeds beyond 60 MB/s. They do, however, boast read speeds of up to 280 MB/s and write speeds that will peak at 160 MB/s. Lexar says it is fast enough for 4K video, but mileage will vary depending on how data rich that 4K feed is.
The cards do come with a pretty outstanding warranty, which is unusual in the photography space. The CFexpress cards are supported by a limited lifetime warranty and the SD cards come with a limited 10-year warranty.
One final note: while Lexar has used the Gold and Silver colors and branding on SD cards for years, the new cards can be recognized by slight changes to the layout of the specifications and the fact that the stripe on the right side of card doesn't have a number anymore, but the words "Silver Pro." Older cards will have numbers like 1667x or 1066x.
The Lexar Silver series CFexpress cards are available for $169.99 for 512GB, $139.99 for 256GB, and $99.99 for 128GB. The Silver series SD cards are priced at $179.99 for 512GB, $97.99 for 256GB.
---
Image credits: Lexar