Apple to Introduce Stacked Sensors to Some iPhone 15 Models: Report
Respected Apple industry analyst Ming-Chi Kuo reports that Apple's iPhone 16 series smartphones expected to release next year will feature a stacked rear camera sensor design.
As seen on MacRumors, Kuo explains on Medium that some iPhone 15 models are expected to include a stacked CMOS image sensor for their 48-megapixel rear cameras.
Sony產能因iPhone 16將採更多堆疊設計CIS而持續緊張至2025,有利韋爾領先手機產業觸底並恢復成長與產品組合快速改善 / Sony's capacity will remain tight until 2025 as iPhone 16 will adopt more stacked design CIS, which is beneficial for Will Semi to lead the smartphone sector to bottom…

— 郭明錤 (Ming-Chi Kuo) (@mingchikuo) August 4, 2023
PetaPixel reported earlier this year that iPhone 15 and 15 Plus models could include 48-megapixel main cameras, but the rumors at the time did not discuss stacked image sensor technology.
Although stacked sensors are reserved for higher-end interchangeable lens cameras (ILCs) designed for enthusiasts and professionals in the photography industry, Kuo suggests that the new stacked sensor design will only be included in Apple's standard, lower-end iPhone 15 and iPhone 15 Plus models, not its iPhone 15 Pro and iPhone 15 Pro Max devices.
Production issues are believed to be the culprit behind the lack of complete adoption of stacked image sensors in Apple's upcoming iPhone 15 lineup. This issue may still hamper Apple in 2024. Kuo reports that Apple has already secured most of Sony Semiconductor Solutions' stacked CMOS image sensor (CIS) production capacity well ahead of time.
Kuo also believes that any Sony production shortfalls may benefit rival supplier Will Semi, especially when considering CIS orders from non-Apple smartphone makers.
In its reporting of Kuo's latest analysis, MacRumors reports that the stacked CMOS image sensor design expected in the iPhone 15 and iPhone 15 Plus, and next year in all iPhone 16 models, "can capture more light."
With ILCs, the introduction of stacked sensors has had a negligible impact on image quality but a dramatic effect concerning camera speed. Stacked sensors allow for faster data readout, which can benefit imaging performance. All else equal, stacked sensors enable faster shooting speeds, better autofocus, and improved video performance. The faster data can be read from the sensor, the better.
In an article about CMOS image sensor technology, Canon Europe explains that the stacked sensor in the Canon EOS R3 enables "faster data readout." The Canon R3's sensor is also backside-illuminated, which does have a demonstrable impact on light collection efficiency and, thus, on image quality.
That is not to say that the rumored stacked image sensor in the iPhone 15 and iPhone 15 Plus will not offer better image quality. As PetaPixel reported in February 2022, Sony's two-layer CMOS sensor promises significantly better light-gathering efficiency, dynamic range, and noise performance.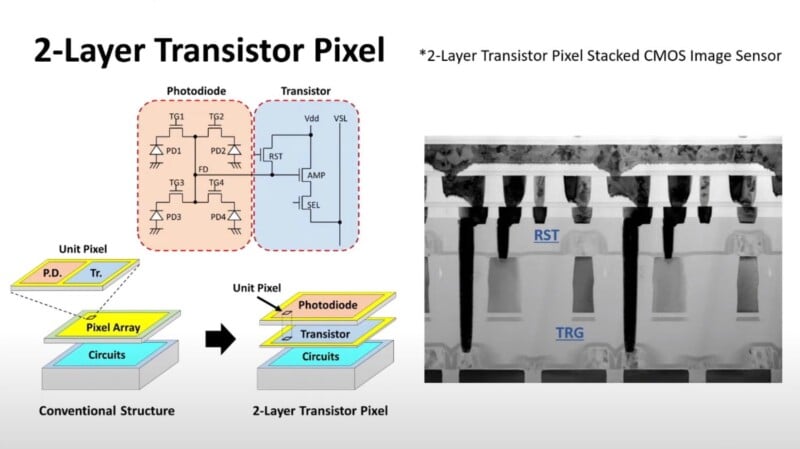 It is also worth considering how a stacked sensor could impact image processing performance, which is a significant component of the excellent image quality featured in Apple's iPhone devices. As phone processors become more powerful and software driven by artificial intelligence (AI) improves, the image processing pipeline can better process the data from the image sensor. If an image sensor can send more data into the pipeline faster, this should have noticeable benefits for image processing tasks.
Of course, Apple is unlikely to want to make its standard iPhone 15 smartphone outperform the iPhone 15 Pro models, so consumers may not reap the full power of a 48-megapixel stacked Sony chip until 2024.