Insta360's New X3 360° Underwater Case is Totally Invisible to the Camera
The new Insta360 X3 Invisible Dive Kit allows for filmmakers to shoot underwater 360-degree video totally seamlessly and allows for unobstructed views beneath the waves.
The company says that the new case improves on the old one by not only allowing the X3 camera to totally remove an attached selfie stick from footage, but the case itself also doesn't appear either.
"With a new, innovative design, the case disappears completely for unobstructed, crystal clear 360 footage and seamless underwater stitching, with IPX8 waterproofing down to 164 feet (50 meters)," the company says.
This combination of traits makes the case unique, the company says, and allows for third-person underwater footage that was previously not possible. The case was purpose-built to work with the X3 camera and has an "ultra sealed" structure that allows it to work reliably at depth and Insta360 says that its slim design allows it to be mounted and stored much more easily than typical "bubble" cases.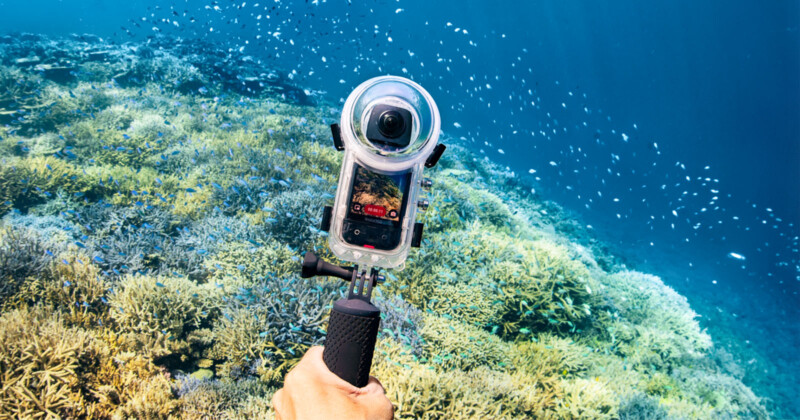 The company says it also has found a way to combat fogging, a common issue with underwater equipment. Insta360 claims it has made "big improvements" to the design and also includes anti-fog inserts with the case to assure that clear footage isn't compromised.
As a recap, the X3 — which was announced last September but received a major firmware update earlier this year — is capable of shooting 5.7K 360-degree video and 72-megapixel photos through its dual Type 1/2, 48-megapixel sensors.
The camera works in tandem with Insta360's app, which provides access to editing tools that take advantage of the extreme frame of view that comes with 360-degree cameras. When footage is captured, it can be edited to show specific angles that are captured via a process called reframing. It allows footage to look like it was shot with multiple cameras despite only using one. Additionally, the Insta360 app and desktop software also feature AquaVision 2.0, an AI-powered tool that auto-corrects underwater coloring for a more natural-looking image — a feature that pairs particularly well with the new dive case.
With the launch of the new Invisible Dive case, the camera is available as a kit for $570 which includes said case along with a 114 centimeter Invisible Selfie Stick, Floating Hand Grip, and Lens Cap. For those who already own the camera, the new dive case is available separately for $100.
---
Image credits: Insta360