You Can Update Megadap's New Sony to Nikon Z AF Adapter Through the Camera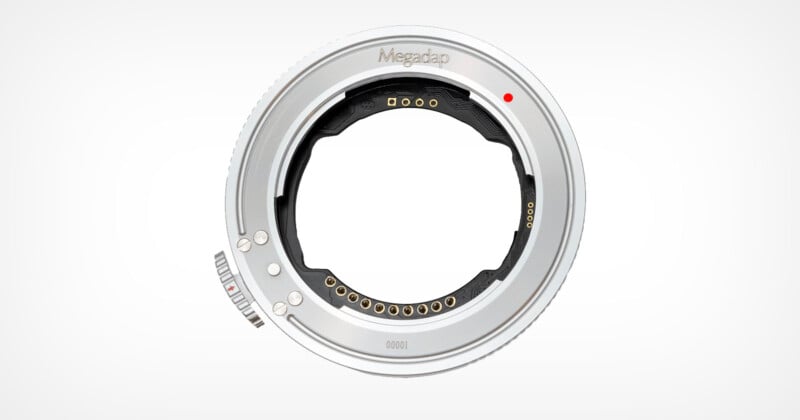 Megadap has announced its third generation Sony E-mount lens to Nikon Z-mount camera autofocus adapter, the ETZ21 Pro. It retains the super-thin design but ditches the USB port and can now be updated through the attached Nikon camera instead.
The company says that its ETZ21 Pro builds on the foundation set by the previous ETZ21, which in PetaPixel's review was found to be an outstanding way to dramatically expand the number of lenses available to a Nikon mirrorless camera by giving it access, seamlessly, to the entire massive E-mount optical lineup.
Megadap says that the ETZ21 Pro delivers the same autofocus functionality and capability while also incorporating "mechanical enhancements" to offer "a more seamless and user-friendly experience." The company says it took customer feedback into consideration to make two changes that it believes significantly elevates the performance of this new adapter.
Firstly, Megadap changed how the adapter's firmware is updated. When before it needed to be updated by plugging the adapter into a computer with a USB cable, the new ETZ21 Pro can be updated directly through the Nikon camera. The company doesn't specify if this is done via a memory card or through the camera's USB port.
Secondly, as a result, the company was able to refine the design of the new adapter and the connecting pads that were previously used for USB cable firmware updates has been removed which makes what was already a very svelte adapter evenmore streamlined to the point that it is even more invisible than the last model — an already super-thin adapter.
It also features a redesigned lens release button that Megadap says should ensure a smoother and more effortless lens detachment action. Specifically, Tamron lens owners will find that the mechanical fittings are better tailored to those third party lenses.
The rest of the features of the last generation adapter remain, including full autofocus support, support for customizable buttons, support for both Nikon full-frame and APS-C cameras, full EXIF data transmission, in-camera lens correction, and the ability to shoot high-speed continuous bursts. Basically, the lens will act as though it is a native Nikon Z lens. Megadap says that it has also made sure that the adapter is fully compatible with the Nikon Z8 and Z9 cameras.
Now that the Pro version is available, Megadap has discontinued production of the original ETZ21 and will replace it with the new model.
The new ETZ21 Pro will cost the same as last year's ETZ21, $249, and is available to purchase through Megadap's website.
---
Image credits: Megadap