Yongnuo Has a New 50mm f/1.8 Autofocus Lens for Fujifilm X-Mount
Yongnuo has announced a new and affordable YN50mm f/1.8X DSM Pro lens for Fujifilm X-mount. In addition to supporting autofocus, the lens integrates a small OLED display, similar to what Viltrox used on its recent 16mm f/1.8 lens.
The optic was spotted by Asobinet, and while Yongnuo is mainly known as an affordable photography brand and that remains the case with this $265 50mm f/1.8, the optic integrates two features that are somewhat unusual.
For starters, at first glance it might seem like the lens only has a focus ring and aperture control would need to take place from the camera, an operation that would be seen by many photographers and videographers as a significant disadvantage from a workflow perspective. But while it is true the lens only has one control ring, it can serve double-duty.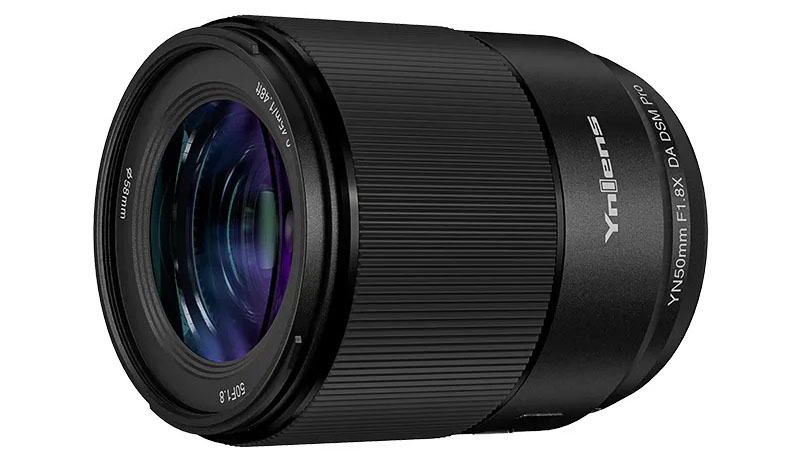 On the side of the lens is an "SW" mode switch that toggles between focus and aperture control. When set to mode "I" the ring on the lens can be used for manual focus. When set to "II" it switches to control of aperture. While a neat idea, it's not clear if this is something Fujifilm shooters would be particularly thrilled about. The company has a great many "R" lenses with a dedicated aperture control ring, but perhaps Yongnuo is hoping to stand out with its low price.
The second notable feature is the aforementioned top-mounted OLED display shows the current aperture setting. This is now the second lens to feature a digital "window" of sorts on the top of the lens and while it is generally redundant information for many modern cameras, some might like it for quick, at-a-glance checks of current aperture. It might also be more helpful to some Fujifilm shooters, since not all Fujifilm cameras have a top-mounted display that shows current aperture.
Of note, it does appear to show significantly less information than Viltrox's implementation.
Optically, the lens is constructed of 11 elements arranged into eight groups and Yongnuo does not make any mention of any special optics, though does say coatings. It has an aperture range of f/1.8 through f/16 via a nine-bladed diaphragm. Autofocus is powered by a stepping motor and the lens doesn't appear to have any type of optical image stabilization.
Yongnuo says the lens is compatible with the X-H2S, X-H2, X-Pro3, X-T5, X-T4, X-T3, S-S20, X-S10, X-T30 II, X-T200, X-E4, and "other Fujifilm X mount cameras."
The YN50mm f/1.8X DA DSM Pro is available directly from Yongnuo's website for $265, and shipping to the United States costs $28 and takes between 10 and 15 days.
---
Image credits: Yongnuo