This is the Upcoming Yongnuo 50mm f/1.8 for Nikon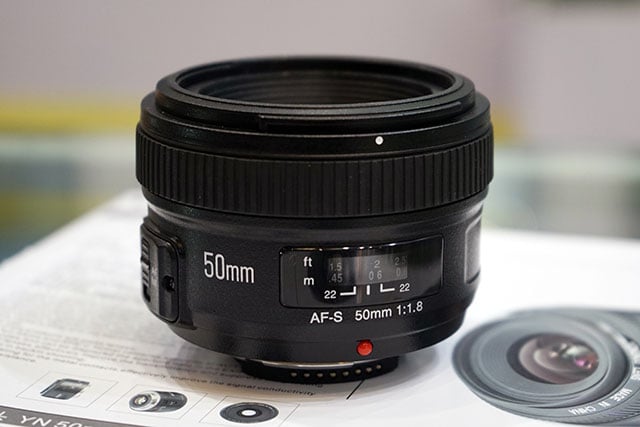 We reported at the end of last year that Yongnuo was planning to expand beyond Canon lens clones and begin offering thrifty lenses for Nikon DSLRs by the end of 2015. It looks like the lenses are just around the corner: Yongnuo is already showing off the new lenses over in China, and here's a first look at them.

The Chinese news site Sina Technology reports that Yongnuo had a new Yongnuo AF-S 50mm f/1.8 for Nikon F mount cameras on display at the Photo & Imaging 2015 exhibition in Shanghai. Visitors were able to get a hands-on look at the upcoming lens.
The overall shape of the lens appears to be modeled after the $217 Nikon 50mm f/1.8G, but the feature design and the fonts look more like a Canon lens.
This upcoming lens will reportedly feature a metal lens mount, an AF-S focusing motor, and a focusing distance of 0.45m.
Yongnuo hasn't released official pricing details yet, but we're guessing that the lens will also have a very affordable price tag compared to its official Nikon counterpart. The Canon version of this lens was introduced at $41 on eBay, but the price has since gone up with demand. Stay tuned.
(via Sina Technology via Nikon Rumors)
---
Image credits: Photographs by Sina Technology