This $20 Aluminum Camera Fan Has an OLED Display and Internal Battery
Ulanzi has announced a camera cooling fan that operates with its own internal battery and suctions to the back of Sony, Canon, and Fujifilm camera bodies to help keep them cool during video recording or live streaming.
The company says its Camera Cooling Fan is designed to provide efficient and stable cooling of a wide range of cameras that might struggle with overheating since they don't have dedicated active cooling hardware. After flipping out a vari-angle rear LCD display on a target camera, the small fan mounts to the back using a set of suction cups.
"Simply apply the film to the camera, align it, and press to achieve a stable suction that won't deform or detach easily," Ulanzi says.
The Ulanzi fan can be toggled to low or high speed (as well as off) and has its own built-in 200mAh battery that can last for up to 85 minutes when on Mode 1 (low speed for "silent" cooling) or up to 70 minutes when on Mode 2 (high speed, for rapid cooling that Ulanzi no longer refers to as silent). The fan has a single button for toggling between these three modes.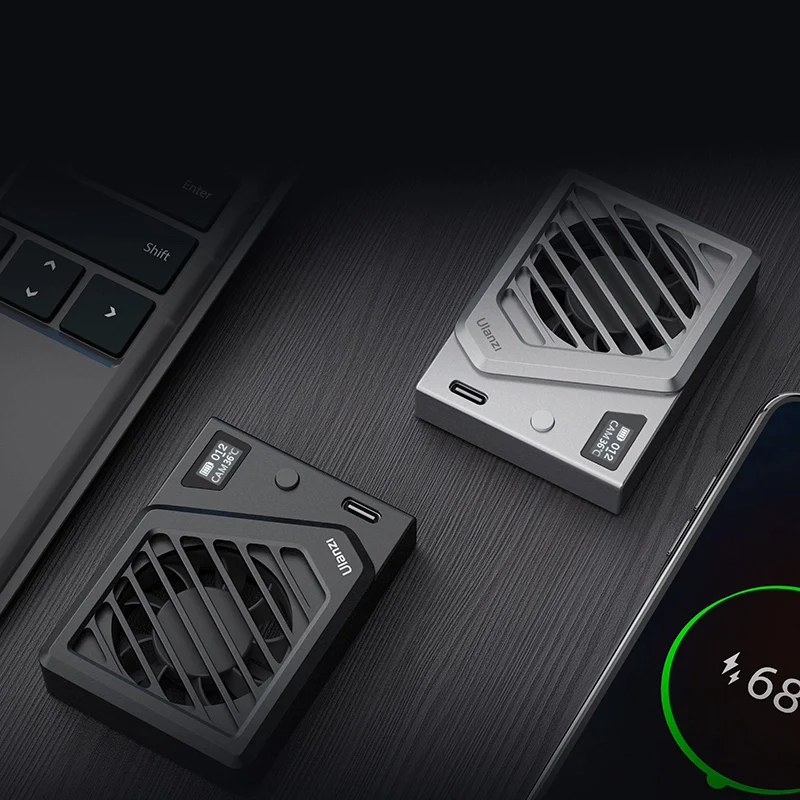 Also on the back is a small OLED display that shows the camera's temperature (or at least the temperature of the the point where the fan touches the camera) as well as the fan level and remaining battery.
The Ulanzi fan charges via USB-C and can even be attached to an external power bank or a wall outlet while it is in use. Ulanzi does not mention of the additional heat generated by charging will affect the fan's ability to cool the camera.
The company says the fan will work with a wide range of cameras, but specifically notes the Sony ZV-E1, ZV-E10, a7R IV, a7 SIII, a7C, FX30, and a6700. The company also notes the Canon R8, R7, R6 Mark II, R5 as well as the Fujifilm X-S10, X-T4, X-H2S. and X-S20.
Attaching an external fan to the back of a camera in order to extend recording times isn't a new idea, of course. There are even first-party options.
Fujifilm currently sells a cooling fan accessory that promises to perform the same task, but it's a lot more expensive than Ulanzi's option at $200 and also is powered from the camera and doesn't have its own internal battery. In his review of the Fujifilm X-S20, PetaPixel's Jordan Drake saw a significant bump in recording times when using the fan compared to recording without it. The embed below is timestamped for the relevant section:
Ulanzi's option is not only significantly cheaper, but it also adds multiple fan modes, an OLED display that shows camera temperature, and it doesn't rely on the camera body for power. Similar to other third-party manufacturers who are pushing the envelope when it comes to features in camera batteries, Ulanzi seems to be attempting to reframe what should be expected from a cooling fan — and how much that should cost.
The Ulanzi Camera Cooling Fan is currently available to pre-order for $20 (which is positioned as a 50% discount) and is expected to ship on August 30. It is available in either silver or black.
---
Image credits: Ulanzi