$45 Reflx Lab Light Meter is Made for Entry-Level Film Photographers
Many older film cameras lack a built-in light meter, but there are numerous solutions to this problem, including handheld and hotshoe-mountable light meters. Reflx Lab has announced a compact, affordable light meter in the latter style, the Reflx Lab Light Meter.
As seen on DIY Photography, the Reflx Lab Light Meter is $45, available in black and silver, and fits snugly inside a camera's hot shoe.
The top-mounted light meter is made of aluminum and zinc and powered by a simple button-cell battery, which Reflx says can last up to a year in standby mode.
The light meter has a relatively simple design, with a display and a pair of buttons. The shoe mount design is adjustable, meaning it can be moved to the left or right of center.
It performs its metering via a front optic. The Reflx Lab Light Meter is a reflective light meter that measures the light that bounces off the subject and then determines the appropriate exposure setting.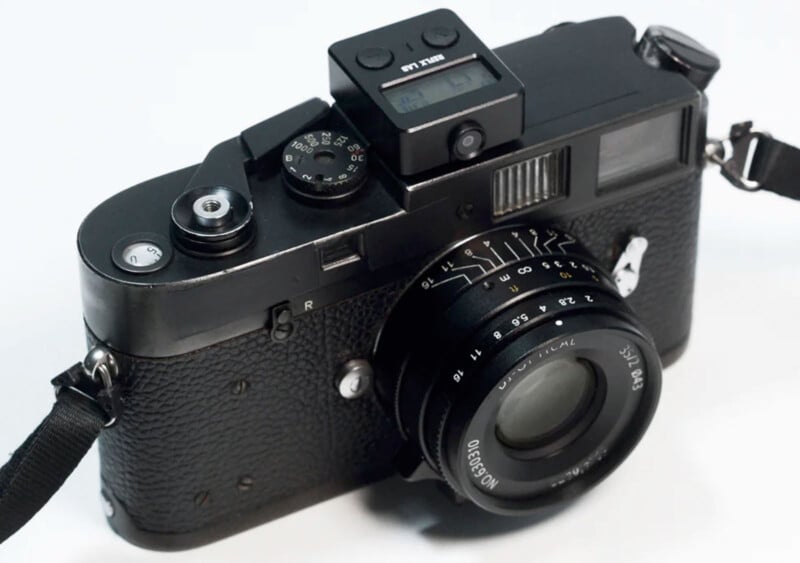 Exposure information is provided via the meter's display and includes settings for shutter speed, aperture, ISO, and exposure compensation.
The ISO that the user enters into the meter is their film speed. The ISO ranges all the way from ISO 8 to ISO 6400, which is an impressive range. The aperture range is similarly broad, spanning f/1 to f/32. The shutter speed range goes from 30 seconds to 1/8,000s.
As DIY Photography points out, the Reflx Lab Light Meter is not meant to compete against expensive handheld light meters, which can cost hundreds of dollars. However, while there is no way to choose between different metering modes, such as matrix, center-weighted, and spot, the light meter may work well for many budding analog photographers, especially those on a tight budget.
In 35mmc's coverage, Molly Kate writes that the Reflx Lab Light Meter weighs only 25 grams and features a 30-degree average metering mode. Kate also adds that the meter comes with a shoe bracket, extra screws, and a screwdriver, although no tools are required to remove the CR1632 button cell battery holder.
The Reflx Lab Light Meter is not the only new compact and affordable light meter to hit the market this summer. TTArtisan recently announced its revamped Light Meter II, which is similarly small, although it sports dials instead of buttons and a display.
Both the Reflx Lab Light Meter and TTArtisan Light Meter II owe a debt to compact hotshoe light meters that arrived before, including the Reveni Labs Light Meter in March 2020 and the very stylish Hedeco Lime One meter that hit the scene later that year. The Lime Two, which is also gorgeous, was announced earlier this year.
Pricing and Availabilty
The $45 Reflx Lab Light Meter is the most affordable of them all. It is available now from Reflx Lab in black and silver.
---
Image credits: Reflx Lab