AstrHori Launches AH-M1 Real-Time Light Meter for Analog Cameras
Chinese company AstrHori has announced the AH-M1 Light Meter, a real-time light meter designed for older cameras, including film cameras without a built-in light meter.
The AstrHori AH-M1 can continuously track changing light values in real-time and includes two metering modes: A and T. The A, or aperture, mode is used when the photographer has a known ISO sensitivity and shutter speed. In this mode, the light meter will provide the correct aperture value to select, given the ISO, shutter speed, and prevailing light. When using the "T" mode, photographers input known ISO and aperture values, and the AH-M1 provides the correct shutter speed value for the current light.
The AH-M1 attaches to cameras via an adjustable cold shoe attachment. Photographers can use an included hex wrench to adjust the AH-M1's cold shoe position to fit a broader range of old cameras. The cold shoe can be moved left or right, and even inverted, to accommodate specific old cameras with dials near the cold shoe.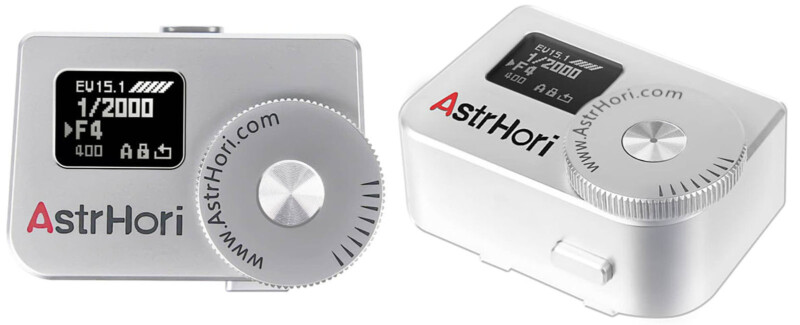 With its built-in 120mAh lithium battery, the AH-M1 can continuously measure light for around 12 hours. The light meter can be charged via a built-in USB-C charging port and a 5V power source. AstrHori says that the meter can be fully charged in about 40 minutes. The device will also enter an idle state if there's no operation for 10 or 25 seconds, depending on the user's selected setting.
Exposure information is delivered via a 0.66-inch OLED panel. The display shows real-time exposure parameters, like exposure value and exposure compensation, shutter speed, aperture value, ISO, battery level, aperture/shutter priority (A/T), a lock icon, and loop mode.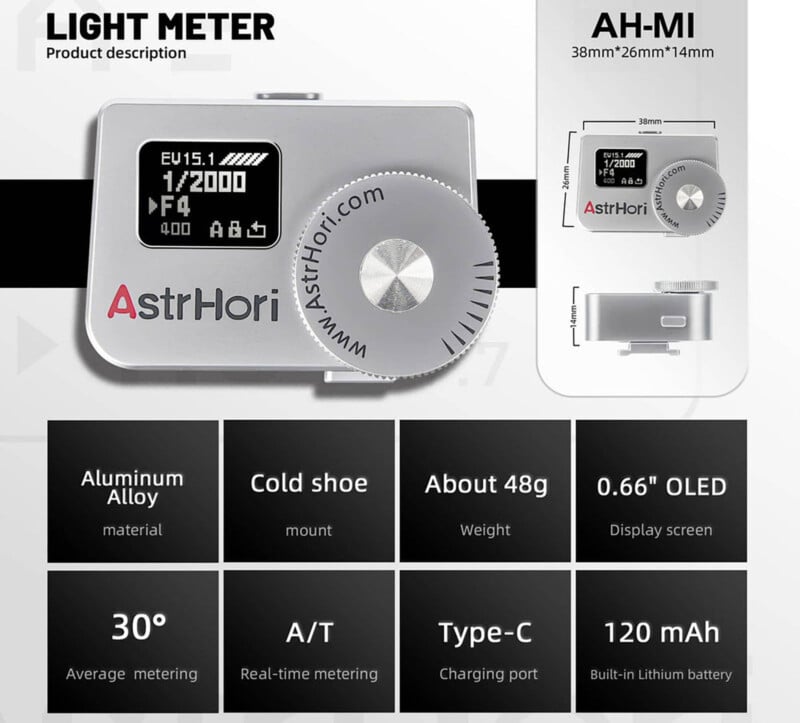 The AH-M1 is built using aluminum alloy and weighs just 48 grams (1.7 ounces). The light meter is 38 millimeters (1.5 inches) wide, 26mm tall (1″), and 14mm (0.55″) thick. It includes a dial on top to perform adjustments and change settings.
The light meter works across an ISO range of 5 to 6,400, an aperture range of f/1.0 to f/32, and a shutter speed range of 30 seconds to 1/8,000s. At ISO, AstrHori says the metering range is ~1 to 22 EV.
The AstrHori AH-M1 light meter is available now for $69 via Amazon and Pergear.
---
Image credits: AstrHori