Couple's Canoe Capsizes During Proposal, Making for Romantic Photos
A photographer has revealed how a couple's canoe accidentally capsized during a surprise proposal shoot — but it ended up making the pictures even more romantic.
Photographer Jessica Knight was doing a The Notebook inspired photo shoot with a couple on a canoe at a pond near Smithville, Mississipi.
But then, the man surprised both Knight and his girlfriend when he suddenly got down on one knee and proposed to her aboard the canoe.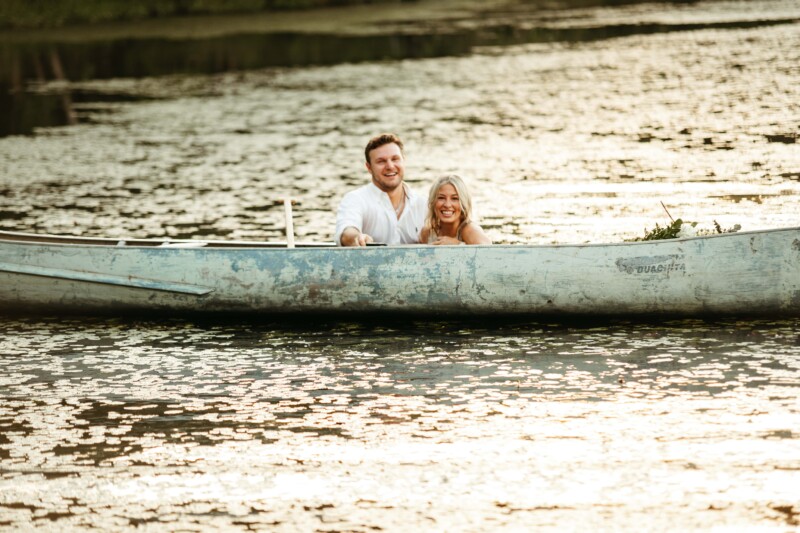 However, as soon as his girlfriend said yes, the newly-engaged couple stood up to embrace one another and this caused the canoe to immediately tip over — sending them plunging into the water.
'Perfection'
While some might assume that this accident would have derailed the photo shoot, it actually made the images even more beautiful.
North Mississippi-based photographer Knight went viral when she shared the stunning images from the surprise proposal shoot on TikTok last month.
In a TikTok video, which amassed over 2.1 million views, Knight revealed how she worked around the canoe's capsizing with the couple and the accident made the "photos 100x better."
Social media users praised Knight's images of the happy couple in the water as "perfection" and "even more romantic" than before.
"Right after the ring was put on her finger, the couple stood up to hug each other causing the canoe to tip over. Luckily the water is only knee deep and the ring wasn't lost," Knight tells PetaPixel.
"They were very much a 'go with the flow' couple which was awesome, so we just went with it!
"The photos of them in the water are my favorite from the whole shoot which is a completely different take on what I originally had in mind. I think it will be a great story to tell their children one day."
Sometimes photoshoots do not always go as planned. PetaPixel previously reported on a photographer who captured the moment a couple lost their engagement ring in the sand during a beach photoshoot.
More of Knight's work can be seen on Instagram, TikTok, and her website.
Image credits: All photos by Jessica Knight/ @Jessica_b_photography_