Google Pixel Fold Review: For Those Who Really Want to Multitask
Google has entered the foldable smartphone fray with its $1799 Pixel Fold, a smartphone design that very well could be the future. Blurring the line between smartphone and tablet, the Google Pixel Fold not only provides a much larger screen area for multitasking, but a unique change to how a modern smartphone is used.
Folding phones have been on the market for awhile now, but this was the first one I've gotten my hands on. My primary thought when I first handled the Pixel Fold was how it would change the way I take pictures with it. I wanted to test it from the standpoint of a photographer, but I soon realized the folding design provided some interesting benefits to how I used the phone overall, too.
Google Pixel Fold: Design and Build Quality
The folding design is essentially two phones stacked on top of each other. Obviously, there is going to be some extra weight and bulk. To its credit, the Pixel Fold still manages to be, well, manageable in this regard. It is only a third thicker than the Pixel 7 Pro, and at 10 ounces (282 grams), is only 2.5 ounces heavier.
I typically use a phone case that holds my personal cards so I'm used to carrying a thicker footprint. However, if in the future I were to set up the Fold in a similar way it might be cumbersome.
Battery life is exceptionally good despite the slightly lower 4,800 mAh capacity on the Pixel Fold. On a recent camping trip away from power, I was able to shoot for two and a half days without recharging. Admittedly I was avoiding using the larger fold-out display as much as possible, but I still consider this to be very decent performance. Google's claim that the Fold can go for over 24 hours of use without recharging seems accurate.
There is no gap left between the two halves of the phone when it is closed and the hinge feels just the right amount of stiffness to keep the phone folded or unfolded when you want it to be. The Google-branded case provided for the Pixel Fold provides soft-touch rounded corners which makes opening and closing the phone relatively easy.
A single USB-C port on the bottom provides connectivity and supports fast charging with PD-rated chargers. You can also charge it wirelessly and it is Qi certified. I plan on using a phone streamside and it will eventually go for a swim because, fortunately, the Pixel Fold is IPX 8 rated so it can handle being fully immersed. It is not, however, rated to handle dust and fine sand and that makes sense: I would not want to get any dirt or sand wedged into the hinge or trapped between the inner screens.
The biggest elephant in the room is how rugged the Pixel Fold will be over time. I take for granted how durable modern smartphones are. I routinely sit on my phone and I have dropped it countless times. The hinge on the Pixel Fold seems very sturdy but I'd be very worried about putting any force upon the phone while it is opened, and just thinking about dropping the Fold especially while it is unfolded is the stuff of nightmares. Only time with the phone will tell if it can stand up to the abuse I would normally expose it to, but undoubtedly any damage that does occur to the frame or screens will be more expensive to repair than an old-fashioned smartphone.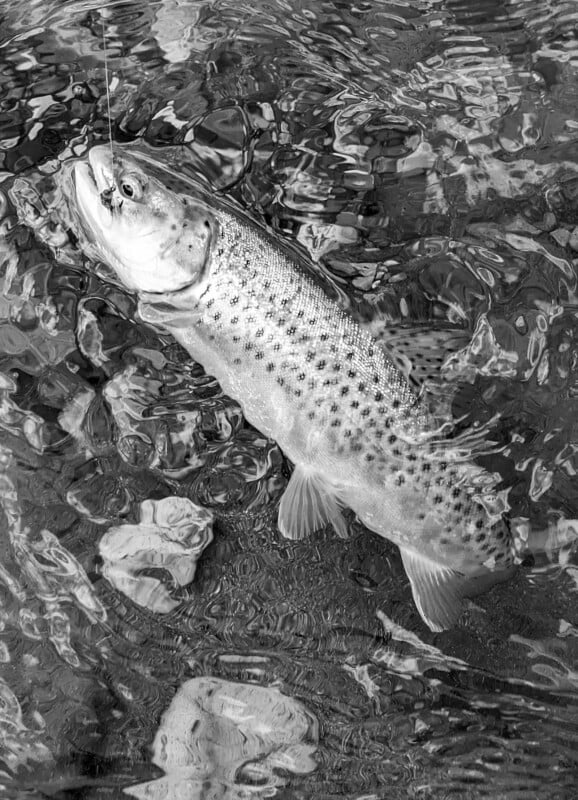 Google Pixel Fold: What Can You Do With a Fold-out Screen
Before we unfold the latest offering from Google, let's talk about the external screen. The 5.8-inch OLED display refreshes at 120hz and features a peak brightness of 1,550 nits, making it fairly easy to see in bright sunlight. On that note, while I have other options with the Fold, I preferred shooting photos using the rear cameras with the external screen. It was sharp enough to compose with and I could grip the camera more securely one-handed. I do really appreciate the ability to take selfies with the rear cameras and compose with the external screen unfolded. However, unfolded, the Pixel Fold is stable with two hands on the frame but very unbalanced when holding with only one.
So why unfold the phone? It's all about multitasking. The 7.6-inch OLED display gives an almost square 6:5 ratio screen, with plenty of real estate to work with. The 1,450 peak nit brightness was acceptable to use in sunlight, but could have been brighter.
Currently, the Google Pixel Fold only allows you to have two apps running side-by-side but I found this arrangement intriguing and convenient. Think video conferencing on one screen whilst navigating through your meeting notes on the other. You can have Google Photos open on one side, while you text a friend on the other, casually dragging and dropping pics right into your conversation. At the time of this review though, the Pixel Fold caps at having two apps displayed at a time.
Of course, the giant screen isn't just for multi-tasking; sometimes it's nice to just have a really big screen. YouTube at full screen is impressive, and the view is still better than your average smartphone when the comment bar is open, for example. Adobe Lightroom for Mobile worked beautifully thanks to the powerful G2 Tensor processor and 12 GB of RAM. I also found the larger screen easier to evaluate photos with, and I could paint more accurately with brushes in Lightroom.
If you don't necessarily need the bigger screen, the folding mechanism still offers some practical benefits, like writing an email on the top half, while the bottom becomes an easy-to-use keyboard. Group selfies are easier than ever because you can stand the phone on a tabletop and start the countdown with a simple hand gesture at the camera. In fact, you can largely turn any flat surface into a "tripod" and still be able to position the camera angle to some degree.
Google Pixel Fold: Image Quality
The Pixel Fold certainly gives you a lot of options with its five built-in cameras. I'm gonna gloss over the two selfie-style cameras however, because although acceptable for video chats and the occasional selfie, I'd much rather use the more powerful rear cameras for selfie shots when possible.
I'll start with the ultra-wide 10.8-megapixel camera, which features a fairly fast f/2.2 aperture and an equivalent full-frame focal length of around 12mm. The Type 1/3.1 sized sensor makes it quite comparable to the Google Pixel 7 Pro; Google's most capable photo taker to date.
The telephoto lens featuring a 5x optical zoom is roughly equivalent to a full-frame focal length of 110mm. It has a slightly smaller Type 1/3 sensor than the one found on the Pixel 7 Pro, but the aperture is a brighter f/3.05 instead of the 7 Pro's f/3.5. Although the 10.8-megapixel resolution is noticeably worse than the main camera, I'd say it compares pretty similarly to the telephoto lens in the 7 Pro, and was fine for long-distance shots.
Between the ultra-wide and telephoto cameras on the Pixel Fold, I didn't feel under-gunned in any way versus my Pixel 7 Pro. The Fold has limited space for cameras compared to the 7 Pro resulting in somewhat smaller sensors, but the only one that seemed to deliver slightly poorer results was the 48-megapixel main camera, and I mean slightly. It has a decently fast f/1.7 aperture and a roughly 26mm full-frame equivalent focal length. The smaller Type 1/2 sensor hinders low light performance versus the 7 Pro, but the difference is minor.
Colors on the whole are punchy and contrasty, and Google phones heavily utilize computational photography techniques by stacking many photos per shot. It's able to handle bright sunlight and dark shadows, and the images overall were pleasing to my eye.
Where I think Google dominates is skin tones. Portraits show natural skin flaws, with accurate exposure for a large variety of shades of skin. Skin-smoothing by default isn't heavy-handed, and the portrait mode digitally renders shallow depth-of-field shots quite naturally. Transitions from in-focus to out-of-focus areas look pleasing and natural even without the embellishment that portrait mode delivers.
Even though the Pixel 7 Pro is still the best picture taker Google makes, I didn't feel like the Pixel Fold compromised image quality in any major way. I would happily shoot it as my main smartphone-based camera.
Google Pixel Fold: Video Features
Despite the cameras being slightly different, the Pixel Fold and its video capabilities are largely identical to the Pixel 7 Pro. This is largely because of the identical processing power available to each camera. The Pixel Fold can shoot up to 4K 60p and does offer the same 10-bit HDR, H.265 format as the 7 Pro. This is also possible on the front-facing camera of the Pixel Fold. However, the front-facing inner camera is limited to 1080 at 30fps, which is fine for video chats.
Like almost all smartphones the video detail is somewhat over-sharpened, and unlike photos the video clips tend to have slightly mushy-looking skin tones. No one is going to suggest this phone over a more dedicated hybrid mirrorless camera for video applications. But as a tool for recording memories, and vlogging applications it is a very good choice. The built-in microphones were also surprisingly good, even in noisy situations.
Google Pixel Fold: You Have to Really Want to Multitask
The main strength of the Fold lies in its immense work surface when using apps or when you want some big-screen entertainment. Editing on a larger screen is really nice, but likely only useful for casual work. I'd still bring a laptop or high-end tablet with me in most situations. The main hindrance is the fragility that comes as a result of the hinge and the $1799 asking price.
I found some of the photo capabilities to be novel and using the rear-facing camera for selfies is a big improvement. Still, a good holder and tripod setup can cover a lot of what the folding design accomplishes. But don't get me wrong, the larger screen is a joy to use, and I could see how some might envision the folding design as the way of the future. I expected there to be a lot more compromises involved, but there is no denying that the price is steep.
Are There Alternatives?
The Samsung Galaxy Z Fold 4 and what many speculate to be the upcoming Fold 5 are the only other real options. The folding screen isn't as elegant as the Pixel Fold, and it comes out to about the same price, but Samsung has been iterating on its design for longer.
Sure, Microsoft has a folding phone too but no one is lining up to buy it, making it hardly a "real" alternative.
Should You Buy It?
Maybe. If you want a larger screen for gaming, working, and watching, high asking price might be worth it. If you just want a capable phone for photography and you don't need a big screen for apps, the Pixel 7 Pro is a much better choice.