Vecteezy's AI-Powered Reverse Image Search Tool is Surprisingly Impressive
Vecteezy is a significant player in the stock image space, providing visual content for some of the world's top brands. Vecteezy recently launched a reverse image search feature that relies upon artificial intelligence (AI) to deliver licensable media matching an input image.
Similar to how Google Images can find instances of an image based on an input file, Vecteezy's new AI Reverse Image Search can find pictures in its massive stock library that match the file a user feeds into the system.
The system's efficacy relies upon the AI model's ability not just to analyze an image at a surface level by what the pixels look like but to determine what the image depicts.
The "big three" image libraries — Getty, Shutterstock, and Adobe Stock — have reverse image search tools. Still, Vecteezy believes they all fall short because they fail to understand the context of an image a user uploads.
"It can be frustrating to a designer to upload an image of blueberries and get results returned that look very similar, but they're actually grapes," says Vecteezy. To deal with this issue, Vecteezy AI Reverse Image Search promises to understand what an image shows and return results that aren't just visually similar but are similar in content.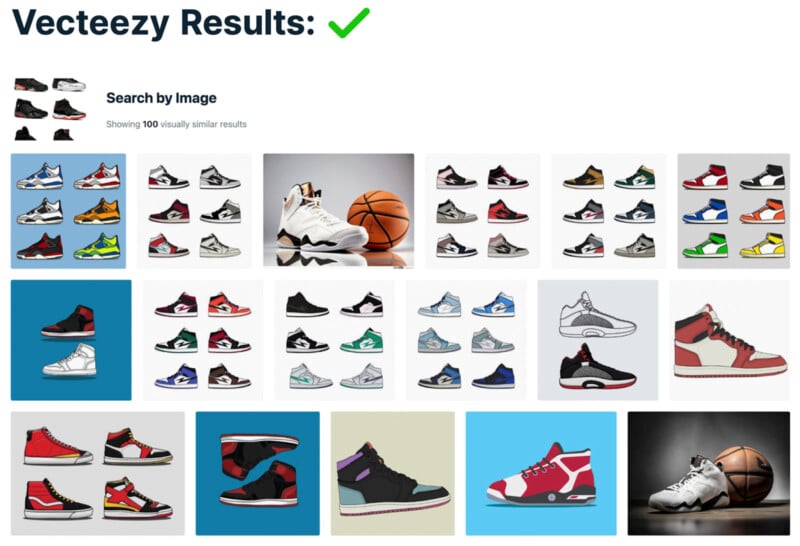 Another example is an input image of a pair of basketball shoes. Vecteezy's AI Reverse Image Search can understand the concept of "basketball shoes," which have a distinct style and shape. On the other hand, Adobe Stock returns images of shoes that are a similar color to the input image but are just a bunch of different types of black sneakers, including boots, running shoes, hiking shoes, and dress shoes.
Another example is a photo of a girl preparing to throw a softball across the infield. Adobe Stock comes up short here as well, returning images of kids playing various sports, including mostly images of boys. Vecteezy produces some photos of just a softball, which isn't very similar to the source input, but every image is the correct sport.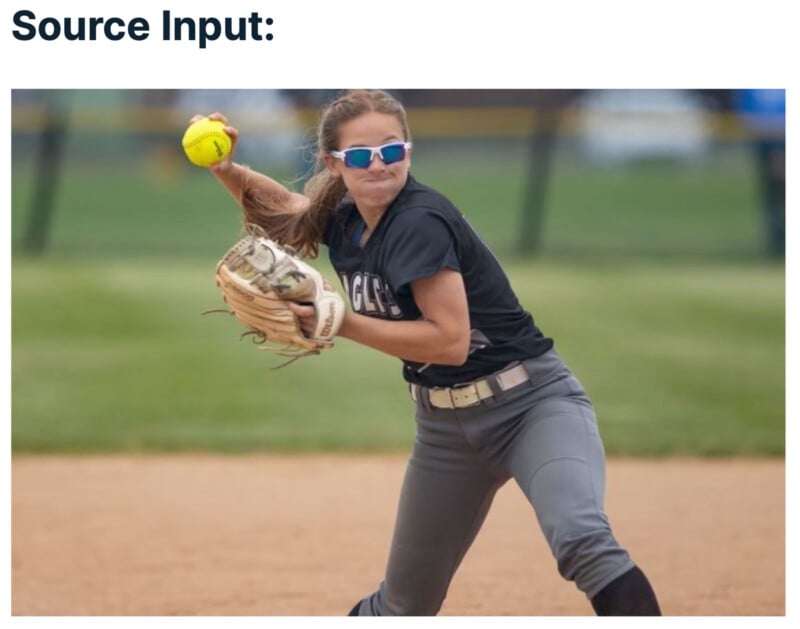 Vecteezy can even understand a specific individual in a photo in some cases. Considering a headshot of Donald Trump, who is nothing if not famous, Vecteezy recognizes that it's Donald Trump in the picture and its results are all related to Trump. Adobe Stock seems to think that Trump is just some guy and produces images of different white men.
Hands-On: How Well Does Vecteezy's AI Reverse Image Search Work in the Real World?
Example #1: Portland Head Lighthouse
In this image of Portland Head Lighthouse in Cape Elizabeth, Maine during a holiday blizzard, I thought a couple of aspects of the image might trip up Vecteezy's AI model. Due to the weather, it's a low-contrast image. Further, the snow obscures some of the lighthouse's finer details.
However, Vecteezy's results impressed me. Of the 100 "visually similar results," few weren't of Portland Head Lighthouse. While it's among the most photographed lighthouse in the world, there are still many other lighthouses that look somewhat similar. Nonetheless, Vecteezy seems to have picked up on the correct lighthouse, even offering up numerous results of the same lighthouse from very different angles.
Some of the results are also in winter, which is nice. It's not immediately clear if that's a coincidence or a byproduct of especially effective AI.
Example #2: Another Lighthouse
Here's another famous lighthouse, this time Bass Harbor Light in Acadia National Park. Vecteezy produced many images of the correct lighthouse and a lot of photos shot at a similar time of the day.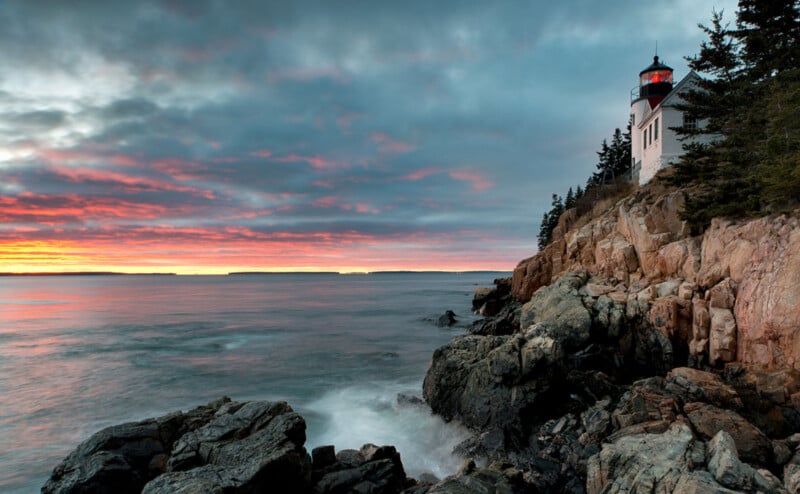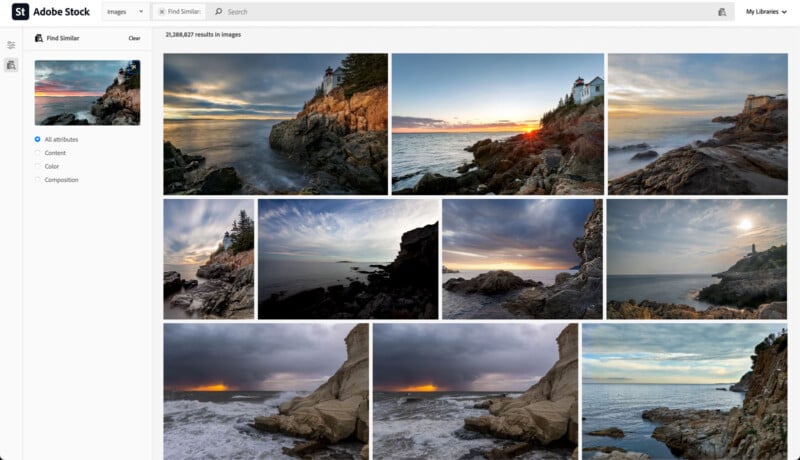 There were a fair number of image results that didn't include a lighthouse at all, but some of them were of areas of the Maine coast that are quite close to Bass Harbor lighthouse, which is interesting.
Example #3: Pair of Deer
I wanted to see if Vecteezy could identify individual species of animals. The answer is a resounding yes, with most images being of does in winter.
Example #4: Young Red Fox
Another slam dunk with the ever popular and photogenic red fox.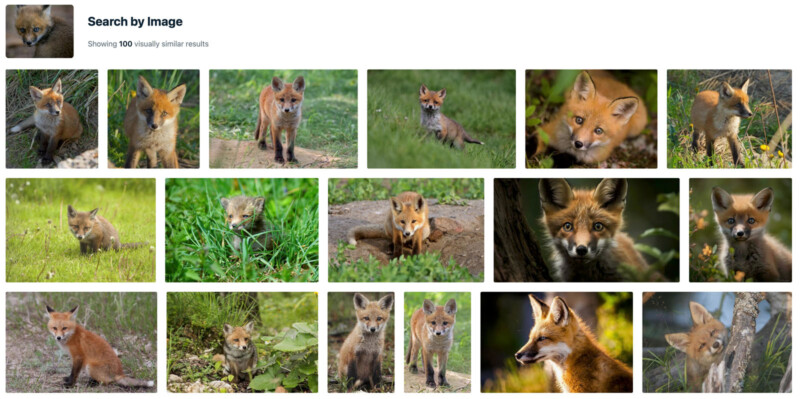 Example #5: Common Loon
One more wildlife test, an image of a common loon. To be fair, it's an easy-to-identify bird, but I thought that a source image with the black and white bird against a dark green background might trip up the system a bit.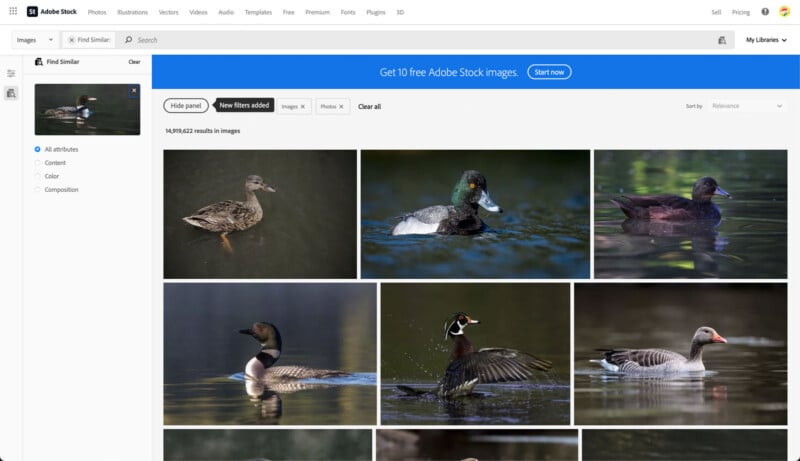 The source image didn't complicate matters. In fact, one of the top results is quite similar to my image, albeit with the bird facing the opposite direction.
Example #6: Identifying Cities
Montreal's skyline may not rank among the world's most famous, but it does have some distinct characteristics.
Vecteezy delivered a couple of photos of Montreal's skyline taken from a similar vantage as mine, atop the city's Mont Royal Park. Additional photos of the city were peppered throughout the results, including some shots of the skyline from different angles.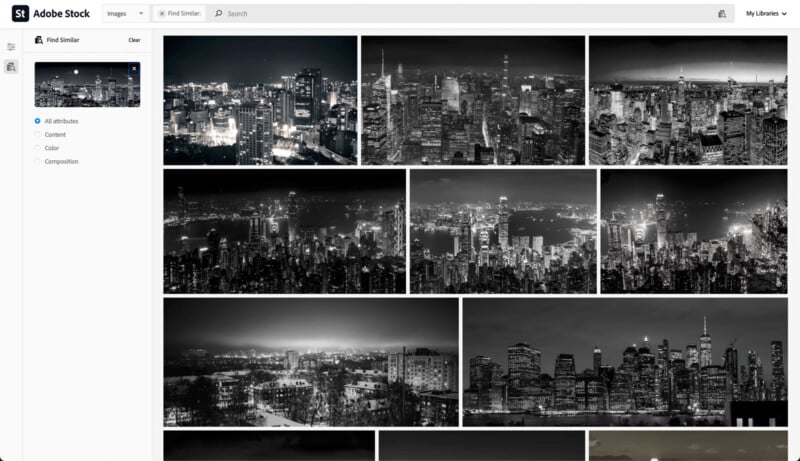 Example #7: Lupines
I'd suspect that any reverse image search worth its salt can take an input image of purple lupines and deliver results of purple flowers, but can Vecteezy correctly identify the flower species?
It can, with nearly perfect accuracy. Of the 100 results, about 90 of the images were of purple lupines. The photos of other flowers were quite similar, although incorrect.
Example #8: Portrait
Vecteezy generally does a good job identifying the overall appearance of a portrait subject, including rough age, ethnicity, and gender.
There are outliers in the results concerning the model's appearance, but these outliers have models in and around flowers and plants, so they're quite similar to the input image.
Example #9: Seasons in a Landscape
I considered how Vecteez's AI Reverse Image Search technology correctly identified a pair of lighthouses. In the case of Portland Head Light in a snowstorm, Vecteezy sort of understood that I wanted a photo of that same lighthouse during winter. However, to be fair, it's not obvious that the season is especially important to that image — at least not visually.
However, when considering a landscape photo taken during fall, the fact that the shot is in autumn is important. With that in mind, I uploaded a photo from Abol Bridge outside Baxter State Park in Maine. The photo shows considerable fall color. Going into this test, I didn't expect Vecteezy to have many images captured from this location in its catalog.
I was right on that count — Vecteezy doesn't have any images labeled "Abol Bridge" in its catalog. I'm happy enough to give Vecteezy a pass there. However, I don't need to give it a pass concerning fall color. It correctly identified that aspect of the input image.
What's essential about Vecteezy's AI Reverse Image Search tool is that it clearly has some conceptual understanding of input images. While other reverse image search tools can occasionally deliver excellent results, Vecteezy's system, at least for now, promises to provide good results more consistently.
For what it's worth, Adobe Stock didn't return images of Mt. Katahdin or images shot from Abol Bridge. However, that's not because of a lack of content. Adobe Stock includes images shot from the same location as my photo, but I had to search for them manually — the reverse image tool didn't show them to me.
Vecteezy on the Results
Vecteezy's founder and CEO, Shawn Rubel, explains that my results are typical and to be expected, explaining that Vecteezy's model, which was developed externally but trained in-house, has been trained using billions of images and classifications of those images. "So it's basically considering billions of parameters," Rubel tells PetaPixel.
When asked if Vecteezy's AI model has been trained on special items and parameters, including individual species of animals or specific places, Rubel says that no, "The model wasn't particularly focused on a few special items…they were just included in the training data set and then merged and optimized with our user data."
The impressive results weren't achieved by accident then, but the model wasn't designed to deal with any individual situation, rather, Vecteezy's AI Reverse Image Search is good because it's designed to deal with any situation.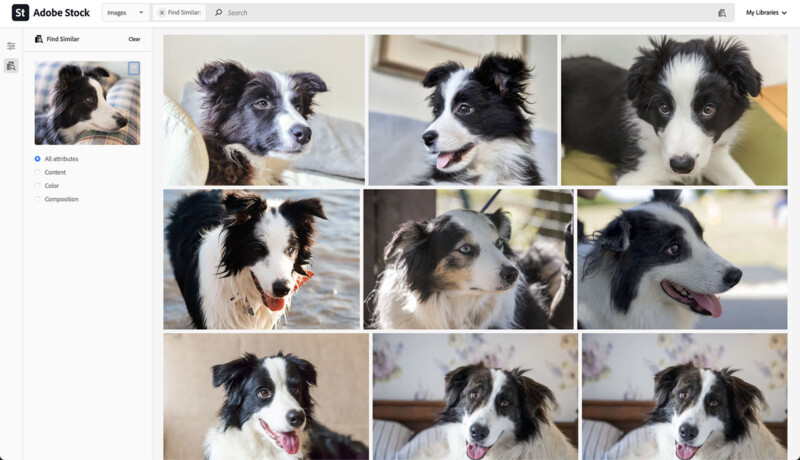 Concerning my image of Montreal, Rubel says, "Yes, the model is very good at identifying specific locations. Uploading a photo of Montreal doesn't just return similar shots of Montreal that match the similar pixels. It actually understands that it's literally the city of Montreal and will return a variety of results that are photos of that specific city."
However, the system still has its limitations. Some locations, such as Abol Bridge in rural Maine, aren't featured in Vecteezy's library, so the AI Reverse Image Search can't do much.
"The biggest limitations we have are around the breadth of our content library," says Rubel. "Regarding the mediocre results you found, it's difficult to tell you exactly why you found what you found without digging deep into the code. However, based on your explanation, it sounds like a content problem (lack of content) and not an algorithm problem."
Returning to one of Vecteezy's examples, the Trump image, Rubel explains that because Vecteezy doesn't have many images of Trump, the system begins to return images of Trump Twoer, illustrations of Trump, photos of money and protests, etc. "As we begin to expand our editorial collection, I'm sure more Trump images will come through and those specific results will get better over time," Rubel says.
That said, even if the system returns images that aren't of Trump, the model has a sophisticated contextual understanding of images. It produced images associated with the content of an input image in a way that competing stock agencies can't yet.
Speaking of competition, Rubel says, "We expect that Adobe will continue to improve their capabilities over time, however the fact that Vecteezy's reverse image search AI is demonstrably better shows that smaller teams can have outsized returns in this arena. We anticipate our abilities in the AI space to improve at a faster and more nimble pace than the larger players."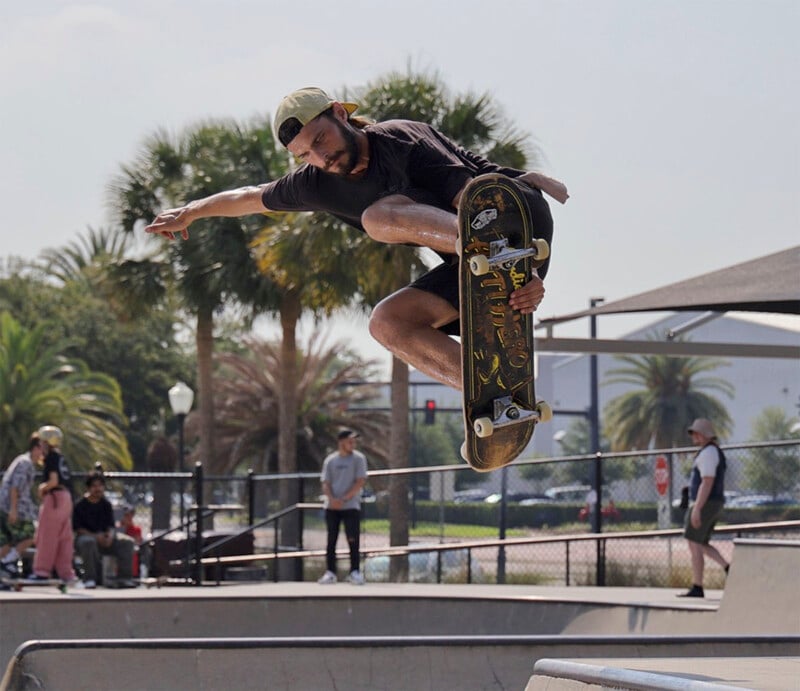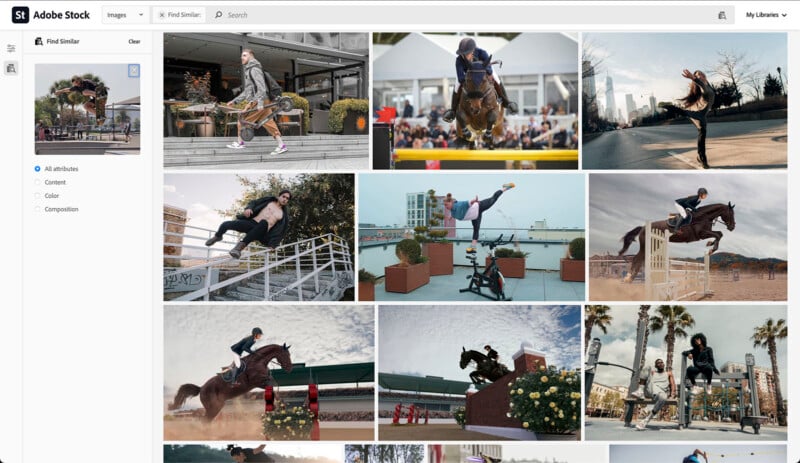 Surprisingly Good, But Not Perfect
When Rubel reached out to PetaPixel to pitch the stock platform's AI Reverse Image Search, I expected to write a story about the feature and explain what makes it interesting. I quickly pivoted to wanting to stress-test the reverse image search and see if I could break it.
I couldn't break it, at least not with images of content in Vecteezy's library. However, that doesn't mean it's perfect. When using a black and white image as an input, I'd like to see the system deliver more black and white photos in return. And for a night image, I'd like to see more night images.
However, while Adobe Stock delivers images with similar aesthetics because of its reliance on analyzing images at a surface level and producing results that look similar, Vecteezy's AI model is much more sophisticated and able to determine the actual content of an image. In some cases, Vecteezy's AI Reverse Image Serach even seemed capable of understanding images related to the concept of the source image, something that Adobe Stock seems incapable of at this point.
There are some limitations of Vecteezy's new reverse image search tool, but the AI model is well trained and generally very good. It pairs nicely with Vecteezy's existing search tools, which allow users to search for images based on color and text queries. For users who want content with a specific aesthetic, those non-AI tools work well. However, when someone is searching for an image with a similar subject as a source image, especially in cases where they might not know exactly what to search for using text, the new reverse image tool is incredibly powerful.