Razer Kiyo Pro Ultra Review: More Than a Webcam, Less Than a Camera
Razer wants you to take your webcam seriously enough that you would spend $300 to get the quality the Kiyo Pro Ultra can deliver.
That's the basic premise, and there's a lot going on with this webcam, which is why I waited a little longer to write this review after my hands-on in January thinking the nuances would be easier to spot after a couple of months.
When Razer first unveiled the camera, it positioned it as an ideal way for streamers and content creators to capture themselves when speaking in front of a computer. It does that well in most cases, but whether it's worth the $300 price depends on how adaptable you think it could be.
Design and Setup
The Kiyo Pro Ultra is a big webcam relative to what you typically see from other brands, and there are good reasons for that. The image sensor alone — which is the largest sensor ever crammed into a dedicated webcam — validates it, giving you 4K resolution at 30 frames per second (fps) at the high end. If you prefer, you could also choose 2K at 30fps or 1080p at 60fps. Even 720p is an option if you need to dial things down due to a dodgy internet connection. The field of view ranges between 72 and 82 degrees based on your chosen resolution.
With a depth of three inches, the base is long enough that you need to mount this on a monitor, as most laptop screens will eventually wilt under the camera's weight. There's no way to separate the camera from its base, though the screw mount underneath lets you mount it on a tripod if that works for your layout. It's an otherwise easy setup because you only have one braided USB-C cable to plug in and no real drivers to install to get up and running quickly.
Except it matters what you use it with because of the differences between Windows and Mac. Razer's Synapse 3 software doesn't play nice with Apple's computers, complicating how you access and adjust the Kiyo's settings. The Pro Ultra works fine in a simple plug-and-play situation with any Mac, much like I did when using it with Zoom, Teams and Google Meet. If you use something like Twitch, YouTube, or Streamyard you'll be fine, though you can't change any settings unless you run Synapse on a Windows machine.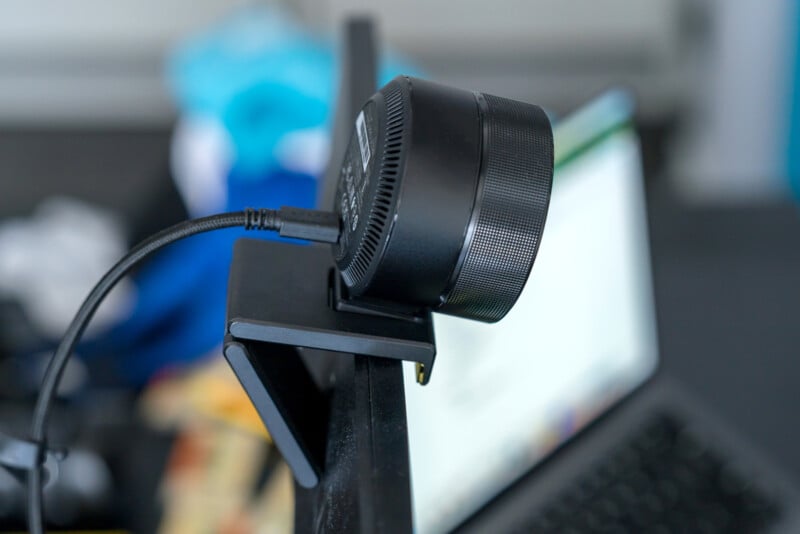 I get the limitation insofar as Razer always thinks of gamers who overwhelmingly play their games and ply their trade on PCs, but it's an odd omission when the company lumps in streamers and content creators into the mix. If we're being specific, Razer generally leans more toward gaming streamers, though pushing more resolution makes more sense when streamers are more prominent onscreen than the games they're playing. This complication is only going to get more obvious since Razer is greatly expanding its audio equipment and those products have the same glaring usability issues on Mac.
Settings and Placement
Assuming you do get into the software to change things up, you have some manual controls to work with. You can adjust ISO between 100 and 6400, shutter speed from 1/10 to 1/2000, and resolution between 4K and 1080p. There are digital zoom and panning options plus other effects catered to creating content. Change the field of view using the Broadcaster mode, and should you decide to turn off autofocus, you can adjust a slider to set it yourself. If you do that, though, you take away the tracking that sticks to faces otherwise. The only problem is some of these features don't work if you're on 2K or 4K resolution.
Exposure compensation lets you adjust sliders for white balance, brightness, contrast, and saturation, including three metering modes. Toggle HDR on and you get to apply it for a bright or dark room, but again, you reach a limit if you want to do so with higher resolutions.
I couldn't tell if the Kiyo Pro Ultra was better placed one way or another. If you have a monitor elevated for ergonomic reasons to view at eye level (like I do) the camera tilts down to look at you. If you prefer to put it on a mini-tripod, you have more flexibility in where you want to position it. Not that there's any real orientation to speak of aside from tilting up or down, since the camera only has singular upright placement. And if you're looking for privacy, you can twist the lens to close the shutter, or attach the included lens cover.
The small LED light indicates the camera is on, but not that it's active. It doesn't change color to indicate status, either. What does work is the onboard mic, which does a good job picking up voices for video calls and meetings, but is hardly adequate if you plan on streaming or creating content when a USB mic would sound like a considerable upgrade.
Image Quality
Looking at the video quality, there is no doubt the larger Sony Starvis 2 Type 1/1.2 image sensor does its job well. Falling between the Type 1 sensor in the Sony ZV-1 Mark II and the smaller sensors found in other webcams, the Kiyo Pro Ultra doesn't have much to compare against right now.
I routinely used it in poor lighting where I found it more than capable of illuminating my face and staying focused on it. There is a smoothing effect that coincides with the low-light performance to hold off noise, but I suspect some users won't mind that at all.
It's smart enough to make adjustments on the fly, even if some of them don't always make sense. The camera always looks to illuminate you as the main focus above anything else. If you bring in an extra person, it applies focus onto one face as opposed to two, which isn't a problem if the two subjects are just sitting next to each other, but if not, the camera assumes the second person is part of the background.
Not surprisingly, you get the best results when you are well-lit. It just gives the camera less to do and rectify, making it look and feel like a more natural view from a solid webcam. It's a pain to have to always go back to Synapse 3 to make changes, especially because you have to turn the camera off in the app you're using to then preview it in Synapse since it can't run on two apps at the same time. As for Mac users, you get a good webcam off the bat when you plug and play, but also lose out on the granular controls when you need to make proper adjustments.
If you're on a PC and want to stream or produce video content, the Kiyo Pro Ultra is up to the task. That's especially true when using an app that won't downgrade the quality and when your internet connection is good enough to maintain stable high-resolution video when live streaming. There's a large amount of customization here to suit content creators just fine, where it's more than possible to find the right balance for whatever the content requires. So long as Razer continues to update the firmware, it stands to reason the Kiyo Pro Ultra can only get better.
A Webcam That Fits Its Niche
The advantage of the Kiyo Pro Ultra and webcams like it is that it's far less expensive than a dedicated camera, even one with a small sensor like the aforementioned ZV-E1 Mark II.
It seems expensive, and it certainly is compared to traditional webcams, but its pricing makes more sense when you consider that it sits in between what are usually pretty poor cameras and far more expensive options that may work as webcams, but are most certainly designed to be used away from the computer.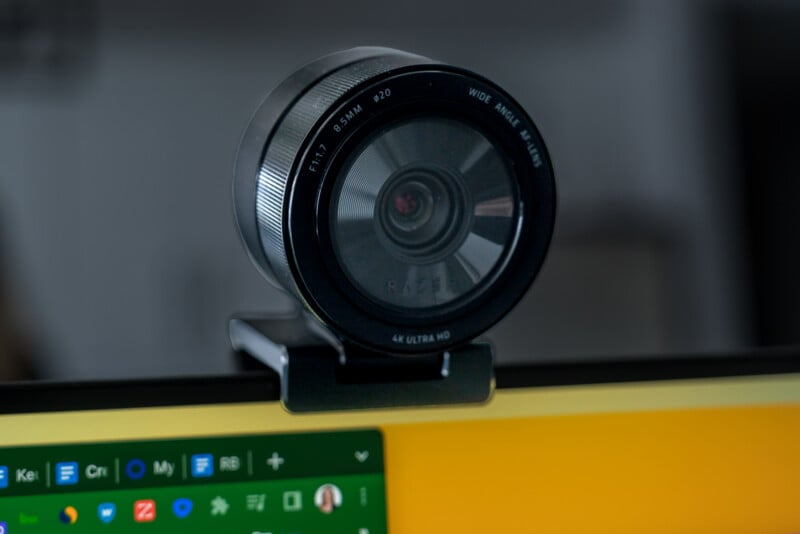 Are There Alternatives?
There really aren't a lot of 4K webcams on the market at the time of this review, but there are some. Elgato drew some attention with its FaceCam Pro when it launched in November 2022, and it's still available if you can find one from the company's website. It holds an advantage in that it can record video in 4K at 60fps, and offers many of the same manual controls Razer does.
The Logitech Brio Stream offers more field-of-view options and stands out for its HDR performance. Then there's the Insta360 Link, which mounts on a small gimbal and does more in following the subject, along with AI-driven features unique to the camera.
Should You Buy It?
Maybe. $300 is a lot to charge for a webcam, but it has a larger image sensor than others and was built with content creation as a major functional purpose. If that's your lane, you'll probably like what you get here.