The Razer Kiyo Pro Ultra Features the Largest Sensor Ever in a Webcam
Razer has announced the Kiyo Pro Ultra webcam, which it says uses the largest sensor on any webcam made to date and is positioned as "DSLR-level" in image quality.
Razer clearly had streamers in mind with the Kiyo Pro Ultra, positioning it as a "DSLR-level" webcam, which doesn't actually mean DSLR these days (considering the heyday of the DSLR is long past) but more means the company beleives it will look as clear and colorful as a standalone camera might.
The conditions I saw it in were hardly ideal, with terrible lighting and spotty connectivity, but I got the gist of what it can do. Made to be quick and painless, it sets up in minutes by just plugging in via USB 3.0 connectivity. In a neat (literal) twist, it also can physically close up for privacy.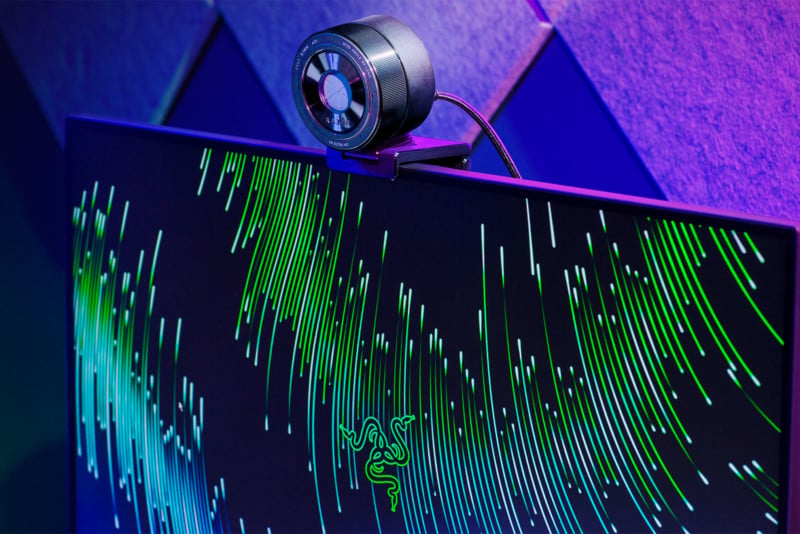 The camera uses Sony's large Type 1/1.2 Starvis 2 sensor with a 2.9 μm pixel size to gather more light — a far cry from the at minimum APS-C sized sensors found in DSLRs and interchangeable lens mirrorless cameras, but still larger than dedicated webcams have thus far seen. The Kiyo Pro Ultra does some pixel binning its low light capabilities its strongest, though it's not clear if it's always doing that or if it's a setting that can be toggled in some way.
The f/1.7 aperture is fast enough to capture more light than other webcams generally do, and it proved to work well in the low-light conditions I viewed it in. Razer Synapse offers some customizable settings to tweak image quality, like ISO, shutter speed, pan, and tilt, among others.
The webcam will capture 4K resolution at 30 frames per second (FPS) by default, and is capable of converting that to uncompressed 4K at 24 FPS, 1440p 30 FPS, or 1080p 60 FPS into a running stream. I never witnessed this in action, though.
What I did see is the Pro Ultra's AI face tracking, a feature that Razer says will strive to maintain focus on the user's face at all times. From what I experienced, the feature can get confused if it sees multiple faces, seemingly unsure of who to stick to, which is made all the more obvious because of the bokeh effect it applies to the background. It's cool in that it all works seamlessly, and is certainly aimed at single users rather than groups, so its utility beyond a computer setup is hard to read.
You won't have to wait for the Kiyp Pro Ultra if you want to get in front of it. It's available now for $300.
---
Image credits: Header photo by Ted Kritsonis, all others via Razer.