Photomator for Mac is a Powerful Photo Editor with Robust AI Tools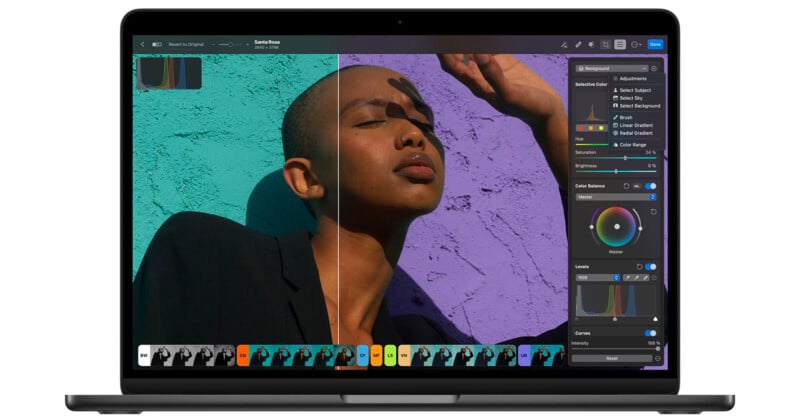 The Pixelmator Team has announced Photomator for Mac, a powerful new photo editor designed to "supercharge photo editing workflows" on macOS.
Photomator was previously available only on iPhone and iPad but is now available on Apple's popular notebook and desktop computers. Just over a month ago, Pixelmator Photo rebranded as Photomator, and added powerful new selective adjustment and masking tools to iPhone and iPad.
"Photomator for Mac brings fluid navigation between photo albums and individual photos, features an extensive collection of cutting-edge color adjustments, offers powerful batch editing features, quickly makes precise selections using AI, includes Clone and Repair tools for quickly touching up photos, and much more," explains Pixelmator.
Photomator for Mac allows users to edit colors, lighting, textures, and more with "over 30 state-of-the-art color adjustments." The essential photo editing tools that photographers expect are on offer, including adjustments for Exposure, Contrast, Saturation, Shadows, and Highlights. There are also more advanced adjustments, including Curves, Levels, a wheel-based Color Balance tool, and custom LUTs.
Last year, the image-editing app received a significant update that added new Clarity and Texture adjustments, which are also available in Photomator for Mac. These tools use a texture-aware image processing algorithm to preserve color quality in photos, no matter how extreme users make the edits.
Concerning AI, Photomator includes AI-powered automatic selection tools to select common elements in photos, including the sky, subject, and background. By combining these selection options with other masking tools, users can make precise localized edits to many parts of an image.
AI editing tools don't stop there, either, as Photomator for Mac also uses AI to automatically and quickly "enhance colors, lighting, and contrast in photos, improve composition, remove camera noise, copy the look of one photo to another, and more." Photomator is built from the ground up for Apple technologies, including Core ML, which helps speed up machine learning tasks.
According to the Pixelmator Team, the new M2 Max and M2 Pro chips deliver up to 20 times better performance than recent Intel-powered devices. Photomator for Mac is the first full-featured photo editing app built exclusively for macOS using SwiftUI.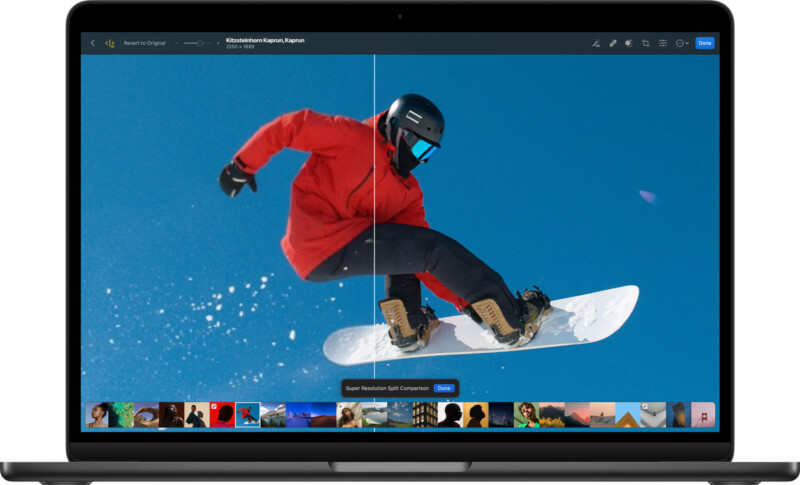 Photomator for Mac also includes expansive batch editing tools, allowing users to combine typical editing adjustments with AI-based automatic editing tools when adjusting an entire photoshoot.
Photomator for Mac is built using SwiftUI, promising a "fast" and lightweight codebase, and utilizes native photo management on macOS, including deep integration with the Photos app. Edits made in Photomator sync automatically with the Photos library, and the app supports iCloud, across all user devices.
"Photomator brings the award-winning photo editing experience that our users have come to know and love on iPhone and iPad over to the Mac," said Simonas Bastys, the lead developer at the Pixelmator Team. "And best of all, the Mac version has been redesigned and rebuilt from the ground up exclusively for macOS using native technologies, so it feels right at home on desktop devices."
Photomator is available to download for free from the Mac App Store. For unlimited access to all its features, users must pay $4.99 per month, $29.99 per year, and $99.99 for a lifetime license. Existing Photomator subscribers receive the Mac version of Photomator for free, and special offers are available for users who purchased Photomator before August 18, 2022, as well as for Pixelmator Pro users. Photomator for Mac requires a Mac device that runs macOS 13 or later.
Concerning Pixelmator Pro, a layer-based image editor available on Mac, the Pixelmator Team has a dedicated webpage showing users how Photomator for Mac compares to Pixelmator Pro.
A significant difference is that Photomator is explicitly built for photo editing workflows, while Pixelmator Pro allows users to create stunning layer-based artwork beyond pure photos. To that end, Pixelmator Pro supports some files that Photomator doesn't, including video formats, SVG files, and more. Pixelmator Pro is only available on Mac, whereas Photomator is also available on mobile devices, allowing Photomator users to swap between devices while editing images seamlessly.
Complete system requirements and additional details about Photomator for Mac are available on the Pixelmator website.
---
Image credits: Pixelmator