Haukland Parka Pro Jacket Review: Outrageously Warm, Overkill for Most
Adventure or travel photographers will sometimes find themselves in rather extreme environments. Alaska, Iceland, Antarctica, or even Yellowstone National Park in the winter can be very cold. So, does Haukland's Parka Pro Photography Jacket successfully combat low temps and wet weather?
Last year, I tested out Haukland's original Photography Jacket and found it to be an excellent value, perfectly mixing high-quality outerwear with features that photographers would appreciate — namely a preponderance of specially designed pockets. That jacket was very warm and more than enough to handle the admittedly mild Pacific Northwest winters, but Haukland recently created something far more robust.
In March, the company announced the Parka Pro, a new 7-in-1 photography jacket that significantly upgraded the weatherproofing and warmth of the original as well as added two more pockets for $499, a notable bump over the original's $349 asking price.
Is the Parka Pro worth it? The short answer is yes, but only if you plan to really push your photography to the limits, otherwise what the Parka Pro offers is very likely going to be overkill for you.
Haukland Parka Pro Jacket: Design and Build Quality
The overall design philosophy of the Parka Pro doesn't deviate far from the original jacket: the "7-in-1" claim that the company makes is based on the fact that this jacket is actually three pieces of clothing that are designed to be worn together. The first layer is a fleece sweater, the second layer is a puffy jacket, and the final outer layer is a waterproof parka.
The puffy jacket and the parka can actually zip together to become one somewhat seamless piece of outwear, while the fleece doesn't really integrate at all and is always worn as a separate piece of clothing. I do wish all three pieces somehow connected together into one mega-jacket, but I'm satisfied with the puffy jacket and outer jacket connection capability, even if the sleeves sometimes don't stay together — the jackets zip together from the front and the hoods do button together, though.
While the fleece is basically the same between the Parka Pro and the original Photography Jacket, the puffy jacket and external parka are both major upgrades on the Parka Pro. The puffy jacket — or padded jacket as Haukland calls it — is thicker and described as "extra warm," which I can verify. The biggest change is to the exterior layer, though, and this is where the Parka Pro is certainly more capable of withstanding the extreme.
The parka is a lot larger than the regular jacket in terms of sheer mass thanks to its additional padding, oversized and adjustable hood, and overall thicker and more robust material. The Parka Pro is also far more water resistant, upping the original's "light to moderate" rain protection to "medium to strong" with taped seams that help prevent seepage.
The Parka Pro is also capable of withstanding significantly colder temps, increasing the protection from as low as 5-degrees Fahrenheit in the original to a super-chilly -13 degrees (from -15 degrees Celcius to -25 degrees Celcius).
In short, while the original jacket was good for general uses, the Parka Pro is better suited for extreme cold with a mix of snow and rain all without compromising on the quality that I noticed in the original jacket.
On that note, the badges and pulls on the Parka Pro have been changed over to a rubber from the original jacket's leatherette. This makes them more durable for longer and a lot more understated, which I also like.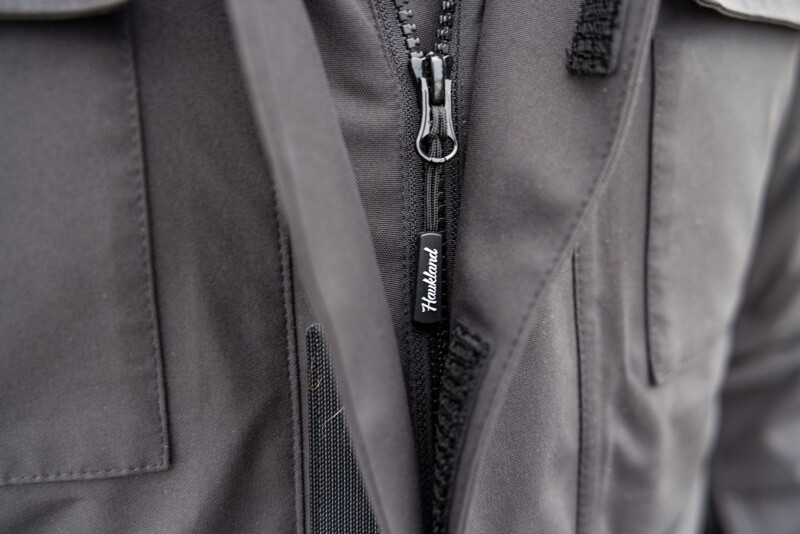 One last thing worth mentioning is that this jacket is designed to be long — the bottom lands well below your waist. This has its advantages for warmth, but some may object to how that looks or feels to wear, especially when sitting in a car which can feel a bit awkward.
Haukland Parka Pro Jacket: In the Field
Given that the low temperatures had already risen above 40-degrees Fahrenheit at home for me when the Parka Pro arrived, I knew I needed to find a different environment to test it in and that opportunity came in when I was able to join Chris Niccolls and Jordan Drake in Yellowstone last month while they were testing the Nikon Z8.
We really got a taste of all the kinds of weather Yellowstone could possibly throw at us while we were there: we experienced everything from sunny and mild, to pouring rain, to heavy snow, to howling wind, all in a matter of about 14 hours, which really let me test the Parka Pro and how it handled varying conditions — a major benefit of the design since it is easy to shed layers or add them depending on the weather.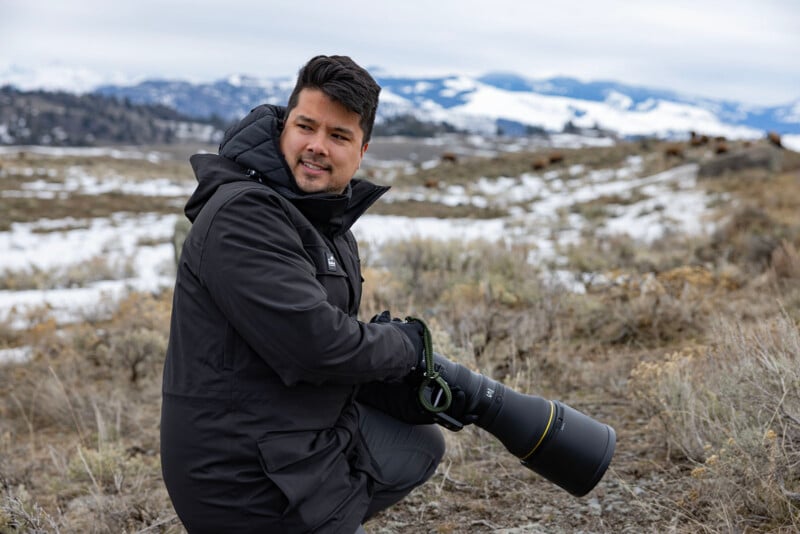 Our day started at 4 AM and continued until the early evening and temperatures went from a still 20-degrees all the way down to quite cold with a double-digit mile per hour wind chill, and in every case I was basically unable to feel any change on any part of my body that was covered by the Parka Pro.
In one case, we stood out on a frozen lake with the wind whipping by at more than 20 miles per hour and I held out my arms and really tried to see if I could feel any change. While the rest of the crew went back to the warmth of our sprinter van, I stood out in the wind with my hood up, totally warm and happy in the jacket. My pants and shoes were the only areas I felt any change, and those just so happened to be the only places on my body that weren't protected by Haukland (I was also wearing Haukland's winter gloves).
I mentioned we got both rain and snow, and in both cases I made sure to hop out of the van and stand in it for long periods to see how the Parka Pro handled moisture. Rain water basically ran off the coat immediately as if I was covered in RainX and snow often just bounced off or, if it stuck, it would later melt and also quickly run off me. At no point did any moisture penetrate the jacket and I, again, remained warm, dry, and comfortable, three layers deep.
Of note, the Parka Pro adds a fleece lining with an extra neck bar on the outer layer, which is not present on the original jacket. This is an excellent addition and is especially welcome when I have the hood up, as the back of my neck is met with soft warmth as opposed to bare hood texture (in this case, treated polyester with a polyurethane waterproof membrane).
If I had any complaint, it would be the bulk. This jacket is a lot thicker and therefore a lot larger than the first generation jacket, both to pack and to wear. It takes up a lot of room in a bag and once it's on, your range of motion is slightly encumbered when compared to the original jacket.
That is not wholly unexpected of course. In order to make a jacket warmer and more robust, more materials have to be used and that's going to add bulk. I would very much rather be warm than able to easily reach behind and grab something out of a backpack I'm wearing, but I do need to note that because there is so much fabric, you're not going to be as flexible as you might think you are.
Haukland Parka Pro Jacket: Even More Pockets
Each layer of Haukland's jackets includes a set of photography-specific pockets on the inside left panel. I do wish that these alternated somewhat, since it would be nice to have some gear on my right side on the fleece insert and additional gear on my left side in the parka layer rather than everything on the left which can make me feel a bit off balance. That said, the pockets are huge, there are zippers and velcro that keep them closed but still easy to access, and they can hold a ton of stuff.
The memory card and extra battery pockets I found to be the most useful, but I've been known to also store lenses and extra camera bodies in these pockets if I don't feel like lugging a bag out of the car for a short excursion.
One piece that I'm starting to not be a big fan of is the lens cloth pocket in each of the layers' left sleeve. Within, there is an elastic cord attached to a metal alligator clip and often that bunches up and can catch and pinch when putting on or taking off layers.
This is mainly a problem on the fleece, and luckily if it bothers you, you can just snip it off with scissors. I think in the future, Haukland should consider a less sharp clip here — maybe one made of softer plastic as opposed to metal.
There are a few additional pockets in the Parka Pro compared to the original jacket, and two that I am so glad have made an appearance are the side-access pockets on the parka layer. The original jacket doesn't really have a comfortable place to put your hands when they're not actively holding a camera, but the Parka Pro now has standard side-access jacket pockets, so my hands get to be nice, cozy, and rested when I'm out walking in the cold.
The Haukland Parka Pro is Super Warm, But You Probably Don't Need It
I absolutely love the quality of the $499 Parka Pro, just as I did with the original Photography Jacket, but as good as it is, I think a majority of photographers are probably better off with the standard version. The extra $150 for the Parka Pro gets you a lot, but it's probably overkill for a majority of shooters who just aren't going to find themselves in the kinds of environments where the level or protection it offers is required.
That said, if you are planning to venture into the frozen wilds, the Haukland Parka Pro is an exceptionally well made jacket. After heavy use, I only found a few flyaway threads on the external layer and both the puffy interior jacket and the fleece look as good as they day I pulled them out of the packaging. I have a lot of faith that the material will last a long time as well, since I daily-drove the original Photography Jacket all through this past winter and it held up without issue.
One of the best parts about Haukland's clothes is the quality. I'm not sure how the company is pulling it off, but these items look and feel like they should cost a lot more than what Haukland is asking for them. $499 is a lot, but not when you look at the heavy-duty winter jacket space and not when you consider it's actually three pieces of clothing and not just one. No doubt, the Parka Pro is an excellent value, just as the original Photography Jacket is.
Are There Alternatives?
To get the level of protection the Parka Pro provides, you're likely going to have to look at brands like Canada Goose, Arc'Teryx, Columbia, or The North Face. Heavy duty parkas from any of these brands can cost a lot more than Haukland is asking and don't include two additional layers and don't have the photography-focused pockets. For example, Arc'Teryx wants $850 for its Therme Parka and Canada Goose wants over $1,200 for the Langford Parka.
Should You Buy It?
Yes, if you need the level of protection it provides. Most of you won't, so in that case I recommend the original Haukland Photography Jacket since it's still very warm but costs less and is easier to move in.