Haukland Photography Jacket Review: Snug as a Bug with Pockets Galore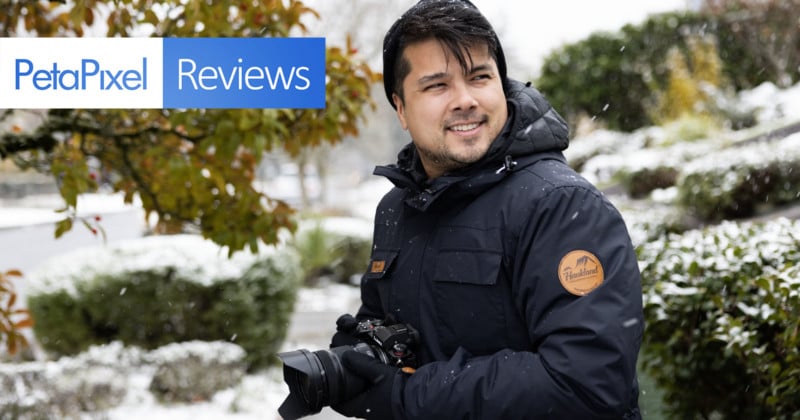 The Haukland Photography Jacket is an incredible value that is a rare combination of all of the best aspects of cold-weather clothing with specific features that are tailored to photographers. It is, in a word, exceptional.
As PetaPixel mentioned in its original coverage of the jacket back in July, Haukland has been making its 7-in-1 Photography Jacket available in Europe for some time, but only recently expanded to providing it to United States-based photographers this year. Since summers in Oregon where I am based can be particularly hot — and this year was no exception — I didn't get a chance to try the jacket until about a month ago when the weather finally started to get cold.
Outside of summer, Oregon is wet, dark, and oftentimes frigid, which provides me with the perfect environment to test out the Photography Jacket as the weather transitions from fall to winter.
From temperatures in the mid-50s to below freezing, the Haukland Photography Jacket provided me with a versatile way to adapt my wardrobe in a way that no other clothing I have ever owned has ever afforded, and while I'm sure that the modular way Haukland has designed the Photography Jacket is not necessarily something it invented, that modularity combined with specific touches that service a photographer makes it wholly unique — and well worth the $350 asking price.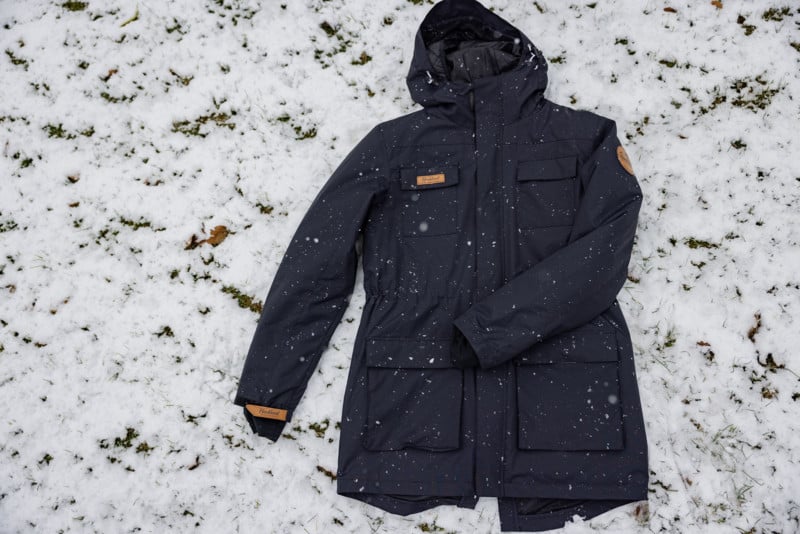 Design and Build Quality
I am extremely skeptical of any clothing that a company says is made for photographers. Maybe it's the years of bad experiences with poor quality, but I don't often get the sense that clothes made for photographers generally do a good enough job being both smartly designed and well-made. Haukland shirks that, as the Photography Jacket is exceptionally well-made.
Everything from the seams, to the zippers, to the leather (perhaps it is leatherette) pulls, straps, and badges feels high quality. The first layer, the fleece, is as well made if not better than any other fleece I have ever owned. The down jacket layer is of equal quality to my Marmot-brand one. The rain jacket cover is the nicest weatherproof coat that I have.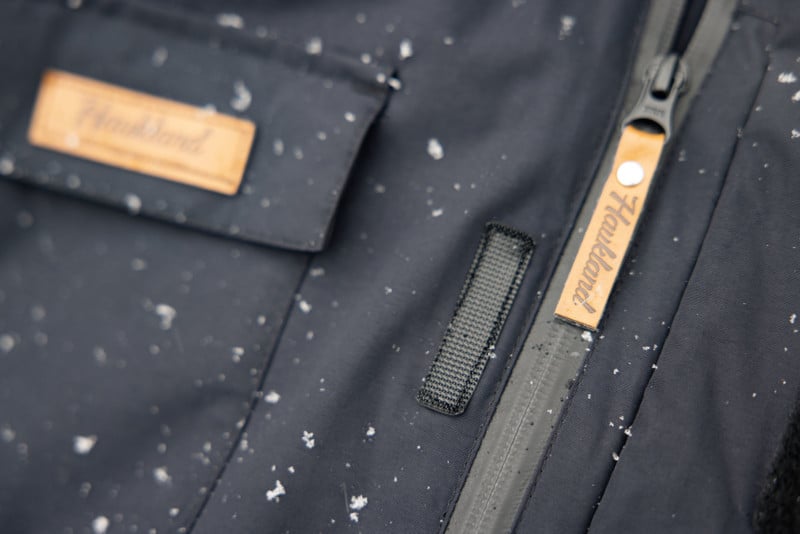 I think what I like the most about the jacket is how well it all goes together. While the fleece is a separate piece of clothing that doesn't directly hook into the other two pieces, the outer jacket and inner puffy coat zip together and form one unified piece of clothing. If it's not cold enough to warrant the coat but it's raining, they easily zip apart and can be worn individually. Every single zipper, including the outer coat's weather-proofed outer-facing zipper, feels high quality, sturdy, and reliable.
Photography-Inspired Features
But of course, the Haukland Photography Jacket is more than a set of clothing, it's also basically also a camera bag. That's not even an exaggeration, as when all three pieces are worn together, you gain access to three gigantic pockets that are capable of holding full cameras and lenses as well as three more sets of other dedicated pockets for smartphones, external drives, memory cards, batteries, chargers, and more.
Lens caps, filters, tripod plates, headphones, microphones, and cables, the list goes on and the Haukland Photography Jacket has a perfect pocket for each of them.
Every sleeve also has a dedicated lens cloth pocket that you can equip with your favorite cloth and that stays connected to you even in high winds thanks to a metal clip. When you're done, it slips back into your sleeve and zips up, keeping it clean and accessible the next time you need it.
Is it practical to treat the Haukland Photography Jacket as a replacement for a dedicated backpack? No, absolutely not, because the weight distribution isn't ideal, but the fact of the matter is you can if you need to. If I had one complaint, it would be that the specially designed pockets are always on the left side of the jacket. I would prefer if Haukland had put them on the right side on the inner jacket and kept them on the left on the outer jacket, that way weight distribution could be a bit more even if I use them both.
What makes Haukland's jacket so excellent is that it gives you as a photographer more options. If there is a shot at the top of a short hike and you don't want to bring your entire camera bag up to it, you don't have to. The dedicated pockets for memory cards and batteries is also extremely helpful, as I can't tell you the number of times I've had to fumble through normal pockets looking for those objects while on a shoot that is quickly moving from location to location.
The best part about all this is just how warm and comfortable each of the pieces of this jacket are. I've worn each piece individually and as a full ensemble and every time have been smiling from ear to ear from just how nice it is to wear. When worn together, the entire outfit is incredibly warm, allowing me to enjoy working in sub-freezing temperatures easily for extended periods of time. And while they are separate from the jacket, Haukland's photographer gloves are also outstanding and are designed to keep your hands warm while you're moving from location to location, but also allow instant access to your fingers so that you can work the small dials of a camera.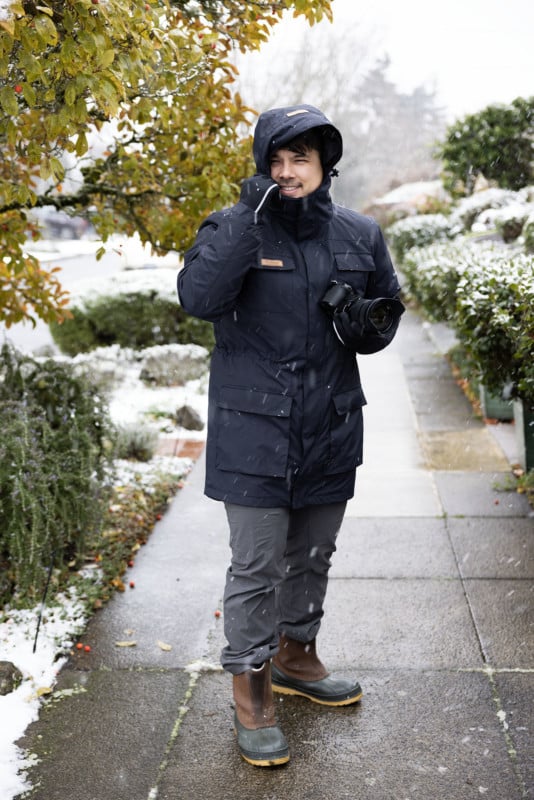 One last thing to keep in mind is that the cut of the Photography Jacket is pretty long. All three pieces come well below my waist, which means they're great for keeping you warm and you won't have an issue of them riding up, but it also isn't particularly fashionable. For me, this isn't a big deal because I would much rather be comfortable than attractive — I'm all about practicality when I'm working.
Shocking Value
To be honest, I have no idea how Haukland is selling this jacket so cheap. The quality of the materials mixed with the thoughtfulness of the design to me makes it worth far more than the company is asking.
Individually, a company could easily sell the outer jacket or padded jacket for a majority of the $350 that Haukland is asking and it would be seen as worth it, that is how nice the materials, fit, and finish of these garments are. The fact that all three are included for that price is an outrageous deal.
Looking at the cost of high-end cold weather outerwear, a category I have no problem saying Haukland fits into, the value becomes apparent. For example, a Marmot padded hoodie costs $200 alone, and I already mentioned that Haukland's version is at least as nice, if not nicer. A weatherproof jacket runs $450. Add in a fleece, and that's at least $80 more. That's more than $700 to create this same ensemble, and that doesn't include any of the photography-specific pieces that make it up.
A Winter Photographer's Best Friend
The Haukland Photography Jacket successfully rides a delicate line: it is both an outstandingly high-quality triad of winter outwear and also a well-designed photography accessory. I came into this review fully expecting mediocre quality considering that it isn't particularly expensive and it has several elements that cater specifically to photographers, but I was pleasantly surprised to find that it's so well made that I end up wearing it regularly and not just when I'm on the job.
While I do have some minor quibbles like the cut and pocket distribution as noted above, overall I can't think of a photography accessory I have loved more in recent years. It's just such a darn good set of clothing.
Are There Alternatives?
While there are some similar products on the market, none are quite direct competitors. For example, Langly makes a three-layer photography jacket, but it doesn't have the versatility of Haukland's even though it does have multiple useful pockets. As mentioned, you could also recreate the Haukland Photography Jacket by buying individual parts form the likes of Marmot or Colombia, but it's going to cost you and they won't integrate as well as the Haukland gear does and you don't get the special pockets for camera equipment.
Should You Buy It?
Yes. The Haukland Photography Jacket has quickly become my favorite photography accessory and for those who live and work in places where you need protection from the elements, it's hard to think of a better system of outerwear to pick up.