You Can Now Preview Google Maps Routes With AI-Powered Immersion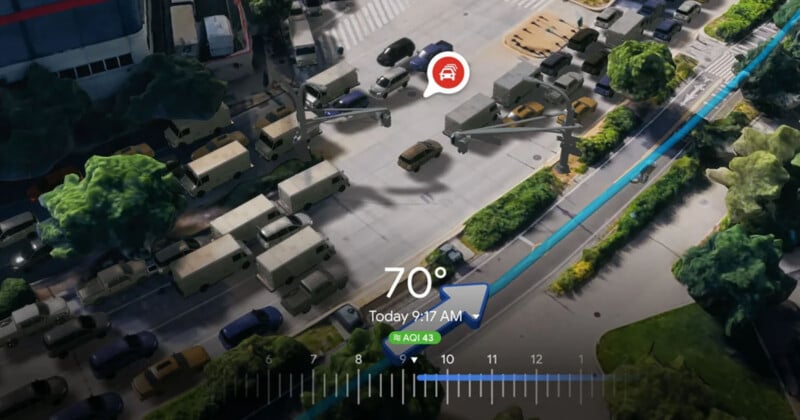 At the annual Google I/O keynote, Google announced numerous updates to Google Maps, including a new Immersive View for routes.
"Over the past year, we've been reinventing Maps, making it more visual with features like search with Live View and Immersive View for places. Now with Immersive View for routes, you can visualize every segment of a route before you go — whether you're driving, walking, or cycling," Google explains.
Immersive View is driven by computer vision and artificial intelligence (AI) to stitch together billions of Street View and aerial images. The combined photos create a "rich, digital model of the world."
From Street View ➡️ New Immersive View for routes in @GoogleMaps 🧵↓#GoogleIO pic.twitter.com/CMdR697hwm

— Google (@Google) May 10, 2023
Users can view information about their route using Immersive View and its accompanying AI technology in a single unified view. Once on a journey, users will see a multidimensional experience that delivers real-time visual previews of bike lanes, sidewalks, intersections, and available parking along a selected route.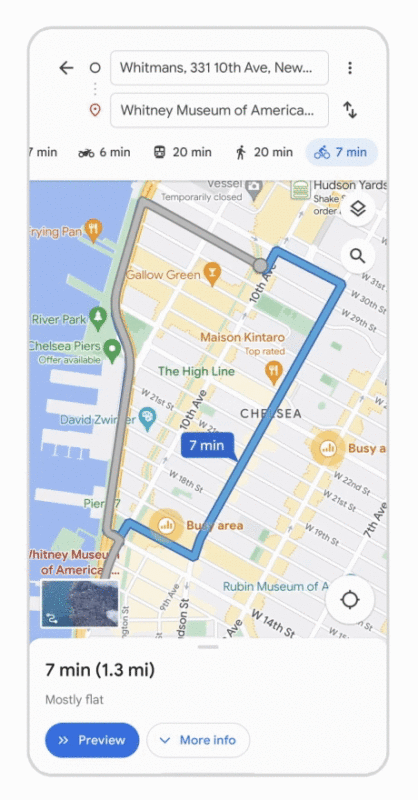 Maps users can also preview their route at other times using the "time slider." People can see air quality information and weather information concerning their route. Users can prepare their attire and bring the necessary items for whatever weather surprises the day holds.
Google Maps also uses AI and historical trends to simulate how many cars might be on a selected route at a given time. "A route during a quiet afternoon can look very different during rush hour," reminds Google.
Immersive View for routes will begin rolling out "in the coming months" in selected cities, including Amsterdam, Berlin, Dublin, Florence, Las Vegas, London, Los Angeles, New York, Miami, Paris, Seattle, San Francisco, San Jose, Tokyo, and Venice.
Besides improving the Google Maps user experience, Google has announced new developer tools. Other apps can build immersive experiences built upon Google Maps with the new Aerial View API.
"Developers can easily integrate a 3D birds-eye video of a point of interest into their apps, offering people more visual information about a place," says Google.
Google is also launching an experimental release of Photorealistic 3D Tiles via its Map Tiles API. This unlocks the high-resolution, 3D imagery behind Google Earth for developers wanting to create immersive experiences. Developers will no longer need to build a 3D map from scratch.
"For example, a tourism company can create a 3D map of a national park with photorealistic imagery of mountains, water, and trees to entice travelers to visit. Or they can develop an interactive map tour of architectural landmarks, overlaying markers to share historical information in a virtual guided tour of the city," explains Google.
Speaking of Google and national parks, just less than a month ago, Google announced new features that will make Google Maps a much better resource for people planning to visit US national parks.
Google has been busy expanding its Immersive View technology in recent months, too, as it was only three months ago that Google rolled out its AI-powered Immersive View feature to select major cities.
"These are just some of the ways we're using AI to transform Maps and create immersive experiences," Google concludes.
---
Image credits: Google