Google is Integrating Adobe Firefly and Express Into Its Bard Chatbot
At Google I/O, Adobe and Google announced that Adobe Firefly and Adobe Express are integrating with Bard by Google. Further, Adobe's Content Authenticity Initiative (CAI) will be incorporated, ensuring transparency with AI-generated content within Bard.
Adobe Firefly is Adobe's new generative artificial intelligence (AI) system and is currently in beta. Adobe says that it's "one of the most successful beta launches" in Adobe's history. During Firefly's first month, users generated more than 70 million images.
One of Firefly's primary features is how Adobe developed the AI model. The generative AI was trained using legally owned images, unlike some competing models trained with stolen content. The way in which Adobe created Firefly means that it generates commercially viable content fit for professional use.
While Adobe's commitment to ethics may limit Firefly's performance, it enables a level of transparency few, if any, competing generative AI systems can offer. Further, the open-source technology underpinning the Content Authenticity Initiative works with the Firefly-Bard integration. Bard by Google and new members Universal Music Group (UMG), Stability AI, and Spawning.ai bring the total number of members in the CAI to over 1,000.
Bard is Google's experimental conversation AI service. "In the coming months, Firefly will become the premier generative AI partner for Bard, powering and highlighting text-to-image capabilities," says Adobe.
"With the new Bard by Google integration, users at all skill levels will be able to describe their vision to Bard in their own words to create Firefly-generated images directly in Bard and then modify and use them to create designs via Express," promises Adobe.
Adobe and Google say that their new partnership is focused on creators. "The incredible response to our Adobe Firefly beta demonstrates the power and potential of generative AI to inspire more people to create and the strong demand for a creator-centric, commercially viable approach," says Ely Greenfield, CTO, Digital Media at Adobe.
"Generative AI has captured the world's attention and changed how we think about collaboration and productivity. We're thrilled to partner with Adobe Firefly, giving our users the power to bring their creative ideas to life, quickly and easily — directly in Bard," explains Sissie Hsiao, Vice President and GM of Assistant and Bard at Google.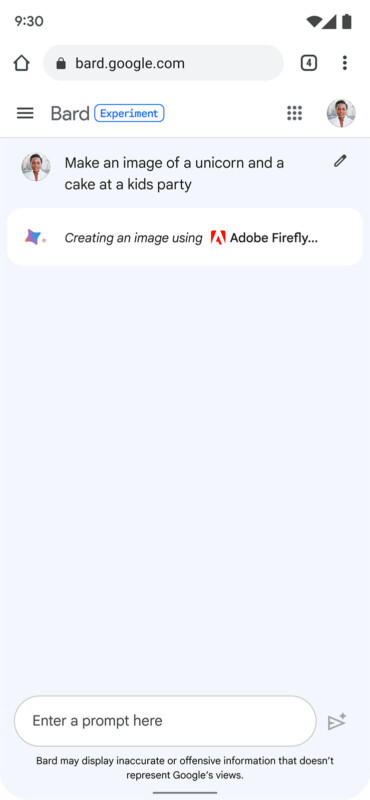 Users can create content using Adobe Firefly and Bard by Google and then continue "their creative journey" within Adobe Express.
"Say, for example, you're opening a yoga studio and want to create a social media ad for new customers. You can get inspired by asking Bard to generate an image like a 'giraffe doing a yoga pose.' You can then use Express and a ready-to-go template (or create something from scratch) with your new image as a centerpiece and quickly modify it with easy-to-use editing tools in Express. You can then post directly to your social media channels from Express!" explains Greenfield.
---
Image credits: Adobe