Adobe Launches Creative Cloud Express, a New Entry-Level Platform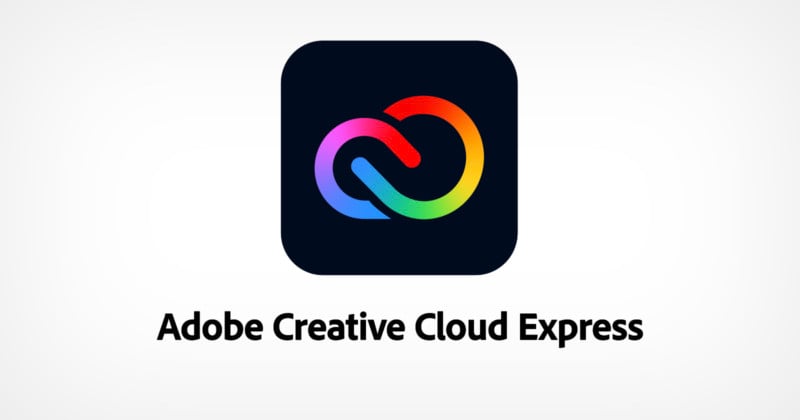 Citing the growth of the creator economy and the rise of sales through social channels, Adobe has launched Creative Cloud Express, a new platform designed for fast turnaround and is aimed at those who have never used Adobe products before.
Adobe has clearly decided that it has reached critical mass with its professional suite of applications and has found a way to expand its customer base to anyone who wants to create something.
Creative Cloud (CC) Express is designed to make it fast and easy to turn an idea into creative content using a mix of web and mobile apps. Adobe is aiming the platform at those with little to no experience with creative apps, and promises that the power of Photoshop, Lightroom, Illustrator, and other professional apps exist in Creative ClouCd Express, but without the complication the comes with the full applications.
The interface is based on simple drag-and-drop functionality and is supported by 20,000 premium Adobe fonts. The tool is designed to make it easy to find assets, and as such links to Stock through what Adobe calls "advanced search and discover" capabilities. Free users of CC Express get access to about a million assets on Stock, with paid users getting access to about 75 million more while the company says it will keep adding new templates and capabilities over time.
CC Express supports graphics, photos, and videos, and leverages a combination of features found across Adobe's full suite of applications, and has "Quick Actions" that Adobe says are powered by Adobe Sensei, which are able to remove background features from photos, trim and merge videos, turn videos into GIFs and convert or export PDFs in a few clicks.
Adobe says that many find it hard to start creating from a blank slate, so the company has filled the platform with a large number of templates to make creation easier and more free-flowing. CC Express is compatible with all Creative Cloud apps as well, making it easy to work with artists who are using the full versions of Adobe's tools. CC Express is cloud-based and will be supported by both web and mobile apps.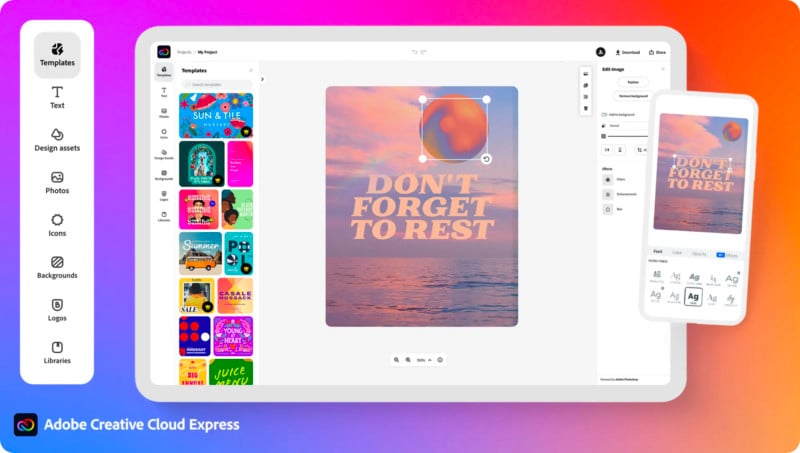 Creative Cloud Express appears to be Adobe's answer to Picsart, which has exploded in popularity over the last year and recently was valued at roughly $1.5 billion. Clearly, Adobe could not ignore that kind of power and popularity and wasn't content to let the startup eat into its bottom line. The company clearly hopes CC Express can appeal to Picsart's userbase of everyday users with a much more simplified, cloud-based interface than its apps have previously provided.
Creative Cloud Express is free to start with, and the app has already launched on the Microsoft Store, Google Play Store and Apple App Store. It is also included with Creative Cloud All Apps and flagship single-app plans over $20 and is free for K-12. The Creative Cloud Express premium plan costs $10 per month.
The paid app adds access to more assets as mentioned but also gives more "premium" features like refine cutout, resize, and graphic groups as well as the ability to add branding, logos, colors, and fonts faster and more easily. Paid access also includes Adobe Premiere Rush, Photoshop Express, and Adobe Spark. The full list of differences between the paid and free versions can be found on Adobe's website. Adobe plans to launch an Enterprise and Teams version in 2022, likely in a bid to compete with Canva.
---
Update: Somewhat confusingly, despite stating that Spark comes with CC Express, Adobe has sent out a note specifying that Adobe Spark on the web and Spark Post on mobile have been replaced by CC Express.
Today Adobe Spark on the web and Spark Post on mobile were replaced by Adobe Creative Cloud Express, an offering with the same content creation capabilities of Spark plus more. With your Creative Cloud Express membership, you will get access to additional apps and services including the royalty-free Adobe Stock photo collection* from within the Creative Cloud Express app, and the ability to create and convert PDFs.

If you use any version of Spark, all your content will still be available in Creative Cloud Express as part of your existing subscription. No action is required on your part.

If you use Adobe Spark Page or Adobe Spark Video, you can create new projects or access existing projects in those apps on mobile and continue working on them on the web via Creative Cloud Express and vice versa.
Adobe has set up an FAQ to address further questions regarding this transition.