Horage Lensman 2 Exposure: A $5,500 Watch Made for Photographers
It's an excellent time to be a photographer and watch enthusiast. Less than a week after Leica announced a pair of new watches inspired by the new Leica M11 Monochrom camera, Swiss watchmaker Horage has announced the Lensman 2 Exposure, a timepiece that is a "mechanical cheat sheet to manual photography."
"For new enthusiasts and photographic veterans alike, understanding the settings required to arrive at a well-exposed image is paramount," explains Horage. Its Lensman 2 Exposure watch promises to "break down barriers" and "simplify the process of calculating a scene's exposure."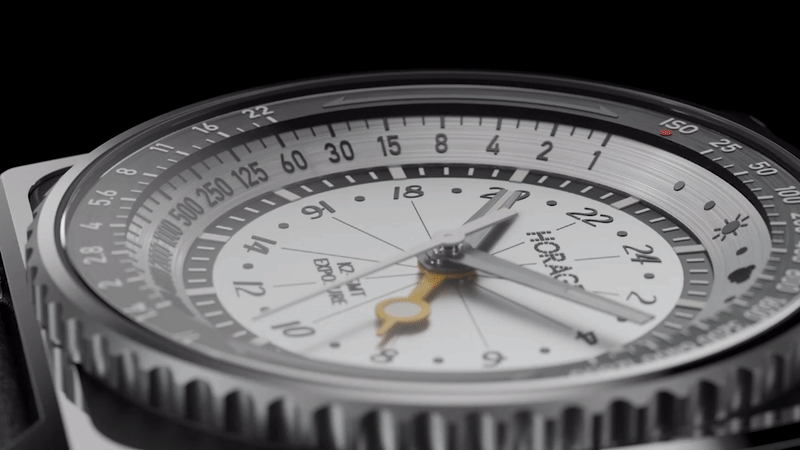 The timepiece puts exposure information front and center on its face and rotating bezel. White balance icons, shutter speeds, apertures, and ISO speeds accompany the standard time-telling information, which features a 24-hour clock arrangement.
These innovative new features take the Lensman 2 much further into the photography sphere than the original Horage Lensman 1, which offered a more photography-inspired style rather than practical tools for the active photographer.
Horage developed its new watch alongside accomplished British photographer and educator Brian Griffin. Users rotate the watch's bezels according to artistic desire or current lighting conditions, and the watch's components align, revealing appropriate shutter speed, aperture, or ISO settings.
"The bidirectional rotating bezel works as an exposure calculator, ranging from ISO (film speed) of 25 to 12,800 and an aperture (f-stop) of f/1.4 to f/22. Both of these figures are highly visible for quick reference, while the lighting conditions (represented by icons) and shutter speed are engraved on an inner dial ring. The optimal shutter speeds and f-stops are revealed when the ISO markings of the bezel are rotated to align with your current lighting conditions, thus helping you to calculate the optimal shutter speed and aperture for your camera's exposure," explains Horage.
The watch not only offers function to photographers, but it also delivers a camera-inspired form as well. Vintage medium-format cameras inform the aesthetic of the Lensman 2 Exposure's distinct face. The watch's dual-material case uses titanium and anodized matte black aluminum. The watch's diameter is on the smaller side at 39mm, but it should wear a bit larger than that given its unusual shape.
The Swiss-made watch utilizes an "incredibly efficient and chronometer-certified" K2 micro-rotor movement that has been reworked for the watch's 24-hour GMT function. The watch uses white X1 Super-LumiNova to glow in the dark.
"Step back and the dial looks like it belongs on the top plate of a pro-SLR camera, but look closer and you have a multi-functional watch that's a modern nomad's dream," says Horage.
Like many premium watches, the underside delivers a window to the watch's inner workings. The case back is built using sapphire glass, surrounded by textured matte black aluminum. The movement is "beautifully decorated in a galvanic finish with Horage's signature grid pattern and Côtes de Genève."
The limited edition Brian Griffin model watch includes a PT950 platinum rotor and is engraved with a quote from Griffin, "Believe in your light." All watch editions include Griffin's slogan, "You don't take a photograph, you make it."
The standard edition of the watch is an "open edition" and is available in two dial colors that are yellow or black. The "very special" Brian Griffin 100-piece limited edition sports a stylish black and silver colorway. The limited edition watch also comes with a selected photo box that includes four signed and numbered prints from Griffin's archive. Customers can choose between music, film, portrait, and artist selection box offerings.
The Horage Lensman 2 Exposure will be available for preorder beginning May 9, 2023, to Horage VIP customers. The initial preorder period ends on May 12. The premium Swiss watch won't come cheap. The standard edition will open for preorder at 4,900 Swiss Franc, or around $5,480. The limited-edition Brian Griffin model starts at CHF 5,900 ($6,600).
A second preorder window will open on June 6 and includes higher prices. General orders will open in November at even higher prices, with the standard watch retailing for around $6,600 and the Brian Griffin edition, if it remains available, selling at just over $7,700 based on current exchange rates.
Horage expects the Lensman 2 Exposure to begin shipping in the fourth quarter of 2023.
Detailed specifications and preorder information are available on Horage's website.
---
Image credits: Horage