Leica's New ZM Watch Variants are Inspired by the M11 Monochrom
Leica has announced the new Leica Watch ZM 1 and ZM 2, designs that it says were inspired by the M11 Monochrom that was launched earlier this month.
The German camera company says that the Leica Watch Monochrom Edition of the ZM 1 and ZM 2 take inspiration from and honor the fundamental principles of black and white photography: contrast and light.
"It takes a deep understanding of the products, years of expertise, and perhaps the right amount of stubbornness to create something that is so understated and yet alive with detail," Leica says with magniloquence.
The Leica Watch collection currently consists of two models — the ZM 1 and ZM 2, which stands for "Zeitmesser," the German descriptive word for an instrument that measures and displays time — which both employ a mechanical, hand-wound movement that was developed in-house. These watches were originally launched in February of 2022 in limited numbers as the L1 and L2, but were at some point after renamed — one company page even has both names still shown.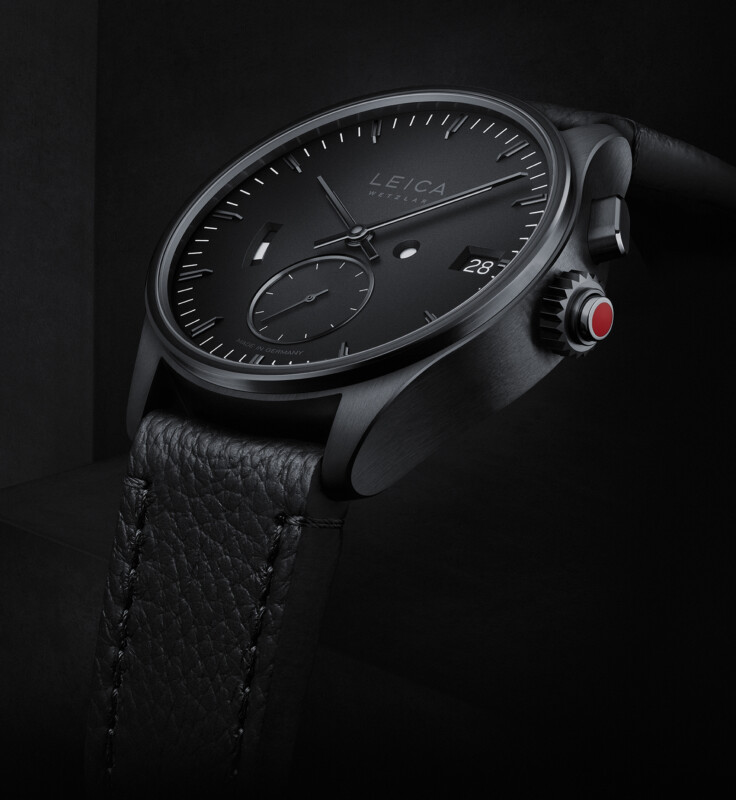 "The Leica ZM is unique, even in a highly developed and competitive watch market. It's different in a Leica way, with its own distinctive design language, paired with unconventional solutions to classic timekeeping functions," Leica claims.
"The patented push-crown, with a simple push, stops the movement from working, resets the seconds hand to zero and enables easy time-setting. The push-crown solves a function used by all watch brands in a completely original way, making the Leica ZM a typical Leica product, though not for taking pictures. The Leica ZM 2 has an additional feature as a GMT-watch (Greenwich Mean Time), which together with a day/night indicator allows the wearer to read two time zones with a single set of hands."
Leica is now expanding the collection to include a Monochrom Edition variant for each, which follows the design aesthetic of the M11 Monochrom. This new edition removes all color and silver tones except for the red dot. Under the sapphire crystal glass are what Leica describes as the black rhodium-plated, diamond cut, sandblasted indices, and hands. The dial and feet are milled from a solid block of aluminum and the strap is identical to the texture of the M11 Monochrom and is made of black calf leather.
Both watches will be available "soon" in "up to" 25 Leica stores around the world, including stores in Germany, Switzerland, Austria, France, Spain, Portugal, the U.K., the U.S., China, Japan, Singapore, Korea, Hong Kong, United Arab Emirates, and Australia. That process starts in May and the Leica M1 Monochrom will retail starting at €11,550 (about $12,730) while the ZM 2 will start at €15,450 (about $17,025).
---
Image credits: Leica